Sunday Ride: 13th March 2016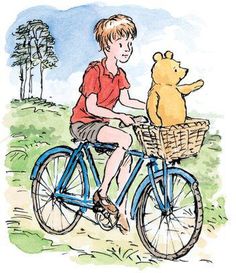 "Amongst the most boring games in the world" was Jeremy's verdict on Pooh Sticks. Then again he had been waiting 10 minutes for us to show up we all know that cycling long distances on your own warps your mind.
We sailed through Lingfield, Felcourt and East Grinstead and here was where Ewa chirped up with the first "Are we nearly there yet?". She shook her head very sadly when I estimated a further 8 miles.
Past the Arts & Crafts splendour of Standen House and down to Weir Wood Reservoir on the River Medway, up Hindleap Lane to Wych Cross and Coleman's Hatch, through Upper Hartfield and finally into Hartfield where a Sportiv was making its way around. Fortunately the sun was shining all the way and we sat in the garden at Pooh Corner eating cake and drinking tea.
The run home was a bit shorter and went though the Hammerwood to Holtye and Lingfield. However, it was a 58mile round trip and with all the sunshine, a great day out!