The weather gets even better, another sunny day for our ride, and at long last the wind had dropped.  This Thursday it was a return after several months to the great tea room in the crypt of Sevenoaks parish church. Homemade cakes and a pot of tea at very reasonable prices make this place worthy of a return visit in the very near future!
Our congregation was made up of Dave, Philip, and a welcome return after several weeks absence, Henry. Our route took us up past Botley Hill Farm, the pastures of which were alive with sheep and baby lambs.  And along the Pilgrims Way where the blaze of acres of yellow rape seed stretched away on either side. Spring is definitely here now!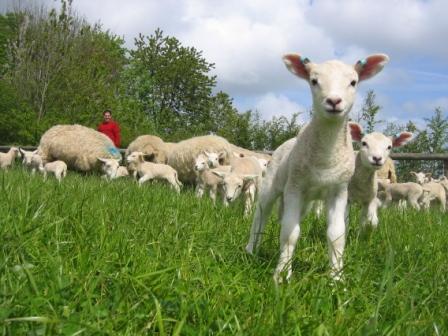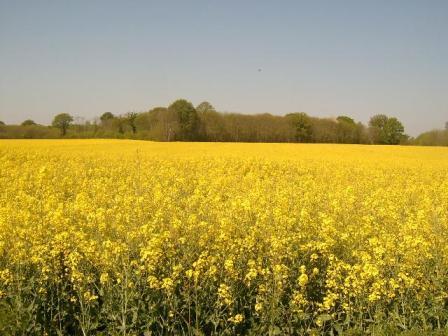 Past Chevening, thru the old and quaint village of Chipstead and a short bit of the A25, took us to Bessels Green. From here we had a series of long and steep climbs, following country lanes which lead us to the very top of  Sevenoaks.  Here lies the old parish church and graveyard of St Nicholas, opposite the main entrance to Knole Park with its famous and historic Knole House.
As we locked up our bikes, by excellent timing John and Meike also arrived. After a sociable chit chat ranging over a range of topics, most of which had some connection to bikes and cycling!, it was time for the photo shoot before setting off on our return ride home.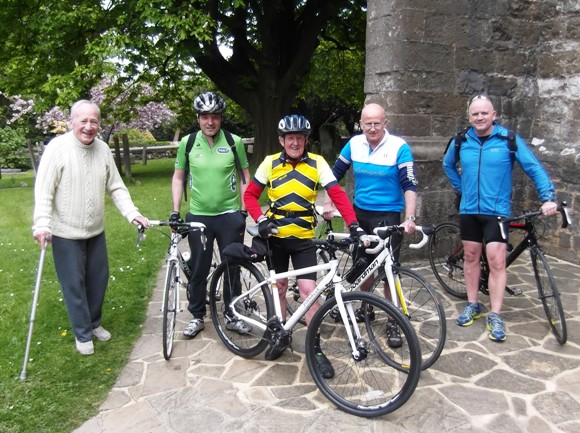 And guess who has got a new bike. Yes its me! A bargain that I could not resist in the Evans bike sale to replace my well used Muddy Fox Courier. The Muddy Fox, after over a dozen years of hard use (club runs, time trials, foreign tours, etc) needed a major refurb.   Pricing this up, with all the necessary new parts, would cost at least as much as my new replacement. So the new bike, with its sale price tag, was the obvious choice.
Next Thursday (23 May) we are off into the Surrey Hills, leaving from Tesco at 10. Destination is  The Place to Meet  tearoom at 33/5 High St Lingfield now that Browsers has closed down. This tea room is also open on Sundays, see their web site at http://www.tptm.co.uk/
Des.