This year we are actually having a summer. Another Thursday Ride, sunny, warm, and not a drop of rain!
Otherwise not a lot to report, just an enjoyable bike ride along some of our quieter country lanes, destination Dorking. Notable perhaps was the tea stop at the church hall of St. Martin's. A pot of tea and a good sized slice of homemade ginger cake for the not to be forgotten price of only £1.75!
I had hoped to hear first hand from Philip about his 100 mile Ride London event but he is away on holiday. However the gap was filled by Brian, our Treasurer, who also did the Ride London, in a very creditable time of only 4:55. Brian started after Boris and finished before him. That of course means that Brian must have passed Boris en-route. However he didn't actually see Boris, and neither did Philip. Surely Boris can't have cheated – done the start and a few miles – hopped on a TFL bus – hopped off  – and cycled just a few miles to appear hot and sweaty at the Mall?  No not even Boris would pull a fast one like that!
And just to prove that Brian's  been there done and got the T shirt: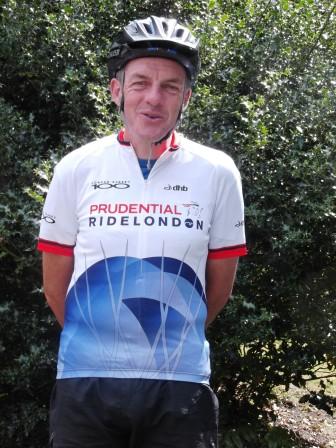 Brian can't remember a lot about the ride, just than it was a head down fast ride with eyes locked on the back wheel of the rider in front. His few memories were the mental boost from the cheering crowds, the thrill of fast descents of familiar Surrey hills. Also, with no traffic to worry about and the whole width of road to use, the speed at which it was possible to slice around those narrow, winding country lanes.   
But Brian and Philip were not the only Anerley riders to take on a challenge ride.  Our third contender was Frank who had this to say about his charity bike ride to Cambridge.
Hi Des,
Thanks for your sponsorship at Polesden Lacey the other week. I did it. See  pic with my putty medal when I got home. Swam in Cambridge Jesus Common Lido that is 100 yds long! Did 5 lengths.
 Regards, Frank.
And here he is with his putty medal. Pity about the cycling gear – Addiscombe C.C, not Anerley B.C. But then we don't seem to be able to organise our own coat of many colours!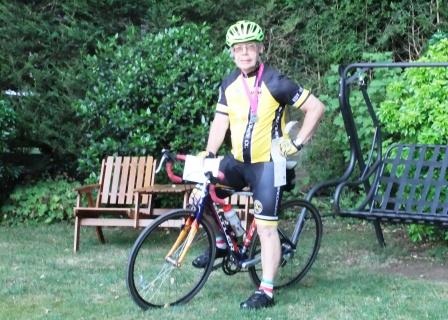 I think Frank got carried away with his ride, or perhaps it was the blood rushing to his head. I think the donations that he refers to at Polesden Lacey were from the Tuesday Riders. When he came out with the Thursday Riders, our donations were given at The Pine Shop, Charlewood.  And that might explain why Frank is wearing Addiscombe C.C colours!
Since this earlier message Frank has added the following:
Hi Des,
Did Tuesday Ride this week so won't be joining you on Thursday, pass on my congratulations to Philip.
I have applied for next years Ride London and paid £48 ride or no ride. Maybe Breakthrough Breast Cancer charity can help me get a place.
I was telling Meike on Tuesday that my sponsorship from all over the place for my Cambridge ride is heading towards £500!
On this Tuesday's ride I was wearing their cycling jersey and Sandra thought that it was a tremendous colour.  You can see Sandra's photo of me in due course, displaying this bike top in lieu of ACC.
Regards, Frank
I await the photo. Or perhaps it might appear in a Tuesday Ride report?