Sunday Ride: 11th August 2013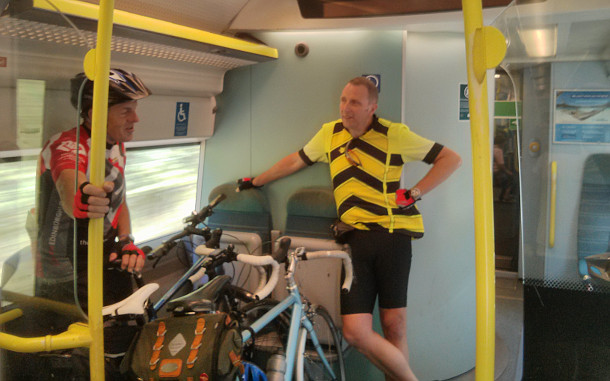 Sunday was Anerley BC's annual away day. A short train journey from Godstone to Tonbridge for the start of a ride in the Garden of England (so it is claimed).
The ride got off to a sticky start as the local council were spreading tar and chippings around Tonbridge station's front entrance, which lead to two unplanned stops in the first few hundred metres so that tyres cleared of chippings. Soon we were on our way, 5 of the Anerley faithful turned out (Jeremy, Stuart, Tom, Brian and myself (Jim)).
The planned tea stop was at Yalding in the Teapot Island Cafe, which included a museum containing thousands of teapots all for sale! From the outside the Cafe look inviting, just what every thirsty cyclist longs for, but inside it turned into something between a greasy spoon and transport cafe, (although the food was good). We were joined for tea by a swarm of wasps who appeared to take a shine to Brian and his sugary squash.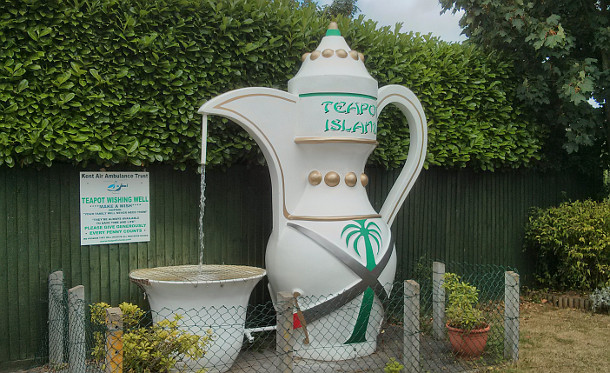 We left Yalding passing through Hunton, Chainhurst, and Marden on route to the Peacock Inn at Iden Green. On our way the group had to endure a wee bit of off road cycling as the planned route down Butcher's Lane came to an abrupt halt as the road ran out and a farm track across a field began, fortunately this only lasted about 500 metres and we were soon back on the road again. The Peacock Inn was your typical English country pub, with fine ales on sale, of which a few were purchased along with some crisps.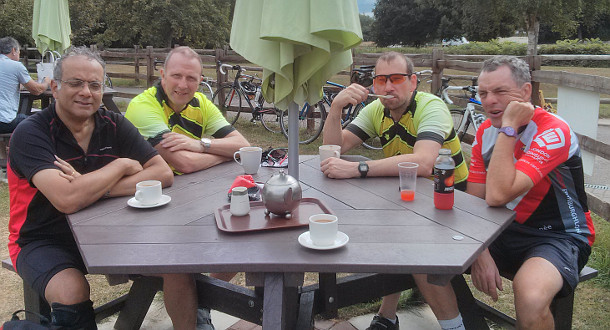 The next planned stop was meant to be Scotney Castle, but due to either a missed turning or just bad map reading by the leader the group never got there. So after some consultation it was agreed to return to Tonbridge without our cultural stop. Before heading back to Tonbridge, Tom took the opportunity to take some panoramic photos of the Weald of Kent, worth asking him to show you.
Back at Tonbridge, with a short time to spare before our train departed to Godstone, ice creams were bought by Stuart washed down with a coffee and tea. A gentle cycle from Godstone home brought a very enjoyable day to a close.