Thursday Ride: 13th October 2016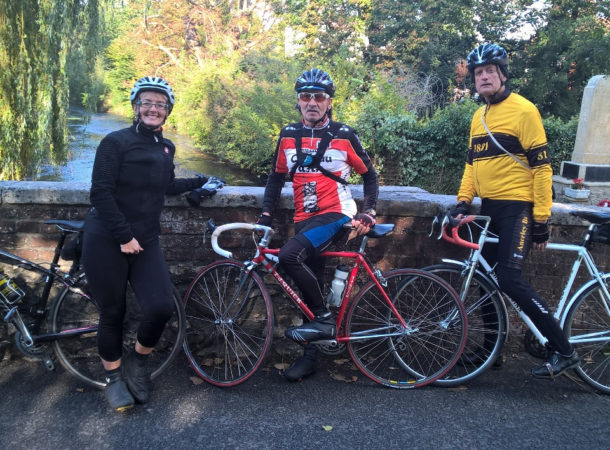 A very depleted bunch left Purley, leader Dave Gordon, John Eden ,Barrie and myself (Belinda).
After re-assuring Dave that the small turnout had nothing to do with the absence of Mark we set off towards Otford. The usual route and usual order role call of riders to reach summits, that is Barrie Belinda, Dave and John. The route diverted part way were we took a left and Dave suffered gradient amnesia when asked "what's this hill like" his response of "not sure….not that bad" . (It was true at all, never trust him). We eventually got to Otford, hop-along Hancock, John and Mieke were waiting.
After a nice chat about redesigning Purley Cross for cyclists and a lovely sausage sandwich the gang of 4 set off for home via Shoreham. We stopped for a photo shoot by the river, we tried to throw Barrie in but he was too quick. Another long climb, along the ridge and home.
Not sure of the speed, patchy sunshine and easterly wind. I had 47 miles on the clock.