Sunday Ride: 16th October 2016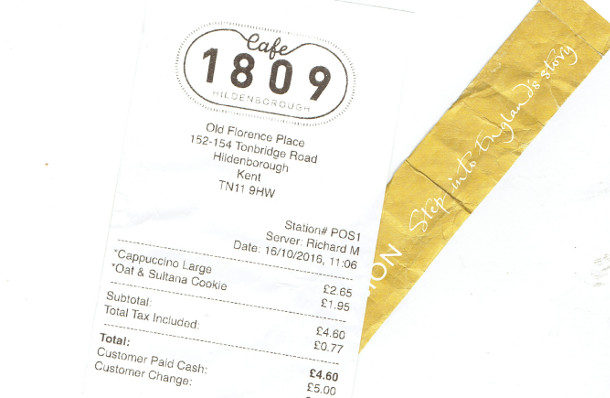 Tom V cancelled this ride … but one man rode on regardless. Frank K writes:
The BBC weather forecast for Sunday morning was heavy rain and dry pm. I checked for a cancellation email Saturday night. I did my research on 1809 and its location just beyond Teal Gardens we had previously visited off the A21 particularly as I had full day pass as Julie was off to Guildford for the day!
At 8.15 am in Selsdon it was barely raining so I got my kit on and went down to 501 arriving a tad after 9 am. No one there…
I went the usual way to Warlingham passed Botley Hill pub, left down Clarks Lane to Westerham. Very gusty head wind that plagued me the rest of my journey. Huge puddles on Limpsfield Road. I did not see a single cyclist in either direction until Warlingham Green and not many thereafter. I dropped by the Cyclery café to look at their huge wall map to check my route.
Decided keep to A25 to Riverhead then down A21 until B245 turn off to Hildenborough passed Teal Gardens and then found 1809 café at 11am!
1809 is a busy establishment. A number of tasteful hanging bikes on chains and other cycling memorabilia. Had a cappuccino and oat meal cookie.
I then texted Toms as follows:
"Weather breezy but rain gone! Pm weather in Am. Where are you all? 1809 arrival 11am. Excellent café. Next stop Battle I hope . Passion flower fruit in backyard. Manager Richard printed off a map. Only 30 miles. No Kelly today. 1066 Anglo Saxon Harold Godwinson here I come."
Reply. "Congratulations on getting or today. I cancelled because of appalling conditions at 7.30am. Enough accidents this year!"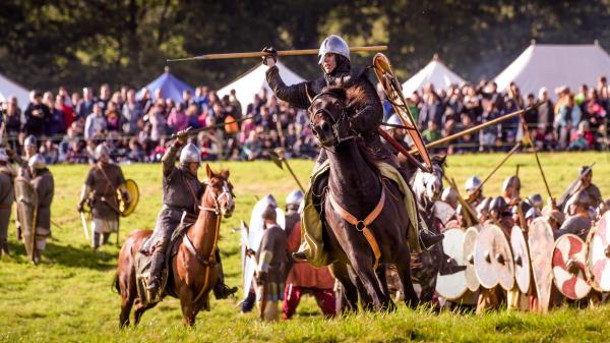 Richard said knights on horseback and foot soldiers passed by during the week. Apparently the diehards marched for 3 weeks from York to Battle echoing King Harolds's march after his victorious battle at Stamford Bridge nr York where Viking King Harald Hardrada of Norway and Harold's rebel brother Tostig were slain .
On my way through Tonbridge then up Quarry Hill to top overlooking Sevenoaks bypass . Jogger said only way south is to go back down hill….
Then major A21 civil engineering works and a number of slow queues of traffic that I got through with not much space on inside.
Along A21 lots of tree pieces in road and one branch went up rear wheel frame that required a rapid stop. No damage. So many horse chestnuts and sweet chestnut cases and centres. Went over High Weald with lots of superb views. Then a sign saying 1066 Country at Robertsbridge ten on right Route "1066" diner for bikers etc. Up over John's Cross hill then branched right down the straight undulating A2100 to Battle. Arrived 2.15pm having left 1809 at 11.35am. Not a bad time for me.
Reported to a security guard outside the Abbey entrance and asked what's going on and where can I buy a pint! He said over there at Abbey Hotel and his mate secretly passed me a folded strip and said put it on my wrist later and the I can see the 3pm mock battle. Hotel barrels run dry due to the "Vikings" at the w/e. I was directed down the High Street to The Bull Inn for a very welcome pint of Top Bull made by Old Dairy Brewery Tenterten.
Suitably attired with my English Heritage wrist band admission I entered Battle Abbey and found my way through to a terrace overlooking the mock battle already under way. The field was surrounded by ridge tent city that housed the combatant friends and families in Anglo Saxon and Norman period dress and their home utensils including spit roast. Great experience from slope opposite battle field. See photo of "Guillaume le Conquérant" on his white horse next to Saxon front.
Off to Hastings to catch train. Fast train included bus diversion therefore no bike! Caught 6pm to East Croydon diversion via Battle….