Arriving at our meeting point the first thing that I noticed was a nice new bike. Not just another bike but a very special bike. Mark had told us that he had a new machine on order, and this was it.  Read on to find out more below!
But first the mundane.
With the heat wave continuing and temperatures approaching 30 C, I decided that a bit of off-road riding along leafy bridleways might provide a bit of cooling shade.  Much to my surprise the Roadies (or at least most of them) voted in favour when given the choice.  All went well until we were about to cross the footbridge  over the M25 near Leatherhead.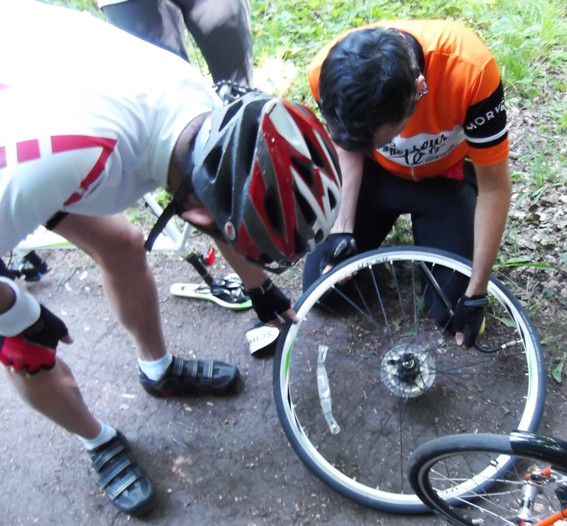 Yes, the plague of lightweight racing tyres. Another puncture!
Philip is now a dab hand at quick fixes and we were soon on our way again, with only a short couple of miles to our tea stop at Bocketts Farm. And time here for a bit of posing by the boys and gal, Jenny making a welcome appearance with the usual male quartet.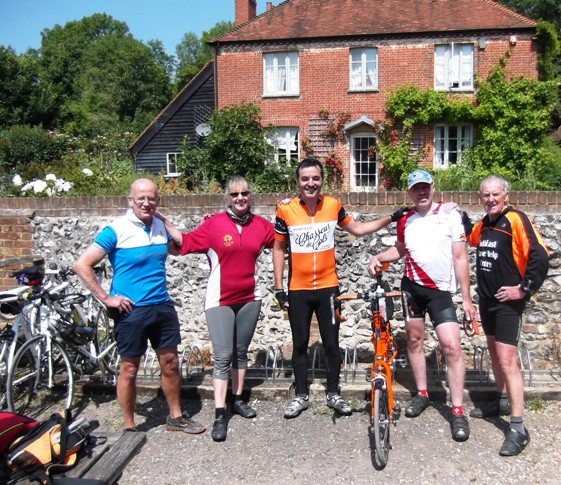 And just in case you didn't notice Mark's new machine above, a second take appears below.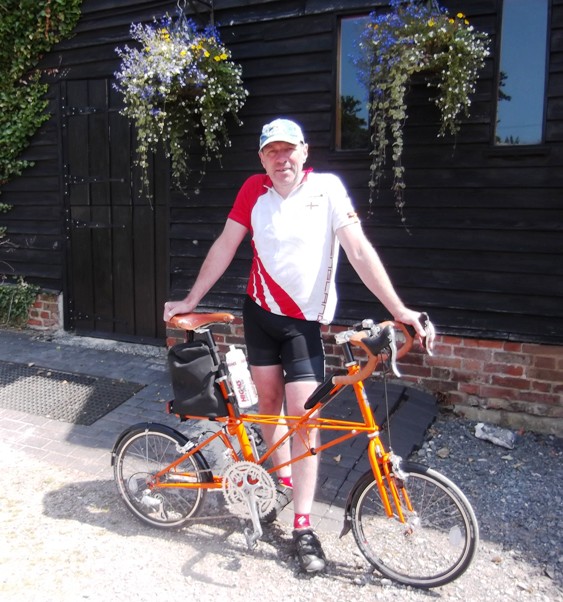 An iconic and very different two wheeler, the space framed Moulton bicycle!
The Moulton was the first small wheeled bike when it was introduced back in 1962. The Brompton and other small wheeled folders owe their place in cycling history to the innovative Moulton. But the Moulton was not just the first small wheeled bike, it was also the first bike to have front and rear suspension, affected by conical rubber springs. (Dr. Moulton first developed this form of suspension for the original Austin/Morris Mini).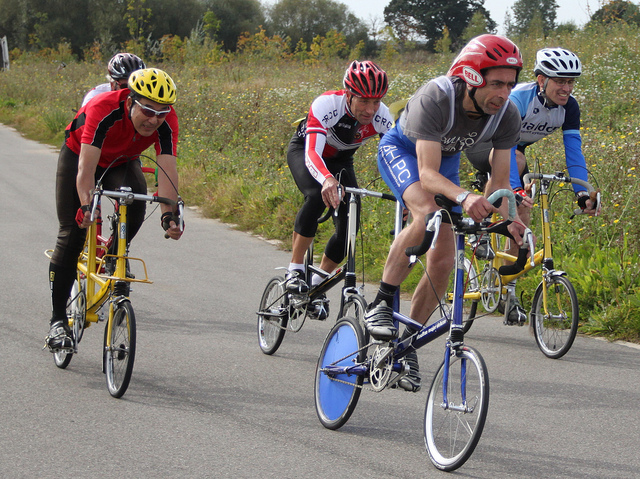 The Moulton had considerable success in bike racing until small wheels were banned by the UCI. Perhaps its most famous road racer was the late and great Tommy Simpson!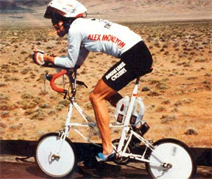 Since this ban it has continued its competitive successes in long distance events. For example its most notable  successes  in ultra-marathon RAAM (Race Across America). In 1988 the Moulton (shown left) completed this 3,037 mile race in 10 days 15 hours and 1 minute. That works out at an astonishing average of 289 miles for each of the 10+ days!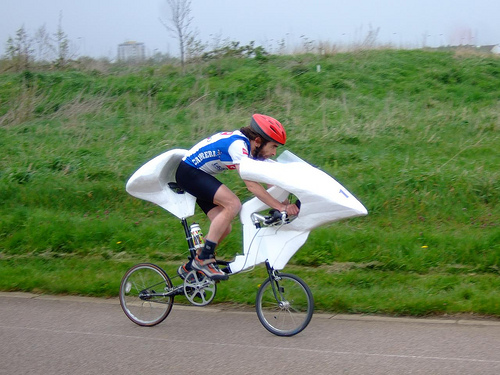 Another milestone in the Moulton record book, was a the 200 metre flying start speed record of 51.29 mph. This record for a bicycle ridden in the conventional upright position, set in 1986, still stands today.
Development of the original Moulton of the 1960s has continued. The latest innovations being the lightweight, multi-tubed space frame, as included on Mark's bike.
The Moulton web site makes interesting reading for bike fans looking for something different. Read all about it at http://www.moultonbicycles.co.uk/index.html.
About a year ago the Moulton featured in an edition of the BBC 2 programme "Country File", which I watched. It was this programme which encouraged my interest in the unique and innovative Moulton. This programme  can be seen at http://vimeo.com/32438405, and includes some interesting footage of the earliest bikes, as used by Anerley B.C riders in the 1880s to 1900s.
Des.