It was a long day and an early start to our 2013 tour of the Rivers Rhine and Mosel.
We met up at 5.15 am and pedalled off to East Croydon station. By luck we caught an earlier train than planned. This took us straight thru to St Pancras to get the Eurostar to Brussels.
It was fortunate that we arrived early because just after we entered the Despatch Office (which puts bikes on the train) a coach party of 30 to 40 people arrived with lots of big suitcases for the luggage van. Had they beaten us to the counter, the delay whilst they registered all the baggage could have resulted in us missing our train!
At Brussels it was a quick change of platforms to get an onward train and a three hour onward journey to Arlon on the Belgium border. By now the early start was taking its toll on the younger members of our quintet.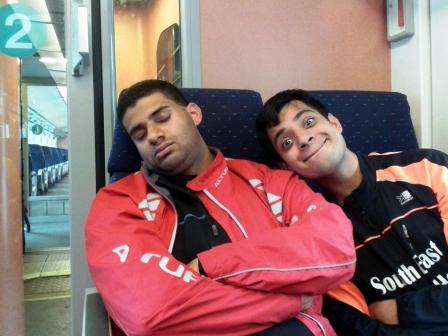 Although Belgium is a cycle enthusiastic country, their railways are not upto scratch. Like our own British trains it is mostly a case of finding a space in which to stand with your bike.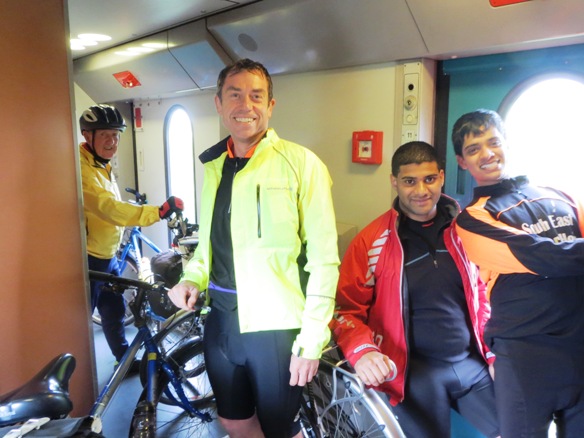 And of course the ease of inter-country travel in Euroland is just a myth. At Arlon we had to disembark to the adjacent platform and get another train to cross the border and go a further three stops and 15 minutes to the end of the line in Luxembourg city!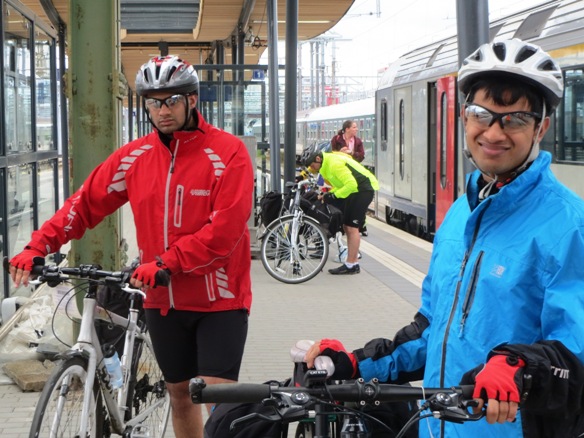 But by about 3.15 in the afternoon we did eventually get there.
I had planned a nice cross country route into Germany, for our first overnight stop at Trier which is on the River Mosel. This route was about 34 miles, so not too far, or too long, to travel from our afternoon arrival in Luxembourg. Or at least that was the idea!
Our route out of town was on the CR226 which passed very close to the railway station. Being a fairly major road I expected it to be signposted, but we soon learned that unless it is a motorway or a major "A" type road, forget it. We must have lost a good 30 minutes trying to find the elusive CR226, and it was not until we we got to the countryside at the city border that we found our first sign (a very small verge side post) confirming that we were in fact on the elusive CR226. The continuing lack of signposting caused lots of problems and delays. Without Tom's mobile phone and mapping app we would probably still be lost  in the wilderness of the Duchy of Luxembourg!
Never having been in this part of the world (only having passed thru flat and boring northern Belgium) I was much surprised to find the countryside outside of Luxembourg city to be very wooded, very scenic, and very hilly!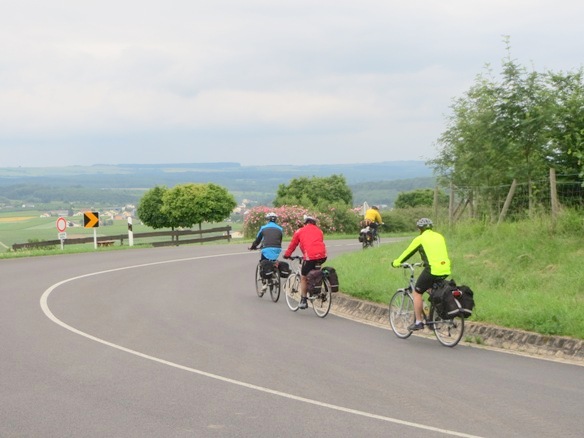 Here, on a hilltop with views stretching off into the far distance, I lead the ride followed by Luke, Christopher and my son Paul. Tom as tail end Charlie takes the photo.
But the ups and downs soon came to a halt. A rest for some, but not for our photographer and electronic navigator, who also acted as mechanic to team Vaz. A broken chain was the first of several problems to require a bit of overdue TLC!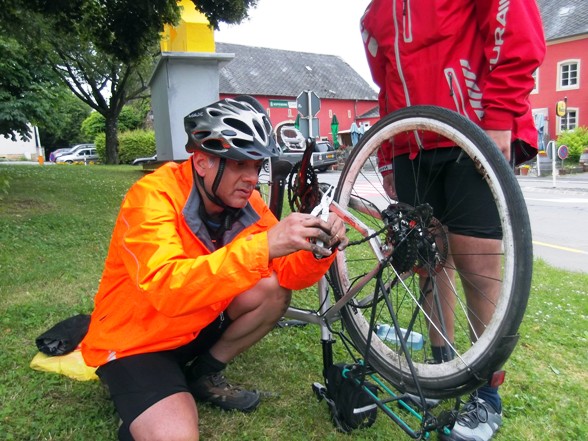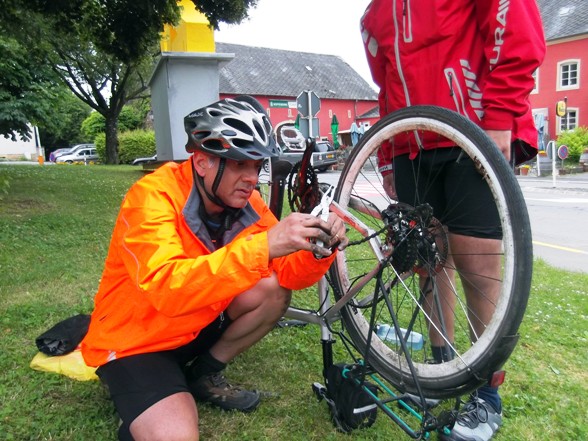 The next delay was caused by me, when we did eventually find our way to the River Mosel.
Following my nose, or rather the riverside Bike Route it should have been but a short ride to reach the German border.  But now, making very speedy progress on this wide, flat cycle path, I began to suspect something was wrong. Every car that we saw had Luxembourg number plates. Surely, by now, they should be German plates?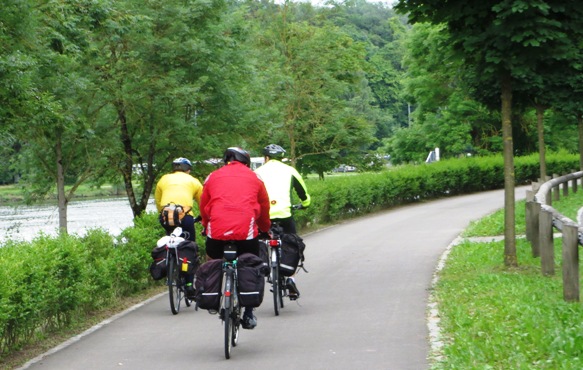 I called a halt to check the river flow. We should be heading down stream to Trier, but my doubts were confirmed as the water showed that we were going upstream towards France!
Another 20 minutes delay getting back on track.  Would we make before dark?
Well we did, just. But the receptionist had gone home and left our room keys in the bar. Or should I say, some of the keys. It just wasn't Tom's day!
His accommodation should have been a single and a twin room, but only the key for the twin room had been left at the bar.  He was lucky that the barmaid was able to lend him a Lilo air bed, which at least was better than sleeping on the floor!
But all's well that ends well, and the bar staff managed to rustle up bowls of goulash soup, washed down with plenty of well deserved Bitburger beer, followed by a glass or two of fruity Riesling. And so to bed with spinning wheels replaced by spinning heads!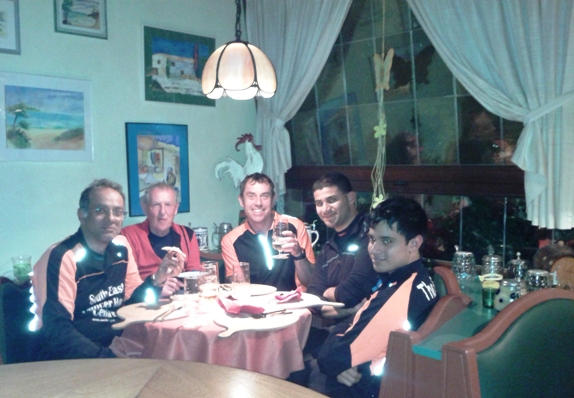 Tomorrow is another day, and Stage 2 of our German Tour beckons!
Des.
To find out where Stage 2 and our second day took us to see http://anerleybc.org/the-german-tour-stage-2/