Thursday Ride: 10th March 2016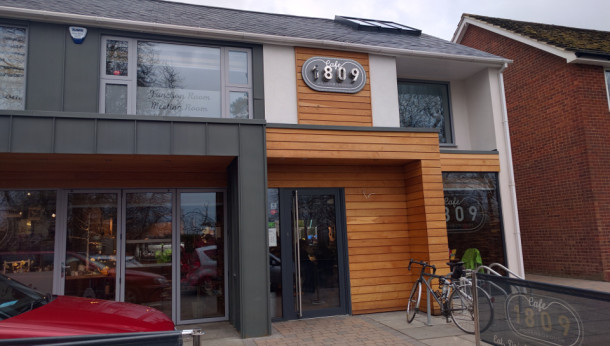 This Thursday we had a long ride to café 1809 in Hildenbough, Kent. Riders out where Ken, Frank who turned back at Botley Hill, Stuart, Tina, Belinda the birthday girl, Dave G, Barry, Bob, John and myself.
We decided to take the main road to Botley Hill to save time. We dropped down the hill with John leading and onto the Pilgrims Way. It was still a bit muddy in places. We rode through Chipstead a village I had not been into for years,and then we climbed up through Sevenoaks, past Knole Park and into Hildenbough where we met John and Meike at the café. Very nice café which is owned by Dame Kelly Holmes she grew up in the village. Lots of bike racks and very nice food. Maybe a bit noisy.
After lunch we rode back via Leigh, Chiddingstone, up Ide Hill with me, Barry and Dave G leading. Down the other side into Brasted and finally up the climb of Botley Hill with me and Barry setting a fast pace. We all went are different ways at the top, I arrived home with 52.5 miles on the clock in 3 hours 55 minutes ave speed 13.2 mph.