The very latest bike material!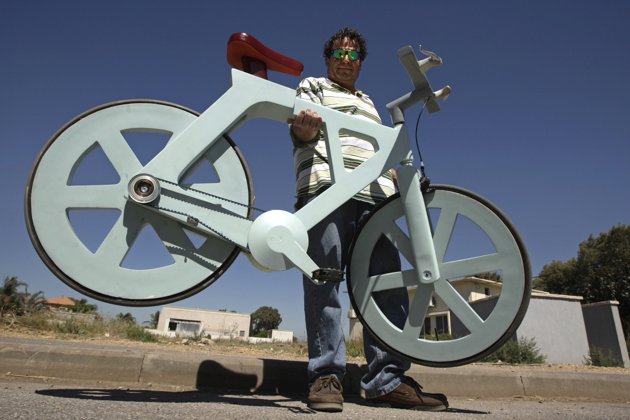 How about this for the latest in bike technology,  and the very latest in exotic materials for bike manufacture.
Would you like to guess what this exotic material is?
In fact I will give you five guesses because you will not get it right.
You will be amazed when you find out!
It may look odd and rather cumbersome, but actually weighs only about 20 lbs. That is lighter than most steel bikes.
However the cost compared to steel, alloy or carbon fibre is amazing.
The cost of materials is a huge $9.  Yes nine American dollars!  And it could retail for about $20.
So what is this amazing, exotic frame material?
Just cardboard. Yes you read that correctly, cardboard!
No metal is used in the bike's manufacture, most parts being made from recycled materials.  Very eco friendly.
For the amazing story of this bike, shortly to go into production for the benefit of the Third World poor,
See http://news.yahoo.com/cardboard-bicycle-change-world-says-israeli-inventor-090732689.html .
This is not pie in the sky but potentially a revolution in minimal cost transport for the poor.
The design team are working on a business model which they believe could allow the bikes to be given away for free.
A very interesting project and well worth reading about, so do click the link.
It is a bit slow to download, so don't be impatient.