Carbo Loading. Who is kidding!
Looking through piccies of our last two cycle rides in Spain, I noted that we were for ever stuffing our faces.  Some more than others!
Well I suppose that with all the calories we were burning to climb the many hills and mountains, we had a good excuse.  Or were we using the pretence of carbo loading just as an excuse for a little bit of gluttony with the local Spanish cuisine?
Well I will let you decide on that.  I will just let you savour the flavour of  some delicious little delicacies that were so very necessary to fuel our many miles in the saddle.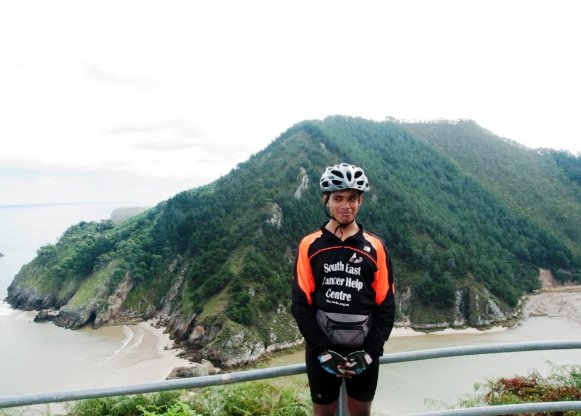 On our first ride in 2010 young Luke was a 14 year old growing lad so needed feeding up. When cycling around the Pechon peninsular a torrential rain storm overtook us.  Fortunately we were close to a welcoming taverna, and it was close to lunch time, so we decided it was a good time for some much needed carbo loading on a tortilla atun bocadillo.  A tortilla atun bocadillo is a tuna omelette in a big hunk of bread.  Very tasty, very filling and costs 3 euro.  From then on it became my staple diet in Spain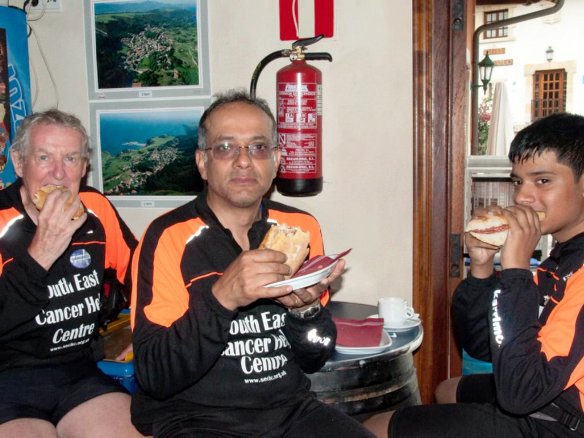 I think it was this that convinced Luke of the necessity to carbo load when out on his bike, for by the next morning it was calorie counting in earnest, starting with a full breakfast on the terrace, and more than just a bocadilla for lunch. A huge bowl of bean fabada was just the starter of the three course Menu del Dia, plus bread and a drink, all for about 9 euro. No wonder Luke is smiling!
I began to get worried about his carbo loading however, when I noticed him taking an interest in the wild life in the Sierra Cantabria!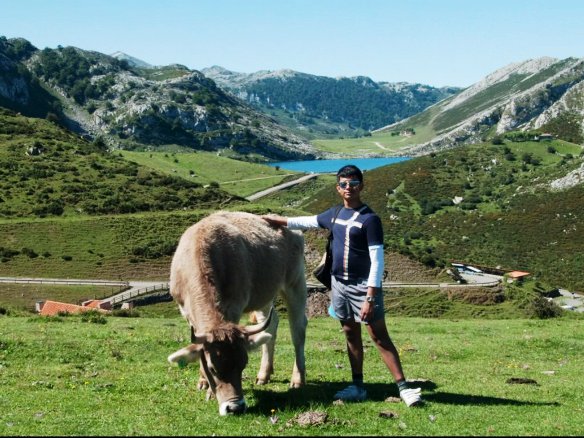 Two years later it was Tom's eldest son, Christopher, who was taught the science of carbo loading, on his very first day of the Anerley Vuelta Espana, 2012.
Leaving home with Tom at 5 o' clock in the morning, the first top up was most welcome at a cafe at Horsham.  Ricky and I, not wanting a start before dawn, travelled by train to Horsham where we joined them.  For us, just a cuppa, for them a full English fry up.  But this did have to last well into the day, as lack of cafes meant that lunch was not taken until long past high noon.  The next greasy spoon only being sighted when we reached Havent, not far from our destination, the ferry at Portsmouth.  Having survived this first lengthy fast, Christopher made up for it as we sped onwards to Spain.  The on board cafeteria providing a new meaning perhaps for fast food!
Being on a pound saving diet, that is a £ not a lb, I was watching the calorie intake.  On this occasion I persuaded the crew to watch their wallets rather than  their waist lines and we settled on a picnic lunch overlooking the estuary harbour at Ribadesella.  This place name for linguists, means River of  Sella. So now you can understand some Spanish.  Simple, innit!
My next bit of money saving, was a pre-packed, high energy bar.  Or what you might know as a banana!  Eaten here at a very welcome stop near the top of what was probably our steepest climb in Spain on a scorching hot day.
But Tom, Christopher and Ricky were more interested in the 9 euro, 3 course Menu del Dia.   This typically offered a starter of a fabada or the option of a fish or meat soup, with as much bread as you could eat.  I found that just this first course was enough for my smaller appetite, but the other carbo loaders went on with the next, main courses.  These being a meat or fish option with the universal heap of chips.  Then to finish off, a sweet such as a caramel flan.  And not forgetting a bottle of water or table wine.  Below is a main course that Christopher tucked into to.  I am not sure if this was solomillo de cerdo y patatas fritas (pork tender loin and chips to you and me!) or perhaps its sea bass.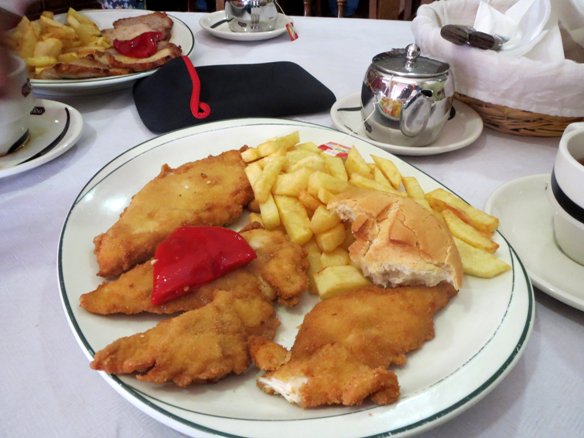 But whatever it was, the carbo loading  didn't hinder or weigh us down on the continuous climbing on our three week trek.  Here Christopher powers his way up another climb, at some 3,000 feet of altitude, with a layer of white cloud nestling in a valley below. Only the scales might tell us if we over did the refuelling !