The Other Sunday Ride: 23rd December 2012
Having missed the club going past Warlingham Green, due to an unexpected puncture on my bike (only discovered as the bikes were taken out of the garage),  we decided to make our own way to Chartwell. We enjoyed a leisurely ride through Limpsfield Chart, aiming to arrive at Chartwell's earlier opening time of 10.30am (we had checked on the internet, unlike certain others!!!).  Sadly, another puncture (to Tom's bike this time) meant we arrived a little later. However, we still expected to see a good turn-out of the club, due to the mild, dry weather. To our surprise, only two bikes were chained up at the cafe, and the only bikers to be found were Des and Tom Vaz. They were as mystified as us about the missing members (this mystery explained by the other article on this web-site). Nevertheless, we enjoyed a cup of tea together, followed by a Christmas photo of The Men in Red.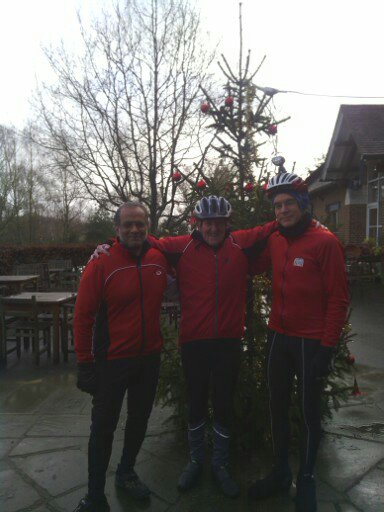 We then decided to head on to the Fox and Hounds for a convivial Christmas pint. Des lead us on a pleasant route to this hostelry, and we spent another pleasant hour in the pub before heading home. After all this relaxation, none of us felt like tackling Tilburstow Hill, so we took the cheat's way home, ending up with a lovely free-wheel through Marden Park. Like the  other Anerley Bicycle Club group, we also ran into John and Meike Turnbull, a nice surprise. Imagine the Turnbulls' astonishment to meet not one but two groups from the Anerley in Marden Park on the one day! We farewelled Des and Tom V; Tom B accompanied John for his second stint up to the school whilst I kept Meike company.
Perhaps we'll all manage to meet up on the next Sunday ride . . .