Sunday Ride: 23rd December 2012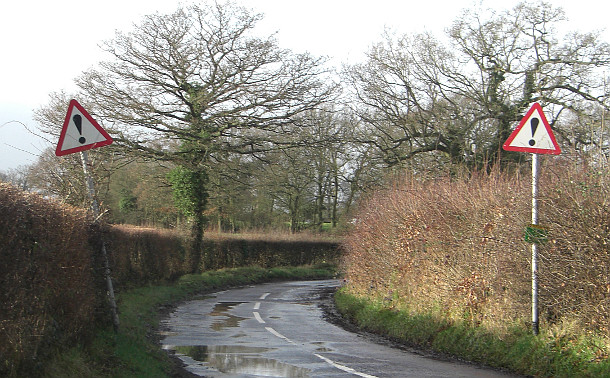 Confused? We were. Any ideas on what we missed?
Chartwell and Tilburstow was the plan. So was a guest captain as Jim was away but a dry and relatively warm eve of Christmas Eve brought only Graham, Austen and Stuart to the start. Our natural Wiggo style speed would have gotten us to Chartwell well before the Tea Rooms opened and as we lacked Jeremy's skill of taking a random roundabout route without getting lost – we decided to head directly to the Tudor Tea Rooms at Westerham.
A good choice. Almost empty and the largest slice of chocolate cake ever measured on an Anerley ride. Toys Hill didn't really grab us along with Tilburstow Hill so we improvised a route via Four Elms to the Hare and Hounds at Godstone. Rehydrated we took to the hill to Marden Park. On the descent we spotted a rider about to set off in the opposite direction
"That looked like John, err .. that WAS John!"
We turned around and Meike was just about to send him up the hill passed the school. I had the pleasure of buddying John right to the top. A strong ride, I was mightily impressed though John may need to practice his skid turns at the top a little. And always that pleasurable glide back down again after. Really good to have John on a part of a Club ride. A small compensation for losing Des, Julia, Tom V & Tom B who had not anticipated our change of route and had found their own way to the original destinations.
About 36 miles.