The Ladies do love to Gossip!
Happy New Year everyone from the gossip team!
Not that there's a lot to report for this edition as your columnist seems doomed to never getting back on her bike! The hectic build (literally) up to Christmas saw her permanently with a paintbrush in hand helping son with his house refurbishment. Then came the skiing holiday, then came Covid !
The Covid was a present from Italy, so these words are from the depths of an Isolation Bunker!
New Member introduction:
We welcome Dee Rutter who recently joined us from Tri Surrey. I think we'd better watch out !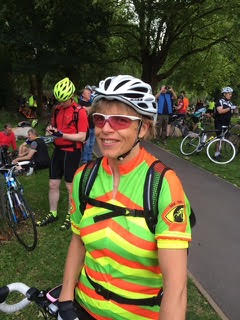 Here's some info that Dee sent me about herself:
I live in Park Hill, between East and South Croydon, with my husband Trevor. We've lived in the area for 30+ years.
Having not ridden a bike since my teenage years growing up in Cork, I found myself being persuaded to do a triathlon about 25 years after I last sat on a saddle. I had joined an outdoor fitness training group in Lloyd Park and the guy running it turned out to be a very enthusiastic triathlon participant!! He successfully got half a dozen of us to do our first ever sprint tri in 2009; that in turn got me back on the bike and my enjoyment of cycling renewed.
Over the years since then, I went from a Hybrid to a Road Bike and interspersed cycling with the other elements of triathlon – in more recent years though, my knees have started giving me pain, which means that running has had to take a back seat and so swimming and cycling are being given more of my time! I'm still a member of Tri Surrey and was introduced to Anerley BC by Sue & John Diamond, who I know from there.
Speaking of more time, having recently retired from my job, working for Heidelberg in Brentford, I now have capacity during the week days for some long rides with the Club's friendly members. I've only been out on about half a dozen rides but all have been to different destinations, which I'm loving. We've been to parts of Surrey, Kent and Sussex which I didn't even know existed.
When I was still working, I was restricted to cycling once at the weekend and commuting to work by bike once or twice a week (35 mile round trip, so I couldn't realistically do it more often than that!) My husband, Trevor, doesn't cycle at all, neither him nor his (many) sisters ever had bikes growing up, so they never learned! Imagine?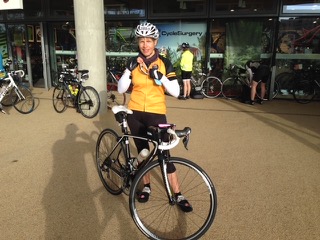 I ride a Specialized Tarmac 2013; it's a bit like Trigger's Broom (Only Fools & Horses) having had lots of upgrades over the years, it's fundamentally the same frame! It's a comfortable fit and I love it. I also have a Hybrid bike, which doesn't get much use nowadays but I'm considering changing the tyres back to more knobbly ones and using it on some of the club's wintry mucky rides! If I get around to it.
Over the past ten or so years, I've done some longish rides including the Prudential Ride London 100; Birmingham Velo 100; the overnight Dunwich Dynamo; L'etape (the London – Essex stage of the TdF); and a couple of cycling trips in Mallorca.
When I'm not out on the bike, I enjoy baking sourdough breads, other cooking and doing calligraphy. Later on this year Trevor and I are walking the Coast to Coast walk (180-odd miles) with some friends, so we'll be doing some serious hill walking over the coming months!!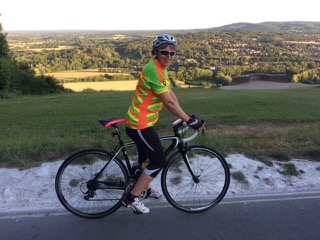 Thanks Dee, may you enjoy some great rides with us !
New Bike :
Our Captain has bought himself a new Pinnacle gravel bike and was eager to put it through its paces last week. For his efforts he got 2 thorns in his tyre and a lot of washing to get the mud off. But it's a good looking bike Peter !
Here's before and after photos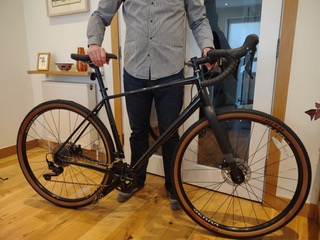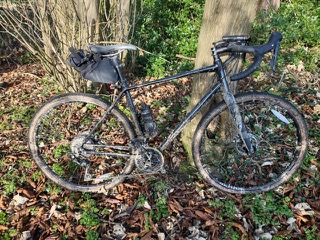 Altitude Training :
Question, does exercising at altitude help your cycling?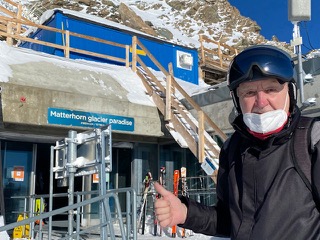 Answer, who knows but Denise & Bob hit the ski slopes of the Matterhorn at 3,833metres on 3 occasions last week and can confirm it was breath taking in more ways than one!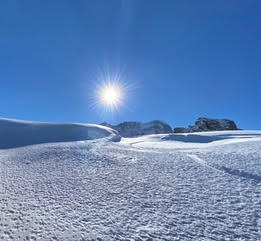 The Matterhorn Glacier Paradise is Europes highest cable car and has the most stunning views. I'm rather glad we went up on the cable car and not on a bike. The ski down was wonderful and I couldn't resist taking a Toblerone with me to try for a chompingly good shot!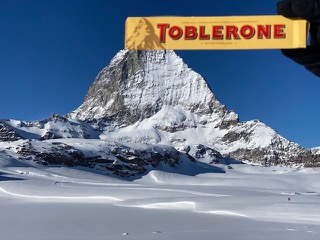 A conversation at Bocketts Farm:
I have reports of a conversation between 2 "yummy mummy's" who got chatting whilst sharing a bench at Bocketts Farm:
#1 mummy – I have problems with childcare on Tuesdays
#2 mummy – That's funny, me too!
#1 mummy – Don't tell me your parents are cyclists like mine and won't give up they'd Tuesdays
#2 mummy – Yes actually, my dads with a club called Anerley
#1 mummy – No way! So are mine
Is there no limit to our fame & notoriety !
Denise
( Fame & notoriety ! Was Denise referring to the two ladies, or herself!)