Due to our late arrival at Trier the night before, Tom's first night's sleep was on a Lilo! However, whilst he suffered, we all benefitted. When we came to pay our bill for the B&B, we all were given our breakfast gratis, in compensation for the mix up over Tom's accommodation. And it was a huge breakfast, lots of everything – cereals, cold meats, cheeses, eggs, bread rolls etc, etc. Enough to keep me going for the rest of the day!
Then it was back on our bikes to see some of the sights of Trier before heading off along the River Mosel.
Trier is the oldest city in Germany. It became a Roman city in 16 B.C and later became the place from which the Western Roman Empire was ruled (Constantinople being the capital city of the Eastern Roman Empire). The centre of Trier is dominated by Roman ruins, the most famous being the Porta Nigra, the main gateway into the old Roman city. On this day there was a festival going on, hence wine and beer tents in the background and a very sober Tom in the foreground!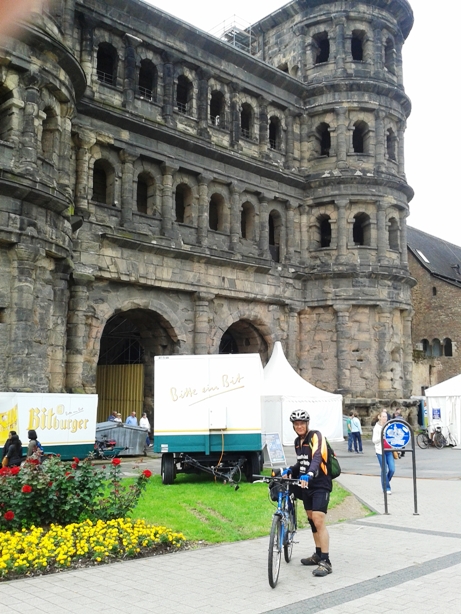 Being a festival day, Tom decided to join the clowns, jugglers, and other performers by doing his strong man show. The locals thought he was just drunk, but he had not touched a drop of alcohol. But perhaps it was the effects of the night before!
Well actually the background to this uplifting story is the background!
Tom bought this bike from Karstadt in Hamburg 19 years ago when he was working and living there.  As toddlers, Chris and Luke were pedalled to school each day, and holidayed around Germany on this very machine. Seeing the Karstadt store brought back lots of memories for both him and them. So this was a special day for Tom and his bike, a return to home after many years and many miles. Hence Tom wanted to celebrate the occasion!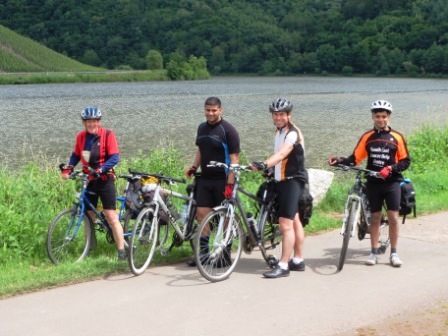 By lunch time it was time to re-start our travels.  The Mosel at this point is about as wide as the Thames is at central London, and the Roman having built the first bridge over the Thames, also built the first bridge over the Mosel. However the Roman bridge at Trier was built with the local stone and still stands.  Naturally we used this ancient bridge to take the cycle path on the other side. And just look at the "path". More like a road than a cycle path! Wide tarmac, no potholes, and it goes on like this for mile after mile, after mile. Being a riverside path any gradients are minimal, and as we were heading down stream, it was all down hill!
My route guide showed it to be 19k to Schweich where we were to recross the river to the south side. A convenient place for a very late elevenses. Even after the huge free breakfast, the growing lads, like Oliver Twists, were crying out for more!  So we sat at a riverside cafe to eat, drink and watch the world go by.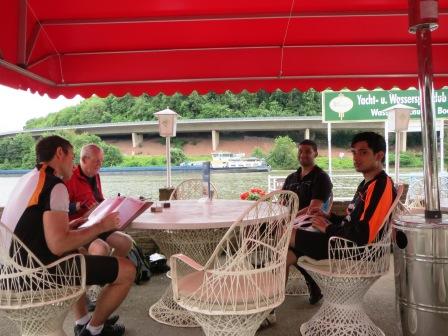 The Mosel was much wider here and there was a constant flow of traffic, starting as you can see with a very long barge heading down stream.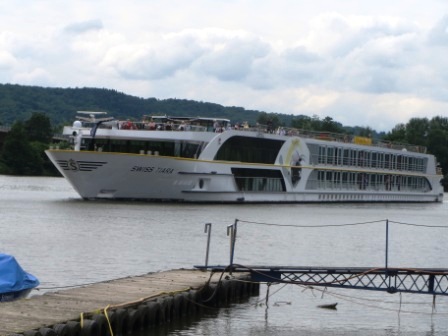 Then it was a huge two storied cruise ship, water skiers, jet skiers,  and even a seaplane landed!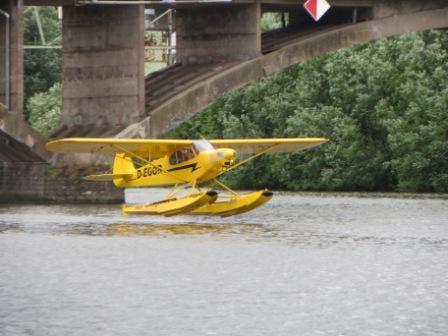 Shortly after, with a high speed dash under the road bridge, the seaplane took off again!
Fed and watered, we went over the bridge, and pedalled onwards following the twists and turns of the meandering Mosel, to Detzem. Here I understood was a lock. I was expecting something like the locks on our British waterways. So Detzem lock was a bit of a surprise! A most welcome and interesting feature of our Mosel ride.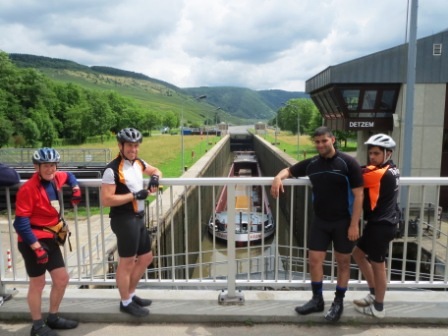 When we arrived, the huge cruise ship that had passed us at Schweich had just gone thru, and boats were queuing up on both sides of the lock awaiting their turn. The barge above, loaded with a cargo of steel plate, was next into the lock. It doesn't look all that big, but that is because the lock is huge, 300 metres (nearly 1,000 feet) long!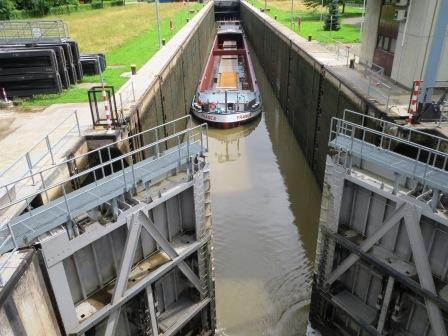 We could have spent much more time watching boats rise and fall as the lock filled or emptied the waters to allow the lock gates to open and close as each boat passed thru. But time was pressing and we still had several miles to go, and many more miles than we thought!
This part of the Mosel is most famous for its wine, and the vineyards  cover hundreds of acres from the riverside and up the valley sides. The network of vineyard paths have in many places been incorporated into the cycle path.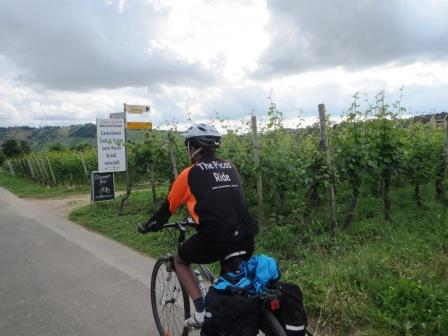 And soon we were to come to perhaps one of the most famous names in German wines. The little riverside village of Piesport. The large building ahead is named in Gothic script, which unfortunately you can't read, "Cafe Landgasthof  Alt Piesport". In the background the wooded hillside has been cut back for the many acres of vines.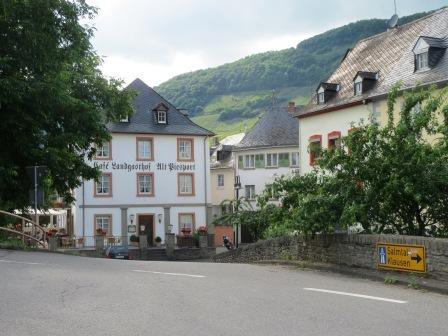 But we didn't stop at the cafe/guesthouse because we now only had a short distance further to travel to our overnight stop at another wine village named Brauneburg, which I understand means Brown Mountain. It turned out to be a lovely village of old houses, farms and vineries, and  a very large and grand church. As we forgot to take any photos I have to rely on a print dated to 1838, but most of the village of today was there then!
Note the hills which rise either side of the Mosel. The natural woodland has been cut away and replaced by vines.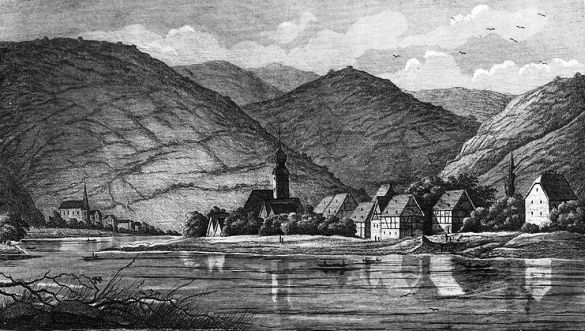 We had a most enjoyable ride, lots to see, lots of boats, many little villages and hamlets dating back over hundreds of years, ice cream , and of course , a few beers and glasses of Riesling wine! Yes a very enjoyable day. And for Tom, at last a bed to sleep on!
The accommodation was excellent and very reasonably priced.  More than just B & B as we had our own kitchens, not that we intended to self cater,  especially as there was a really nice restaurant close by in the village.  More Bitburger beer and Riesling wine!
Des.
To find out how we got to Germany and the Mosel see http://anerleybc.org/the-german-tour-stage-1/
Or to see where we went to next see http://anerleybc.org/our-german-tour-stage-3/