The Anerley Gazette Rides Again
Yes, it is now March 20212 and I have suddenly realised that our Club is now 140 years of age! Probably forgotten by us members, because of forced separation due to Covid 19, the very cold weather of the Beast from the East and other climatic tribulations, we have not been reminded by seeing any of these!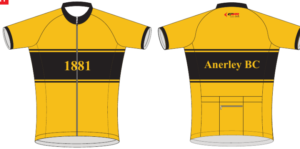 Yes it really did start in 1881, 140 years ago. One of the earliest bicycle clubs, and one of the very few from those long ago days, which has continued without cease, since that very first club bike ride by the young lads from Dulwich College!
Another record which our Club claims fame to, is that it was the first bicycle club to start it's own club magazine. The first Anerley Gazette we are told, was "laboriously produced in 1888 by copyograph" (whatever that was) by the Editor, "who also drew the illustrations, and drew them remarkably well". This first attempt as publishers of fine art, was superseded in 1890 by a quality and professionally produced magazine and continued until 1924 when post First World War, finances determined that a smaller and less expensive magazine was necessary. We do in the Club archive, still have a very small number of the original Gazettes from the very early 1900s. So I can attest that the old Gazette really was a fine and impressive magazine, and like the Boy's Own Magazine of that era, a jolly good read!
The one tradition that has been passed down from 1890 is the Gazette header.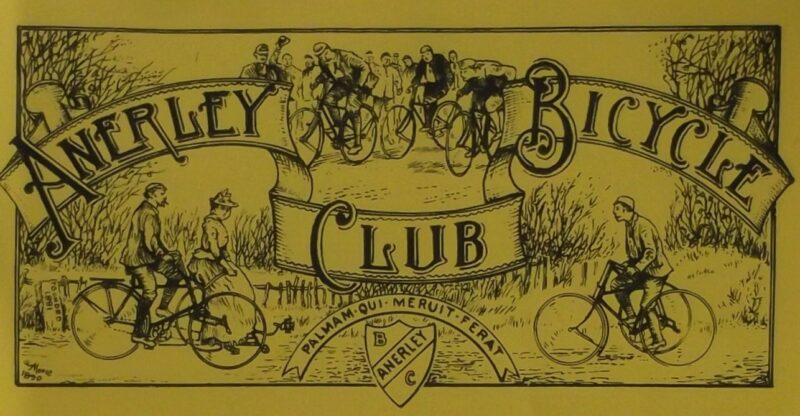 This was drawn for the new magazine by a club member who was renowned for being "the finest artist of correct and convincing drawings of cycles and cyclists." His drawing depicts members of the Anerley Bicycle, doing what they like best – cycling!
At the top is club member, A.J.Wilson, acting as judge at the finishing line of a safety bike race. Below left, is the artist himself, with his wife on the front saddle of an Olympia tricycle. On the right side is probably the most famous Anerley B.C racer of that time, S.F. Edge on a tricycle.
Now compare this photo of S.F Edge and Bates on an Olympia racing trike (with which they set a National record, unbroken for 34 years!) and the above drawing of George Moore and wife on a "social" tricycle. You can see how artistic Mr. Moore truly was.
So with all this history we thought that after nearly a year in Covid hibernation, we should revive the Anerley Gazette, to bring you news and views of the present. Also, it being an anniversary year, a bit of nostalgia for those who are interested in or remember Anerley's past.