The Anerley … Bog-off 130!
UPDATE 20/06/2011
Start is in Purley Tesco's car park Saturday 25th June @08.30. Bring a rucksack with your change of clothing/toothbrush. A sag wagon will be waiting to whisk those to the hotel ahead of you.
Anybody is welcome to join us for any part of the ride. Just let Gina know where you may be joining/leaving together with your mobile number. Or join us for our celebratory supper and a glass of wine at 8pm. You can still get home with bike friendly trains departing at:
22.00
22.30
Outward: We hope to get to Amberley for lunch by way of a quick cuppa at Horsham
The route (subject to modification) is here:
---
PREVIOUSLY …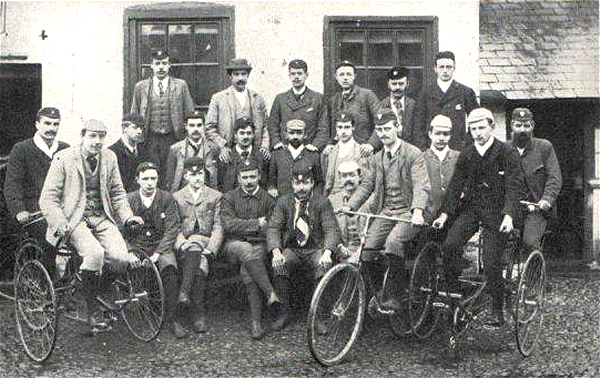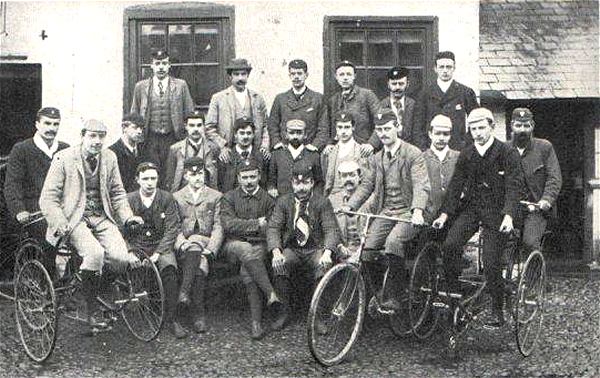 At the Crown, Selsey, Whitsun Tour in the early 1890s
The Anerley intend to celebrate 130 years of heroic cycling by organising a round trip of 130 miles to Bognor Regis on Saturday & Sunday 25/26th June 2011.
Do you have to cycle 130 miles?
Nope. You can cycle one way and the other by train – 65 miles.
Or even both ways by train and join us for a celebratory supper – 0 miles.
APEX rail tickets for rider & bike are only £4.50 (less if you have a railcard)
Why Bognor?
The photo above is of the earliest known Anerley cycling tour. This was to nearby Selsey Bill in the 1890s. Whether we will make it to that same pub (now closed) to have our Club Captain photographed in his tweeds is still an unknown …
Why Bog-off?
Club members who have cycled the Friday Night Ride to the Coast will know that the South Downs are little local difficulty on the approach to Arundel. You can go up and over – or take a pathway along the River Arun including two interesting stiles. Hence about a mile of off-roading.
What's involved?
Errr … cycling, eating and possibly drinking. Plus a night at Bognor's finest Royal Hotel – the place that helped put Regis after Bognor. Gina has an option of 10 double/twin bedrooms @ approx £37.50 a head including breakfast. There may be alternatives if this is too much. Plus an evening meal in the finest company of cyclists this side of Coulsdon.
We may have a sag wagon to carry a change of clothing for those who prefer to celebrate in glad rags rather than lycra …
It would be great if you could indicate your interest to Gina as soon as possible. And watch this space for updates as the plans finalise.
We plan to use the FNRttC on 22nd April as a recce ride to Bognor for those who would like to join us.