Sunday Ride into the Past: 1st Sept 2019
The first day of Autumn but sunny and warm, so I took the opportunity to take my group out to explore some of the Surrey's lovely country lanes and old villages. Seven of us set out for a morning tea stop at Ruby's Lakeside Cafe on the out skirts of Capel. Six below, plus Chrys who took the photo.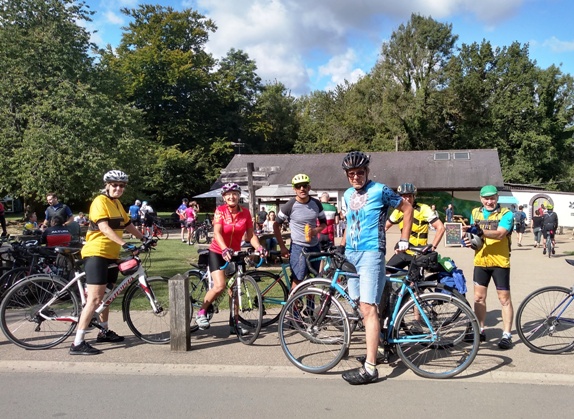 Three of the group wanted a shorter ride so Bob the Builder led them home. Four of us then continued around a circuit taking in Ockley, Wallis Wood, Forest Green and back to Capel before heading home.
Ockley has a very long history, having grown up along Stane Street, it's main road. There are several Stane streets in the UK, their names indicating that they were old Roman roads. This one, dating back to circa 45/50 A.D going from London to Chichester, now forms the major part of the modern A29. Back in the early days of the Anerley Bicycle Club, they would have cycled along much of this old Roman road on their way to Selsey. I am sure that Stuart's ride to Selsey, last week, would also have followed some of this ancient highway.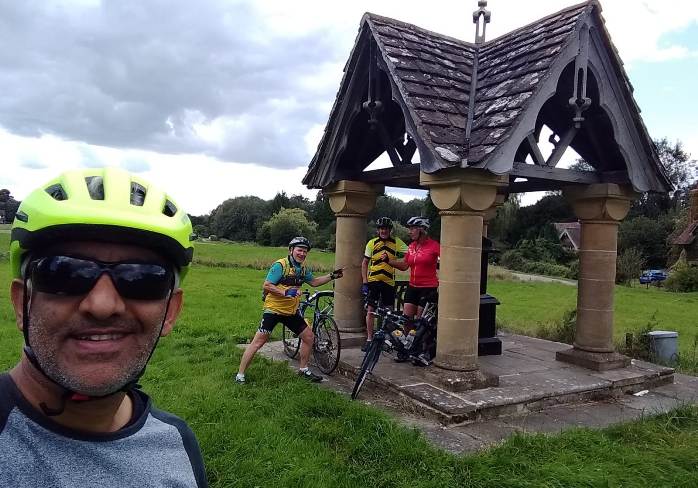 On the village green is Scott's Well. On her death in 1838 Jane Scott left two bequests, one was to set up a village school and the second to build this well so that the villagers had a readily available source of water. We take tap water for granted, but for example, piped water was not available in Purley until a well was dug (now under Tesco's car park) in 1903. When the Anerley bike riders set off in the 1880s to explore the Surrey countryside, they would have welcomed this well to slake their thirst on hot summer's days. No coffee bars or lake side tea rooms then!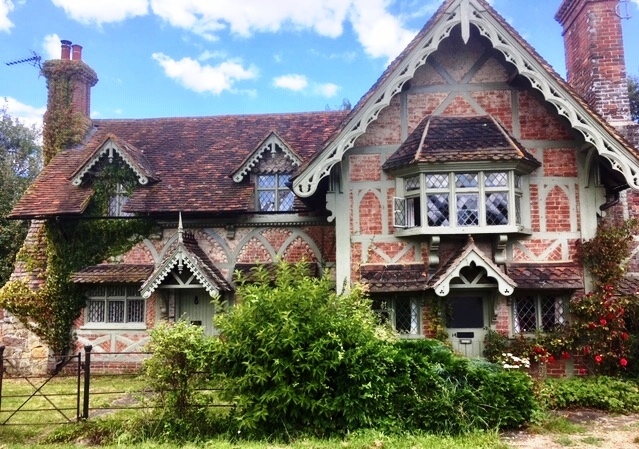 And as a back drop to the old well was this lovely old house. These would make Ockley Green a perfect setting for the TV series Midsummers Murders!
We then continued on our way, along winding, tree shrouded lanes to the olde worlde village of Wallis Wood with it's charming old pub. A few years back this used to be a favourite Sunday lunch stop on our Anerley summer rides.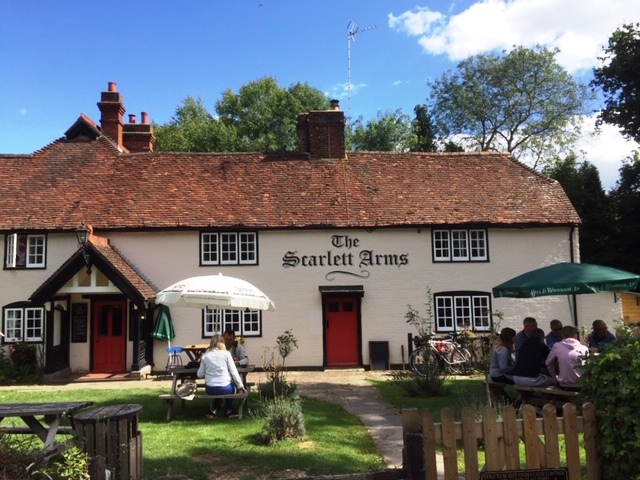 And seeing it again reminded me of Surrey's dinosaurs. Yes there really were dinosaurs in Surrey!

About a mile or so south of the Scarlett Arms is a brick works. Back in 1983 a nodule of rock was seen in the side of a clay pit. This nodule was found to contain a fossil of a dinosaurs claw.
Over a period of 3 weeks of digging, some 2 tons of rock was taken away for detailed examination. This resulted in what turned out to be a very important discovery of a fish eating dinosaur dated to be about 125 million years old. In it's prime it looked something like this.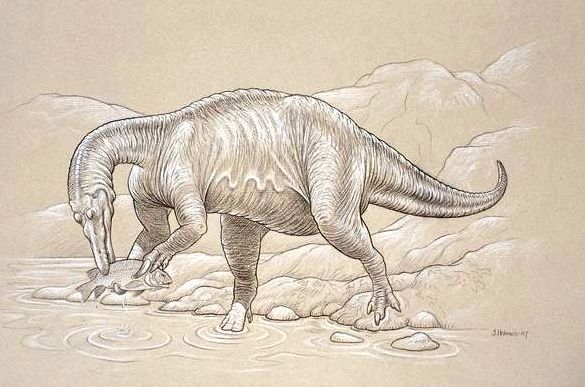 There have been many other fossil finds in Surrey's clay, but in 2017 another important discovery was made at the brick works near Wallis Wood. This being a 132 million year old Iguanadon.
Our next village, which in times past was hidden away in the wooded wilderness, was Forest Green with another old, 17th century inn, the Parrot. It's name is a bit of a mystery. Why would an old inn in the middle of a Surrey forest be so named?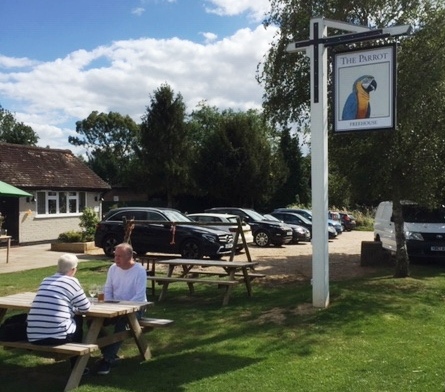 The locals speculate that as pirates are traditionally associated with parrots on their shoulders, perhaps this association continued with smuggling, which was rife in the 17th and 18th centuries.
But that is another story and will have to wait for the next bike ride into Surrey's weald.
Des