Sunday Ride: 7th April 2013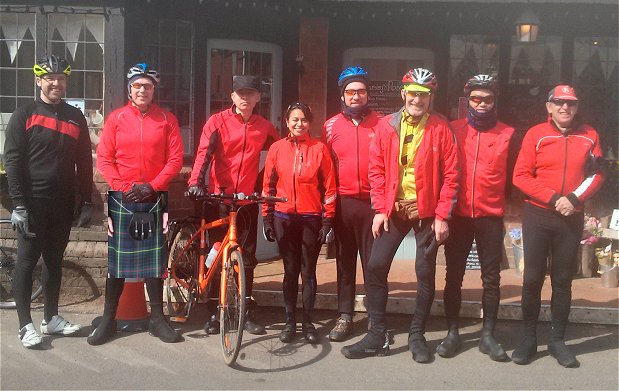 It's back! They're back! And we're back! It was great to see the sun out, bringing with it a wee bit warmth. It was great to see Stuart and Ricky back in the saddle, and it was great to see the Anerely BC back on the road!
A big pat on the back for those who turned out on the ride to Shere and Walliswood, the route was long and hard (55+) miles and very hilly with climbs up Ranmore Common and Leith Hill to name but two. And dare I say it the rising temperature had us sweating on the way home.
The good weather brought 100s of frustrated cyclists back onto the roads, there were bikes everywhere! But sadly it also brought out the mad motorists and a bit of road rage was experienced. Although this didn't suppress the wonderful feeling of being out and about on a lovely sunny Sunday.
The tea stop was at the Dabbling Duck (formerly known as the Lucky Duck), toast and jam, toast and fried egg plus cakes were the orders of the day and lovely they were too (although a few cries of "this is a bit dear" were heard). The Scarlett Arms at Walliswood was the lunchtime stop.
We had one puncture enroute and then later in the day Stuart decided to argue with a horse, coming of worse and landing on the floor. But after a quick dust down Stuart was back on two wheels and back in the pack.
One of the topics of the day was the "new" Anerely top, but going by the colour worn on Sunday it looks like RED is favourite, a Scottish flavour was suggested see our Captain modelling his proposed outfit.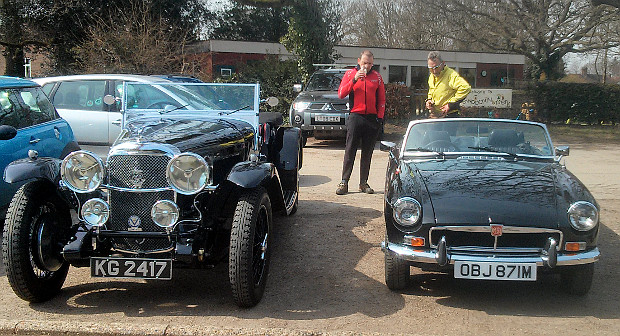 Jeremy & Graham compare the subtle difference between Alvis & MG derailleurs
About 56 miles.