Sunday Ride: 4th November 2018

The Veteran Car Chase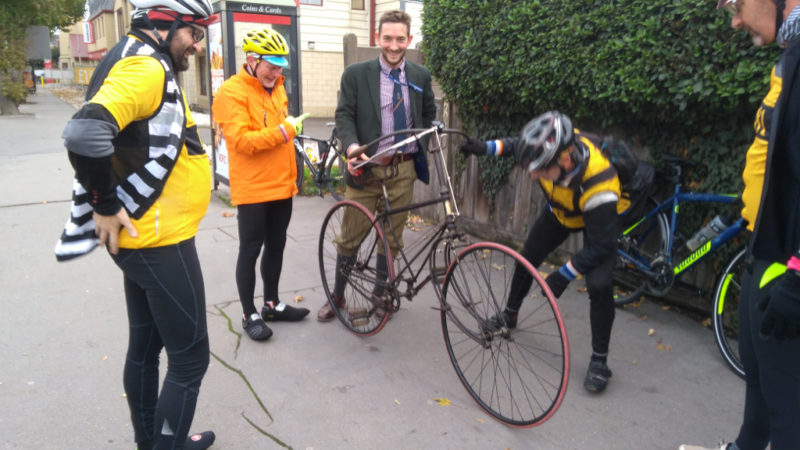 Almost a new recruit. This gentleman stopped to greet us at our early 8am start. Original with solid tyres with only LED lighting as a compromise with the modern era. Then off he went. We started about 15 minutes later and caught him on a big hill south of Handcross. So big he had to walk it. But he rolled into Brighton only minutes after we did – so a well deserved chapeau!
This Deadnought motorcycle was at the pit stop in Purley. He didn't do so well. He was was still stuck in Staplefield surrounded by mechanics on our way back!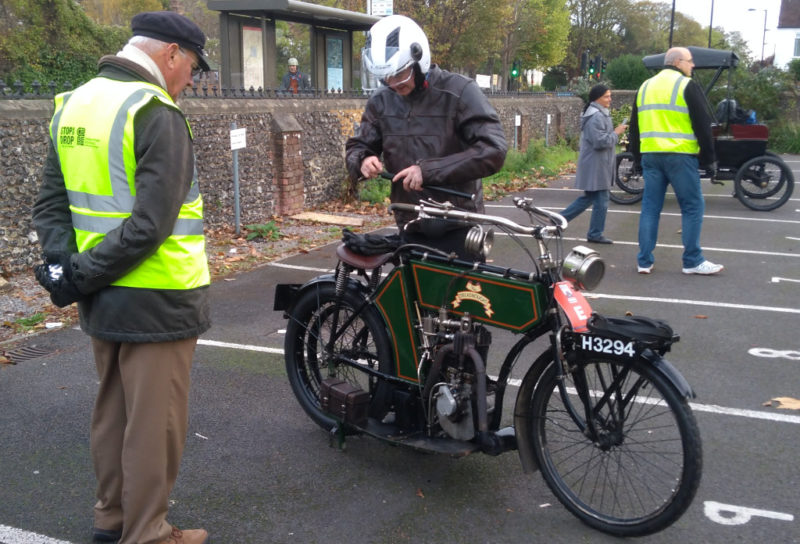 At the Purley gyratory we came alongside a Napier. "Did you know our champion rider raced Napiers?" I enquired of the driver.
"Oh, you mean Mr Edge" quickly came the reply. Just shows how cycling and veteran cars are entangled in history.
We picked up more riders at Coulsdon and chased the old crocks southwards. The A23 turns into a near-motorway around Gatwick. The trick is to get behind one of the taller cars and let it suck you along with all the other traffic giving you a very wide berth. I chose this one: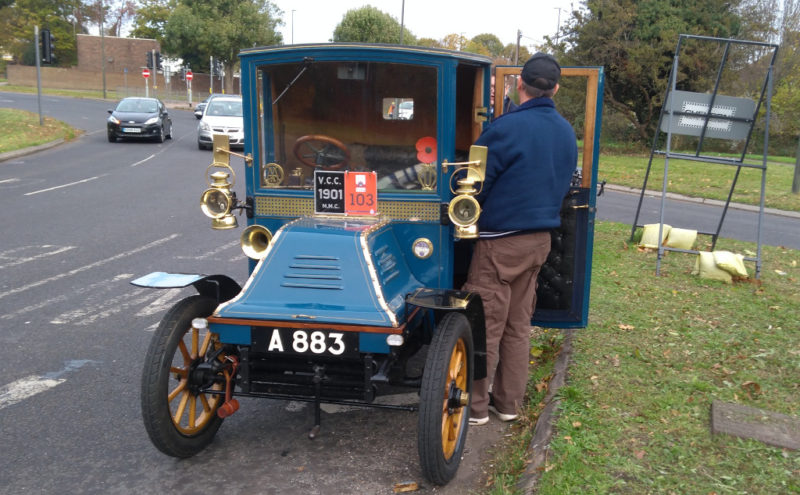 What could possibly go wrong?
Fortuneately I didn't discover that until we came to a much quiet section when the same car suddenly shed one of its two drivechains right into my path. I swerved to the left but, of course, the car had lost traction so the tailgate was in danger of becoming a little too intimate.
Back on the dual carriageway that would have been – err – interesting!
This is the broken chain. The driver said it was 80 years old and the links are just wearing out. He had a spare in the boot. That wasn't the end of the chain nightmare. More to come!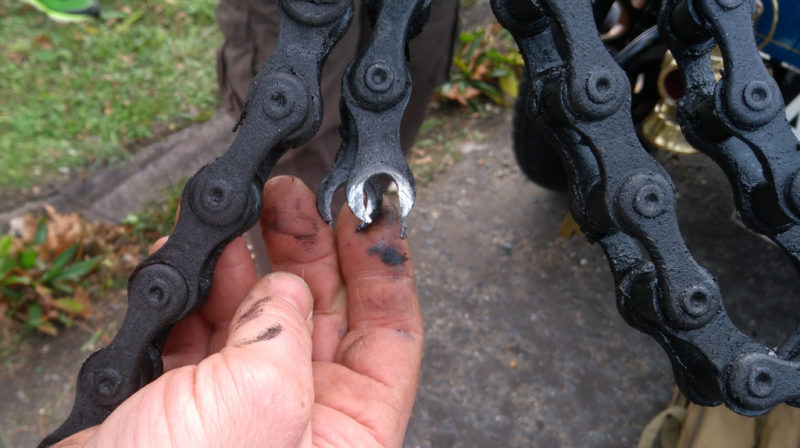 Here we are some of us in Crawley High Street having been fed and watered by the Scouts: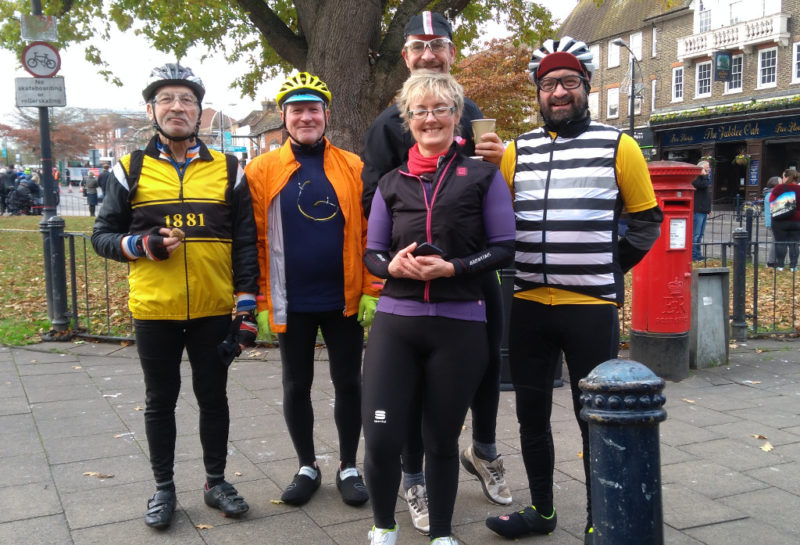 Onward and southward to Handcross were some returned via Turners Hill. All the way there appeared to be more spectators than ever – and more classic cars in the lay-bys. Except this year – no Heinkels.
Three of us pressed on to arrive in Brighton just before noon – see clock: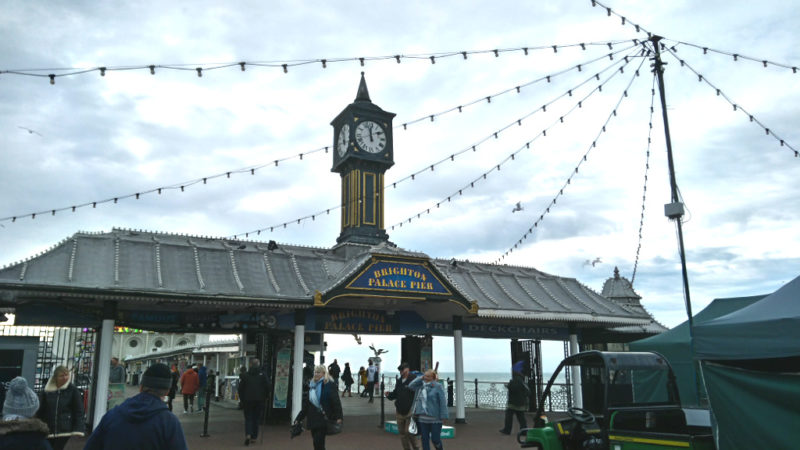 The 'all-the-wayers':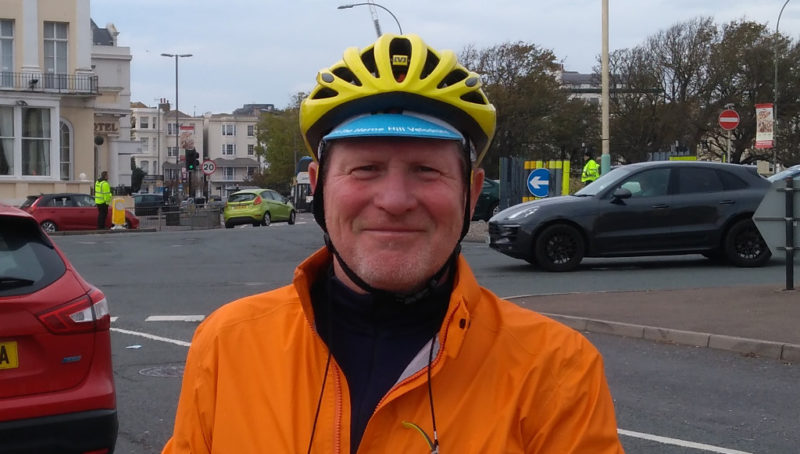 Two of us went for the return. Within a mile the chain fairy struck again leaving Barry bereft.
"Broken chain" enquired a tramp in the doorway.
"Yep!"
"I've got a tool for that" responded the fairy's godmother. And he had!
Fixed we continued for another mile when Barry's chain separated again. He retired sensibly to the train station.
Perhaps more pleasant than the A23 cycle path but it contributed to another ton doorstep to doorstep or 86.52 miles @13.32 mph phonebox to phonebox.
Oh and an encounter with Denise & Bob in their beautiful light blue E-Type. Truly a classic day!