Sunday Ride: 31st August 2014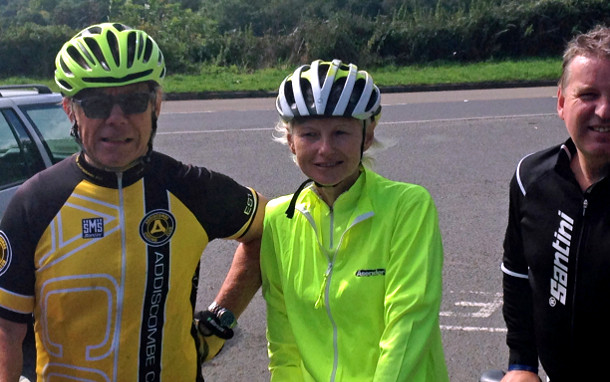 Sunday somewhat depleted as 3 of us turned up [Pete, Ewa and Frank] at 501 brilliant sunny and breezy day and yours truly was nominated TL. We agreed Ide Hill cafe that Yoshi and I discovered on 10 August. I chose Jim's route via Chelsham Common and UP Beddlestead Lane and I got to the top just ahead of a phalanx of riders who of course happened to be behind me.
Pilgrims Way was very busy and we let a peleton through and tried to keep up with until we turned right to the Sundridge cross roads and up to Ide Hill the easier way compared to the harder way on the Toys Hill lane from Brasted. The Community cafe was packed with cyclists.
I convinced Ewa we go on to Edenbridge as per ABC website destination pre pub at Brasted. We found our way to Edenbridge via 4 Elms down the High St and stopped on the stone bridge over the Eden! Should have taken Haxted route but ended up travelling north to Crockham Hill that Ewa did not want to do under any circumstances. Solution was to turn right part way up Crockham Hill along B2026 to Westerham. Still quite a hill. Ewa was okay to go up to Clarke's Lane to Botley rather than the easier Marden Park route.
Back along the Limpsfield Road to Warlingham against a fierce head wind. Pete was slip streaming behind me. I am so used to doing that behind Jim so it was turn as temp TL. I lost Pete and Ewa on way to Sanderstead roundabout so I guessed they turned left at the mini roundabout before down to Riddlesdown. It was good blow on such a nice blustery day.
Report by Frank, picture by Peter