Sunday Ride: 24th August 2014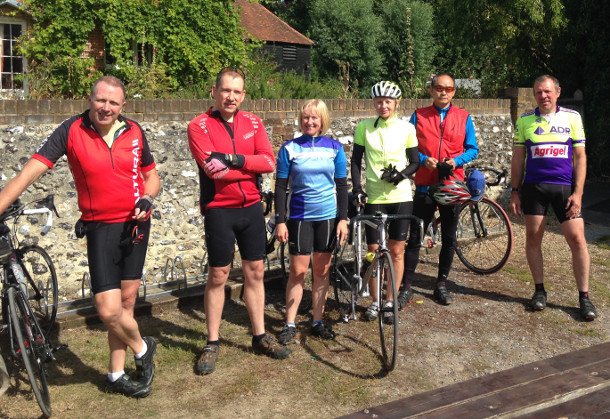 Sunday 24th August, the weather was dry, cool to start but warming nicely throughout the morning. The tea stop at Bockett's Farm was reached in record time with all riders having placed their orders and we're sitting patiently on one of the picnic tables outside by 1030. The selection of goodies being consumed ranged from jam scones, toast & marmalade to bacon & egg butties (yummy). The route to Bockett's took the gang through the "green and pleasant lands" of Walton on the Hill, the outskirts of Leatherhead before a gentle climb up to the farm.
The ladies in the group (Ewa and Julia) headed home straight after tea, the boys made their way through Bookham, Little Bookham, Ranmore Common and down White Down Lane. The group split again at this point with Pete, Jeremy & Ricki heading off to Holmbury St Mary to sample the produce of the Shere Brewery, Mark heading home via Leith Hill and the Captain took the fast track along the A25. A great way to spend a Bank Holiday Sunday, I say.
Jim M