Anerley Picnic: 7th September 2014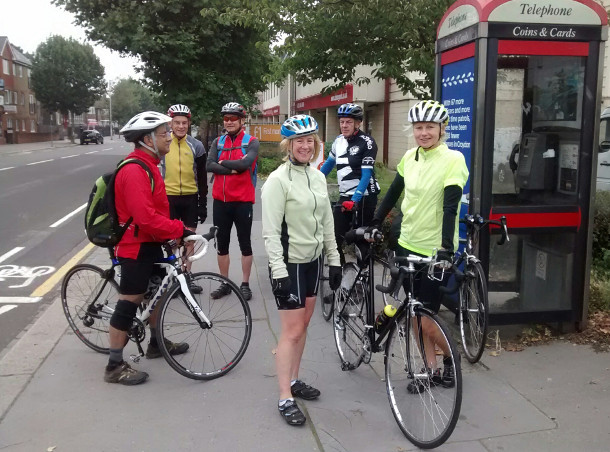 Waiting for Dado …
It was 7.30am – an ungodly hour for some Anerleyalians gathered for the Sunday Ride to the Picnic. Too early for John D who decided to take a later train to Horsham and ride from there. Our destination was Barnham some 55 miles deep into West Sussex and just short of Bognor Regis led by Brian P putting his annual Sunday club appearance. The seven of us set south adding Sandra H in Coulsdon but losing Ricki just around Reigate as he had left his mojo behind.
The route was well known to most of us as far as The Punchbowl at Oakwoodhill which we had done in reverse four weeks earlier. This was via Reigate Hill, Leigh, Newdigate and Capel. Thence into unknown territory to most of us – but thankfully not Brian P who succeeded in not getting us lost once. Chapeau!
Our first stop was Rudgwick where a kind soul on seeing us approach on the stroke of ten put out the open sign for the excellent Milk Churn Cafe. Cake was taken, knees were admired …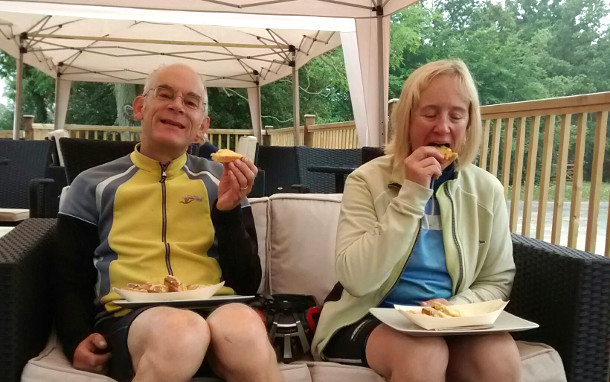 Thence to Loxwood, Ifold and the delightfull named Mackeral's Common and Balls Cross into Petworth. Here the group paused at a crossing were perplexed to see me whizz passed and take an unscheduled turn left apparently oblivious to to the cries of "wrong way". Infact I had suffered a double cleat failure on my brand new Anerley Aldi shoes and unable to dismount.
The errant beasts …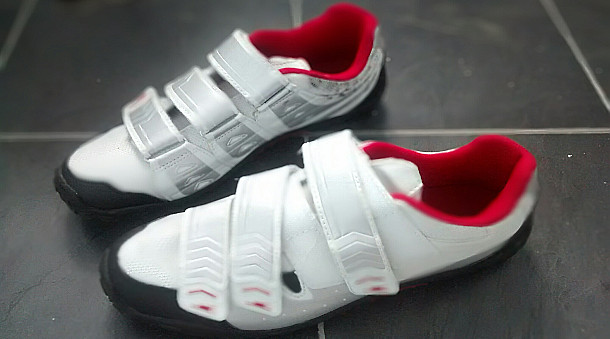 Eventually I found a friendly wall to rest against and extract my feet from the shoes. Brian had found a nice quiet lane to get us as far as the South Down – but here there was no choice – the busy A286 and a nasty climb. We managed to get off it onto the road to Eartham but this led to a track – or more accurateley a loose assortment of gravel. Some of us chose to walk the worst bits. Hence to the crossing of the A27 and down into Barnham and the back garden of Max and family just after 1 o'clock. About five hours riding. Meike and John were there to greet us and John D and Mark H rolled up to join us.
The family plied us with great quantities of cak and scones with tea and coffee to was it down. The afternoon was pleasant and a great relaxation after a splendid ride.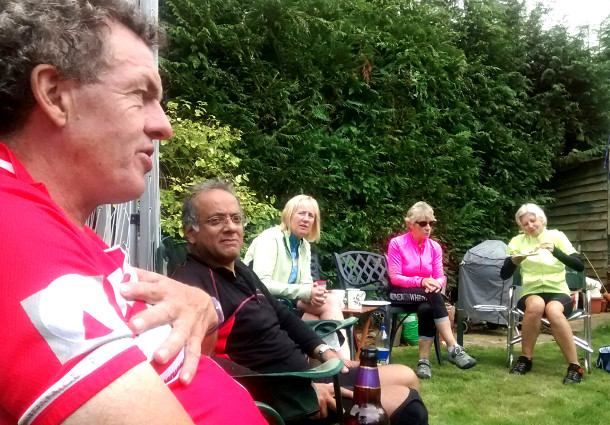 Most of us were too relaxed to do any more than catch the 16.06 train back from Barhnam.