Sunday Ride: 29th April 2016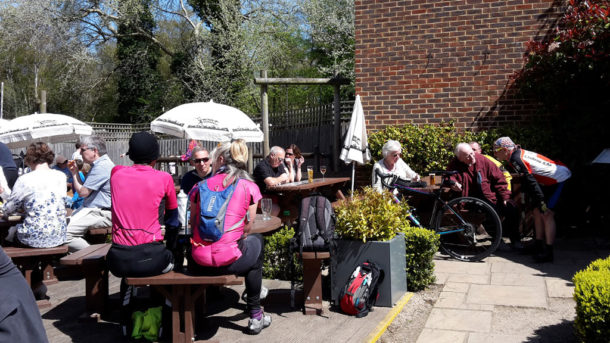 And so April ended with a stunning day. With a blue sky and warm westerly wind it was a great opportunity to visit an old favourite destination at Pyrford – The Anchor.
15 riders left Shurguard and headed through Coulsdon, Banstead, Epsom Downs, Ashtead, Leatherhead and Cobham to get to Painshill Park. With the sun shining on the beautiful park it was delightful to sit in the sunshine with a cup of tea and a cupcake. It was good to see the new faces like Deepak and Steve return as well as Miles who unfortunately waived us on after a puncture not to be seen again!
After leaving Painshill it was onwards through Martyrs Green, Ockham and Ripley before we arrived at the very picturesque Anchor Pub at Pyrford Lock. As we sat down for a drink and a packet of crisps, John and Meike arrived – a huge surprise but this was John's all time favourite destination.
On our way homewards we went through Woking before heading back through Effingham and Leatherhead.
It is a long time since the club has been to Pyrford and I sincerely hope that we go back soon – what a simply beautiful location.