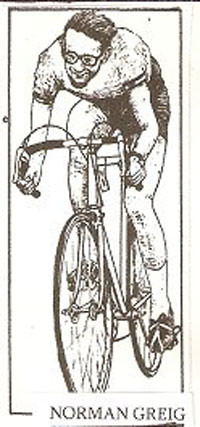 .It is with profound sadness that I have to announce the death of He had been ill for some years after moving to Norwich from Croydon some 25 years ago.
Norman married Betty when they were both very young and they formed a life-long partnership. They had three children.
My first meeting with Norman occurred in June 1955 when a friend persuaded me to ride a 25-mile time trial on the Cherry Tree course, starting at Salfords on the A23 and turning at the Cherry Tree, a pub on the outskirts of Horsham.
I was riding full bore towards Horsham when I heard a whirring sound and a moment later Norman, on a fixed gear, rocketed past me. He set a new club record that day of 1.3.1. I was exactly six minutes slower. I was in awe of him.
Norman held records at 25, 30, 50, 100 miles, 12 hours and Cousldon-Brighton and back. Unfortunately in his sixties he contracted tuberculosis and spent almost three years in hospital. But for that who knows what he might have achieved?
He joined Anerley in 1949 and was a driving force in the club, taking on the roles of captain, racing secretary, secretary and organiser in chief. He was very proud of the club and its history.
Few of today's members will have met him, but without his enthusiasm and drive it might be that the Anerley would have drifted away of so many other Croydon cycling clubs and now be just a name in cycling's record books. Thank you Norman.
John Turnbull