Tuesday Ride: 26th April 2016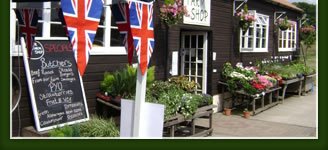 Another huge group of 16 went for the short distance to Godstone where the target was the Green Rooms. The promise was therefore for hills and the Tuesday Riders were not disappointed!
We lost Jenny, Des and Big George as we swooped down towards Woldingham on Slines Oak Road. After a 10 minute wait at the top of Croft Road we established that the missing group had gone on to Titsey Hill. A phone message from Meike telling us that we had to go to Flower Farm for our tea stop as the Green Rooms were unable to accommodate us.
Another 5 minutes waiting for Maggie to turn up – she had gone to find the missing 3…
A really fast descent into Oxted and on towards Old Oxted where the missing trio were still absent. Some more went missing at at Gibbs Brook Lane – Dave G had a puncture.
Amazingly we all turned up at the tea room at more or less the same time except for Dave G who got a big round of applause and a cup of tea on his eventual arrival.
After tea we split up and the girls (plus a few boys) headed directly up Flower Lane & Marden Park. I brought the remaining nutters home via Bletchingley and the steep climb up to Hilltop Lane & Farthing Downs.
Knackering but satisfying….