Sunday Ride: 28th July 2013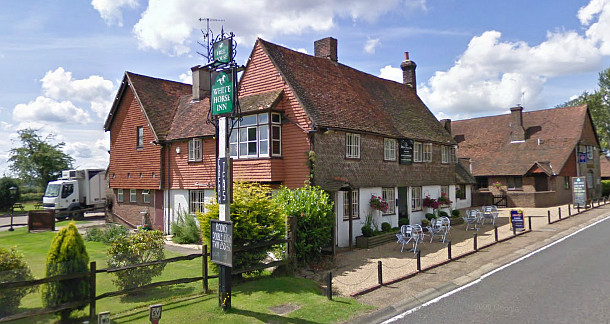 A wonderfully hot and sunny day. However, the school holidays have taken a toll of some of our regular riders. Only five of us set out on the run up to Botley and down the Pilgrim's way to Brasted. Toy's Hill is always a pretty awful climb for me. Over two miles and, unlike Ditchling, no redeeming features. Nevertheless we made good progress. Too good progress as we arrived at Chiddingstone Castle at 10:45 and the Cafe doesn't open until 11am.
Great cafe when open. And they offer to fill bidons without being asked. What more can you ask? Well a pub of course. So on we pressed to the White Horse at Hoylte. Our glorious leader left us at the bottom of the hill for a quick sprint home. It was a good job he wasn't around when we got to the top. The pub was closed and wasn't going to open any time soon. Indeed if you fancy managing a nice country pub popular amongst cyclists a local estate agent has an opportunity for you.
By this time we were depleted to Jeremy, Graham and myself. Jeremy claimed the nearest pub was now in Hartfield. Except near in Jeremy-speak meant around 3/4 miles! Graham meanwhile was trying to talk in his good lady arriving on four wheels into to our final landing place at The Anchor.
The beer was good but the talk centred on soil pipes. We were unaware this was an area of Jeremy's galactic expertise. But we do know. And that The Anchor's does not meet Building Regs.
Graham was chauffered home leaving Jeremy to drag me back over the hills. I'd done about 350 miles that week and my legs were feeling it. Sorry Jeremy for holding you back over Marden Park.
My thighs suddenly came to life for the sprint to Whyteleafle South station for a bail out home. Except London Bridge was shut so I still had to cycle home from Selhurst. 61 miles on the day.