Sunday Ride: 28th January 2018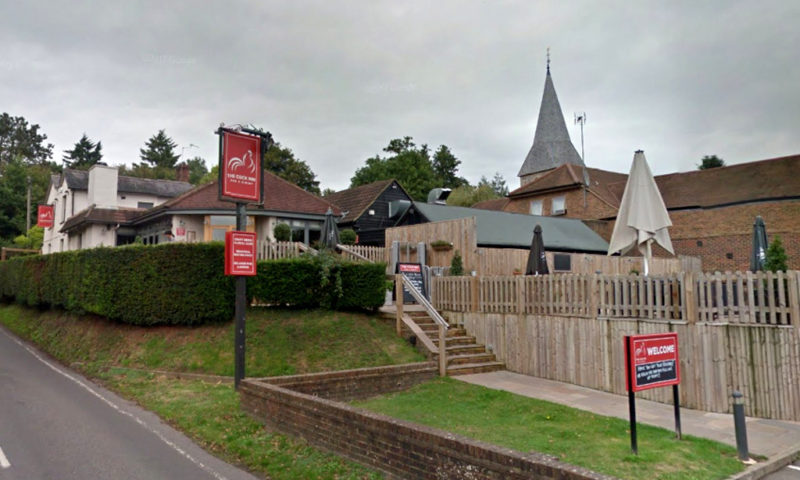 We welcomed Gorm, a Bugle 'lurker', for his first Anerley ride to Squires Garden Centre at Stoke d'Abernon (the Chelsea side of Cobham). Also the seen of Ewa's memorable lock incident back in 2012.
Seven of us went out via Banstead and Tattenham Corner. Squires may not be the speediest cafe in Surrey but it did its job. From there we headed back south to Leatherhead and the back route across the Mole. Swollen but not overflowing after the heavy rains. The fortune spent on flood mitigation clearly having some effect. Then it was up 'Little Switzerland' to Headley. Specifically to the Cock Inn (above) which bills itself as:
An award-winning country pub in the stunning Surrey Hills
They got the bit about stunning hills right. We were so stunned after the climb we really needed a drink. Lots and lots of empty tables but guarded with 'Reserved' signs. Would they mind if we sat at one and moved on when the reservation turned up? This was asking too much so we had to chill outside …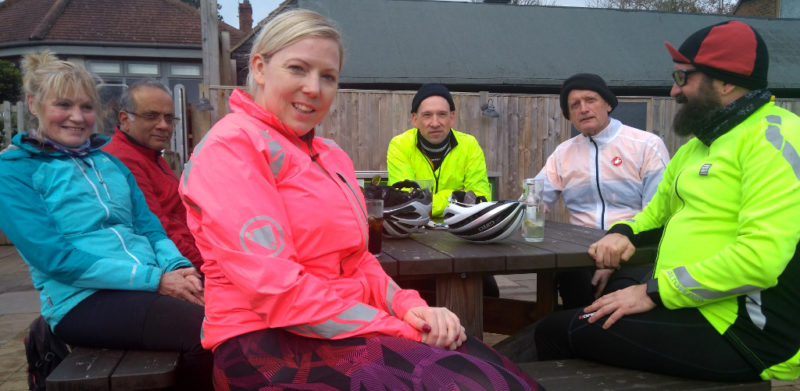 Some of those smiles were a bit forced. Not only was the price of beer the most we have ever paid but when I went back with exactly the same order – I was charged even more! They wouldn't even entertain being questioned about it. Clearly cyclists like us are an embarrassment to them.
Rip'em off and they won't come again. I think they are dead right!
Back via the Kingswood Estate which featured this week in a series of very violent burglaries by the infamous 'night stalker': https://www.standard.co.uk/news/crime/police-warn-violent-armed-burglar-dubbed-the-night-watcher-may-strike-again-and-next-victim-could-a3753001.html
38.16 miles at 12.27 mph.
Download