Sunday Ride: 26th August 2012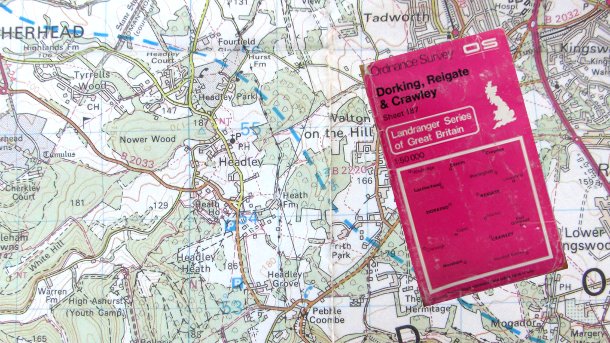 When the Anerley becomes an Anarchy Ride …
No leader, no people, no idea but we had a 30 year old map so no problem. We were three plus two guest riders Andy and Michael. The one good dry day of the Bank Holiday weekend. Jeremy had put down Shere and Wallisford as the two stops so we put together a route to get us there with a minimum of A25ing and avoiding the worst hills.
Ignoring the closed Chipstead Valley signs we wimped on bunnyhopping our steeds across the trenches. We also met up with a rider trying to find Brighton by SatNav and pointed him in the direction of Reigate Hill. A triumph for an OS map on which the M25 is but a future dream?
We took the back road out of Walton on the Hill but, as we had done Box Hill the previous week, we went down the parallel lane to the north. A first for me and a surprisingly nice gentle descent.
What goes down must go up. Ranmore Common beckoned. We took the easy route which, as our guests will confirm is not easy at all. It just misses out the vicious final hairpin of the other route which gets to the same height in a similar distance. Its a pity that they didn't take time out to admire the fantastic views towards the South Downs. So Andy and Michael – you needs to do it again!
Anyway here is Andy looking mighty cool at the top:
Down to the A25 and onto the Muddy Duck in Shere. Except no one had told Ewa who auitomatically pulled over into the Abinger Hammer Tea Rooms. After a discussion on the relative merits and pricing of tea and Victoria Sponge at Shere we decided to pocket the difference and stay: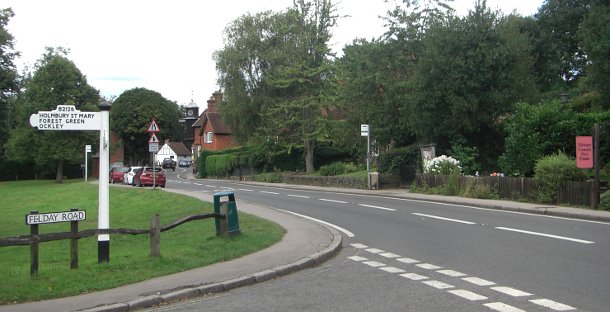 Tea-ed up we set off down the road opposite to the Wallisford pub stop. By this time Andy & Michael were really motoring and the map holder was but dust in the distance when the other four reached Friday Street and obeyed the Garmin call to take a left. A two mile diversion. Back on track we happily found the Scarlett Arms. A very good hostelry charging £3.90 for beer and crisps compared to £4.65 the week before at The Volunteer. No wonder Graham is smiling …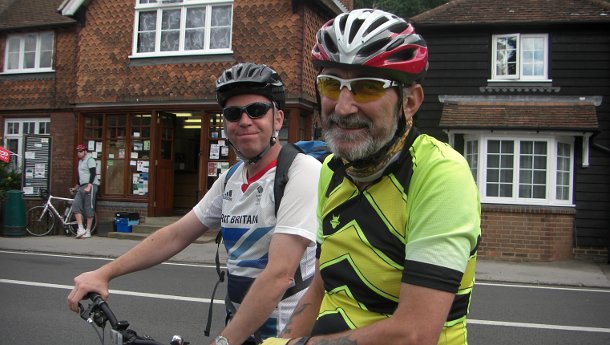 Well fed Michael had some spare to feed the guardians of a secret pond hidden in the woods between Outwoodhill and Ockley: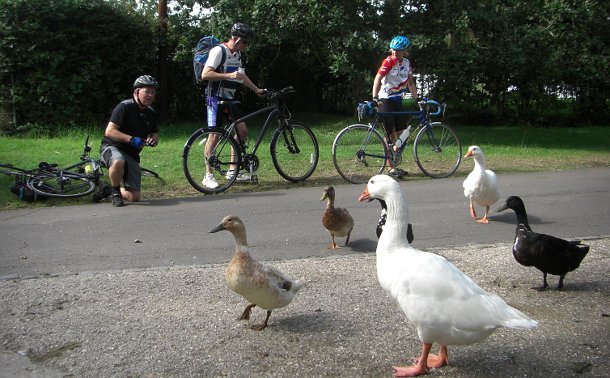 After that we picked up the traditional route via Newdigate, Reigate Heath and the Merstham Gap for a 56 mile round trip. Hopefully our guests will want to join us again soon. Indeed if Ranmore Common tickles your fancy than Ide Hill will be a delight …