Sunday Ride: 25th September 2011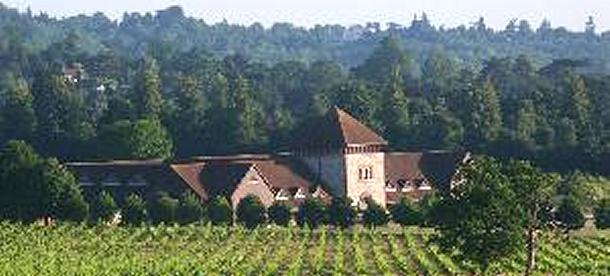 Words by Des, Pix by Ewa
I don't know if it is Olympic fever but the Surrey Hills are being invaded by cyclists. Serious cyclists on some serious bikes. Lots of carbon fibre, bright paint jobs, snazzy jerseys and shorts. Not a Sunday now goes by without a Sportive being pedalled over Ranmore Common, Box Hill, or both.
The September, Sunday club ride to the morning tea stop at Denbies Vine Yard was just such a day. When meeting at 9 o'clock on the Brighton Rd, there was a constant stream of testosterone charged cyclists going by, supported by paramedics on motor bikes and a sag wagon or two. Where was the brass band? I wasn't sure whether this was a circus or a cycle ride!
All was shortly revealed. Lamp posts adorned with arrows pointing the way and advertising the ride sponsor, "Chain Reaction". It was the "Ride Around London Sportive" on behalf of the charity, Access Sport.
Nearly 1,000 riders took part riding an optional 60 or 115 mile course, starting from the Herne Hill velodrome. Their route from Purley followed ours, except that they went down Pebble Coombe Hill to Brockham so that they could climb up Box Hill, whilst we went along the ridgeway in order to cycle down Box Hill. With this number of riders you can imagine the crush in the narrow zig zags of Box Hill as we were going down and they were coming up!
It was a beautiful sunny day and after a round table elevenses we split up, some going on with Club Captain, Jeremy, to the lunch stop at The Cricketers, Ockley, others going their independent ways.
My cycling companion for the ride home was Ewa, whom I lost before the first roundabout! Being the chivalrous knight in shining armour that I am, I went back in search of Ewa, only to find her munching the delicious grapes on the vine. Perhaps a case of "Grand Larceny"!
Enjoying the sunny day we took a scenic route home.
At Wonham Manor Ewa espied the deer herd sheltering in the shade of the old oak trees. She decided to take a photo of me in my Anerley colours, with the deer in the back ground. However they were too far away. But what a great picture of me!

Continuing our tour of the Surrey countryside, and to avoid the traffic on the very busy A23, we detoured and climbed up the hill to pass Fanny's Farm shop. Here we again got assailed by more testosterone charged cyclists on their expensive carbon fibre bikes. Another sportive! This time it was an annual sportive for a very worthy cause.

John Ibbotson was a keen local cyclist who worked with young riders. He tragically died aged only 25. This sportive provides funds to continue his passion for supporting and training young cyclists with racing potential.
There are 4 rides in Ibbo's Cake Quest, starting with the Fairy Cake at 20k, Jaffa Cake, Carrot Cake, and the longest at 150k, the Fruit Cake Ride. All start and finish at Walton on the Hill, so will be perfect rides for Anerley B.C members next year! Anerley Audaxers make a note for September 2012.
There are several items about this ride on a variety of cycling web sites, but you could start with http://www.ibbocakequest.com/
But whilst these puffing and panting, cycling enthusiasts crested the hill at Fanny's Farm shop, Ewa spotted the perfect photo shot for the Anerley Gazette.
So which one is the pumpkin!