Sunday Ride: 2nd October 2011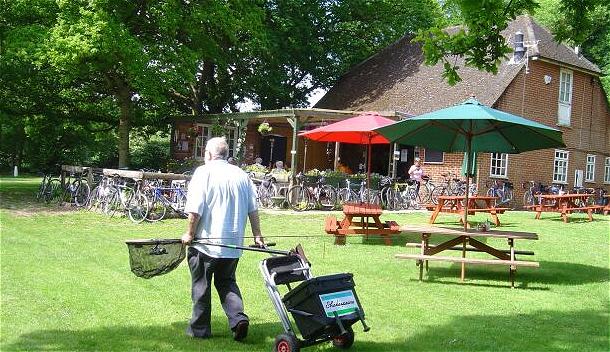 Words by Stuart, Pix shamelessly stolen from the Web until I can get hold of Ewa's!
First at the box was a new rider Sharon from Crystal Palace on a very smart road bike. Welcome!
It must be a little intimidating that being early, and perhaps not absolutely sure you are in the right place, to be alone until a few strokes before the witching hour. In this case the unseasonal sun an warmth eventually brought out eight of us: Jeremy (on Kenley Time), Graham, Gina, Julia, Ewa, Ricky, Sharon and me.
Blue sky and the annual London to Brighton Landrover run brought an interesting collection of four, six wheeled and other strange variants of the iconic vehicle as we ran down through Purley to the usual Coulsdon turn off for Chipstead Valley, by passing Walton on the Hill and a glorious whizz down Pebblehill Road. Surrey looked glorious, church spires nestling in valleys, picture postcard Leigh Green, Newdigate and onto Hensfold Lakes for tea & cakes.
Disaster! The Cafe was closed. The owners think they are entitle to a week's holiday. Thankfully a trailer had set up shop so tea, cake, bangers, eggs … were taken under now a very hot sun.
Two turned, five of us burned on to the Hedgehog at Copthorne – a first visit by the Anerley. It passed muster with decent beer and an expansive relaxed garden. We also managed to get there without being taken up one of Jeremy's favourite hills although his tour of Gatwick's dual carriageway network was, err interesting!
Then home through Bletchingley with a very sharp sting in the tail: White Hill Lane – a ghastly climb into Caterham, then through Kenley Aerodrome back to Purley or thereabouts. About 47 miles in total. I have done a MapMyRide from memory which Jeremy might wish to correct.