Sunday Ride: 20th May 2012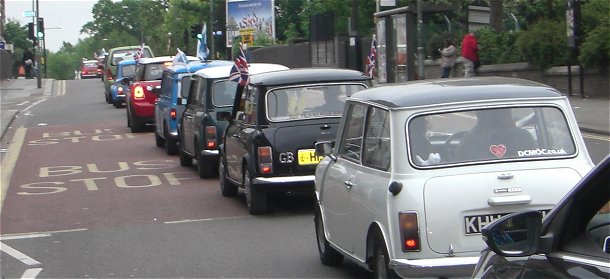 My ride to our Shurguard/501 Brighton Road start point passes our original location in Anerley. Today another set of iconic vehicles jammed Anerley Road as they poured out of Crystal Palace Park for their annual London to Brighton run. Some wonderful pictures here: www.london-to-brighton.co.uk but I couldn't resist this one (sporting Ford Cortina Mk1 rear/front lights!).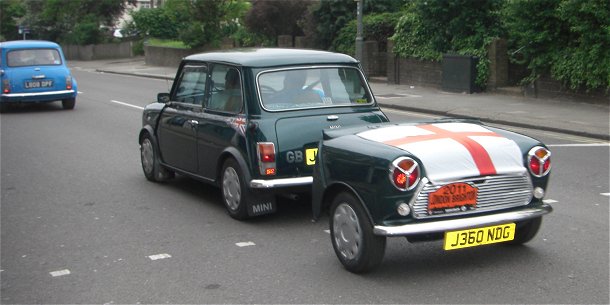 Today was to be a long ride touching down at Hensfold Lakes for morning tea and another rally encounter. A Caterham 7 was heading back to – Caterham? as we arrived … I just caught the last one!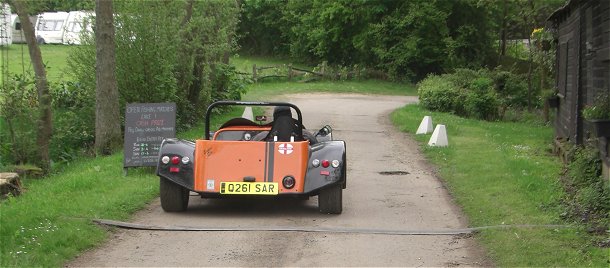 Hensfold Lakes has been a bit of a puzzle lately. It was good for great tea, toast, tea cakes and real cake. But then the owners went on holiday and service was from a caravanette. We now seem to be on the third set of owners and makeovers. Free WiFi might be nice, but cake has disappeared from sight and tea cakes have been abandoned. Mind you its a nice shade of purple if you can afford it.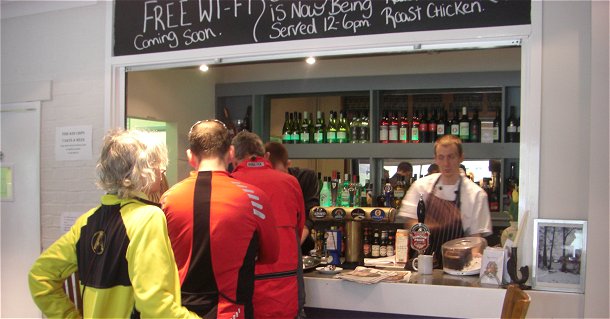 From Hensfold we joined one of Surrey's greatest rides through Newdigate to Rusper and on to Faygate. Always a joy. From Faygate we cut, for me, a new route up through Colgate and onto to a fantastic huge Hammer Pond where Ewa twice nearly laid down her life and wheels to get some pictures of us despite the oncoming cyclists roaring down Hammerpond Road. Where are the piccies Ewa?
Not much further on and 32 miles from home was the village of Slaugham (Slaffam). A very genteel sort of village. An even genteeler Slaugham Arms with live jazz (well a piano and double bass)to entertain us. Two pints of beer and crisps @ £9.30 was a bit of a downer but the sun came out and we admired a white telephone box. A box with a story. A grade 2 listed building with a fresh coat of white paint no less … as decreed by the Parish Council back in the 1930's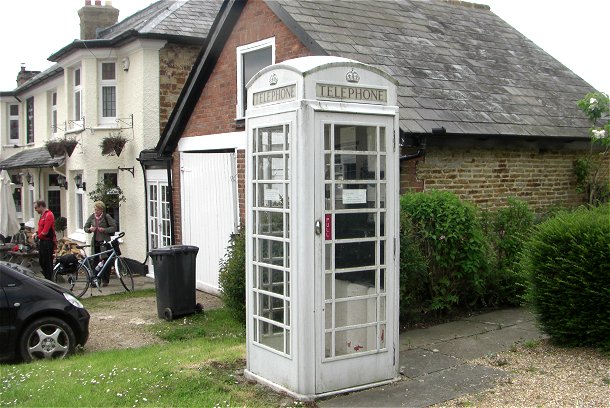 But all was not well as it appears their is a war between BT and and Slaugham Society …
Yes a strange place with an impressive unphotographed view of the village church. A view we have courtesy of the village squire who bought the pub that stood in front of it solely so he could demolish it to get the view (and hand the Slaugham Arms its exploitive monopoly).
The way home was t'otherside of the A/M23 up towards and over Turners Hill. Here is young Ricki flashing past …
We mistakenly decided not to stop at the Snowhill Garden Centre for afternoon tea as time was pressing on. Only to find that hunger was pressing too as we headed up passed Godstone and Marden Park.
End to end our first 100km of the year and hence a very happy Des. A great day, a great ride.