Tuesday Ride: 22nd May 2012
At last summer has arrived!   However it was not only the sun that returned after a long absence.
Back in 2006 it was the Anerley BC 125th anniversery. John Dadson and Jack organised a charity bike ride from South Norwood Country Park to The Old Jail at Downe. One of the riders was Sandra, who as a result joined the Anerley and has become a regular Tuesday Rider. Sandra was accompanied by her friend Jenny, who has recently retired and now wants to get the miles in by joining us on our Tuesday rides. So welcome to a wind swept Jenny after 6 years absence!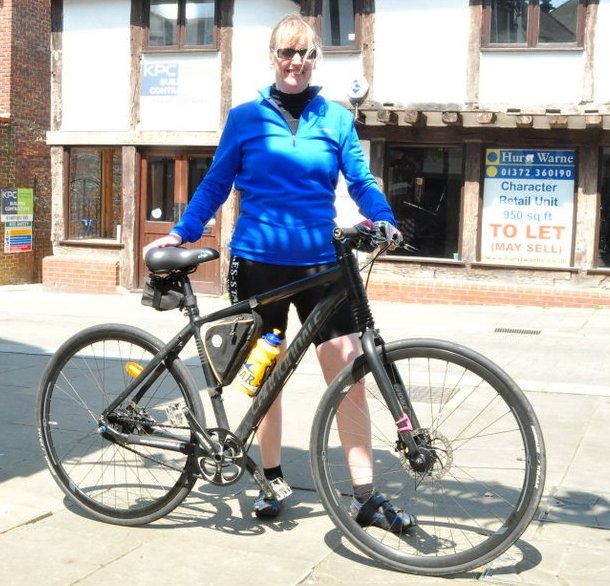 Since her last jaunt with the Anerley, Jenny has upgraded her bike to a very advanced bit of hardware, in the shape of a Cannondale. Cannondale were one of the first (of two US bike manufacturers) to introduce fat tube ali frames, which are now all the rage with both mountain bikers and roadies. Another innovation that Cannondale introduced, before front suspension forks became the norm on mountain bikes, was  a suspension unit incorporated into the head tube. You will see a rubber concertina shroud above the front fork crown, in the photo above. That houses the suspension unit.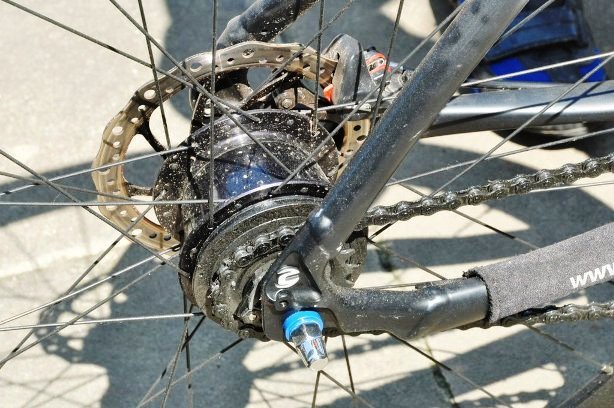 Other upmarket features of this Cannondale are disc brakes and a Shimano 8 speed hub gear, as you can see above.  However I am not sure that the spread of gears with an 8 speed hub gear is as beneficial as the more normal twin/triple chain rings and rear derailleur/casette combo.
But regardless of the technical aspects we all had a lovely ride in the sun shine.  It, and the lush greens of the recent springtime rains, certainly makes the Surrey hills a wonderful place to be on a Tuesday, whilst others slave away in the concrete jungle of the metropolis.  Sharon took a day off and certainly enjoyed her day away from the desk!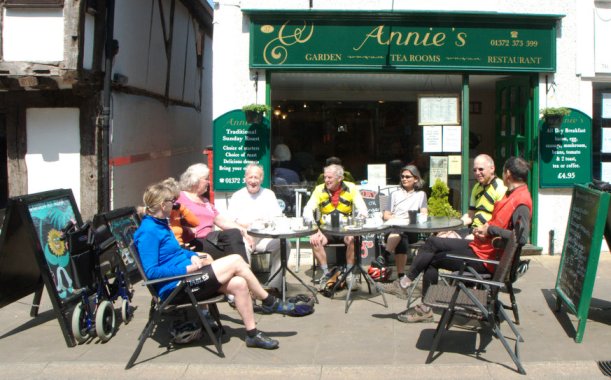 Sandra is hiding (second left) whilst Tom took all of the day's pictures, that makes a total of 9 sun worshippers!
And just to show that we did do some cycling, as well as soak up the sun, a group photo of Anerley BC's Tuesday Riders enjoying a view of the meandering River Mole.
 
Get the sun tan lotion ready for next Tuesday. Meet at Tesco Purley for more of what we all enjoy most!