Sunday Ride: 19th October 2014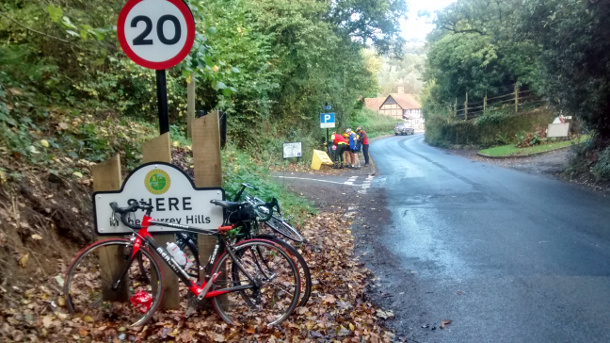 Nine set forth to Peaslake Village Store by way of Box Hill, Ranmore Common and two fairy visits before and after Shere.
We finally got to Peaslake around midday with 38 miles on the clock. Thankfully the village store had an industrial approach to shifting tea and pies across the counter and at very reasonable prices. Nevertheless they must be making a fortune with the volume of cyclists (road and off-road) passing through. The off road being resplendent in head to toe mud. The bikes likewise except for some surprisingly clean cassettes.
The weather was glorious – low sixties, sunny with a free draught to get us home. The extra mural eating and drinking area might not quite be as attractive on inclement occasions.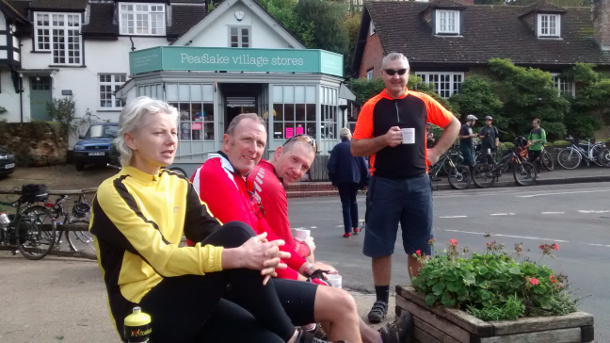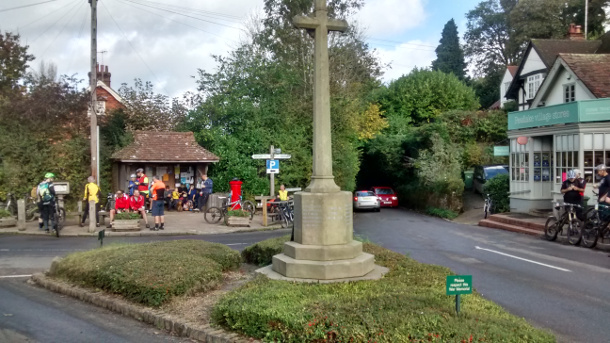 We set off on a lumpy route to Ewhurst and down to Forest Green eschewing our scheduled pub stop at the Scarlett Arms, Walliswood as we were running late. Shortly after the club divided into temperance/non-temperance division the latter finding refuge at the Cricketer's Arms, Ockley. A place with a truly amazing fish pond.
On through Capel, Newdigate to The Plough, Leigh. Not for beer but something more potent – door to door MGs courtesy of the Epsom MG club. Though the picture fetures a couple of gatecrashing Austin-Healey 3000s. Jeremy was in heaven or gasket land TF style to be more precise.
Thence the usual return via Reigate and the A23 with Tom leading the storm back into Purley. A great days ride: 64.5 miles telephone box to telephone box.