Sunday Ride: 18th May 2014
The sun had got its sombrero on. We were six up including our re-tanned leader Jim just back from cycling Majorca with Graham and Jeremy. However the other two slept out what was to be a glorious and hottest day of the year so far.
Out via Warlingham, the back lanes to avoid Botney, down to Pilgrim's Way and Braested. And so to my personal Everest – Toys Hill. We had only done a few hundred yards when a branch decided to throw itself around newcomer Tom's rear wheel. The mudguard crumpled. It looked a gonner but loosening off it was persuaded to revert to almost its previous shape. Neverthless Tom and myself had lost touch with the main group so we slowly ground our way up the two mile incline. We met up and the picture (above) taken.
Shortly after Jim left us to return home handing the leader's role to the only guy carrying a map.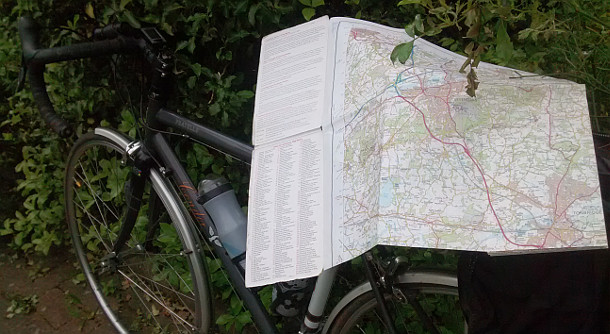 Despite this we whooshed down to Chiddingstone Castle and into the village cafe. There to be abused by a former captain for having taken too much of our and his time. Frankly trying to keep up with young 80 year olds like him is beyond me. Meike was optimistic that Brian will soon have sorted the new kit. Here we lost Ewa who was chaperoning John on his ride and Frank who was under a strict 2pm curfew.
We decided to ditch the scheduled pub and go back via Old Oxted and find a pub on the way. Barely a mile down the road Pete's chain broke. Luckily he had a chainbreaker and I almost remembered how to use one. Amazingly we fixed it. Pete was going to bail at the nearest station to be on the safe side but confidence grew and he made it all the way home.
The Haycutter pub just before Old Oxted looked fine from the top of the lane but I don't think we will be adding it to our runs list.
A quick burst along the A25 and back via Marden Park and Jeremy's tunnel under the A22 roundabout. About 43 miles. Frank reports he got home and so lives to ride another day. Pete is now almost a regular and Tom having successfully completed a challenging ride on only his second outing was fresh enough to continue home with me through Croydon to South Norwood. Hopefully we shall see him again soon – and also the Tuesdays and Thursdays.
Frank & Stuart