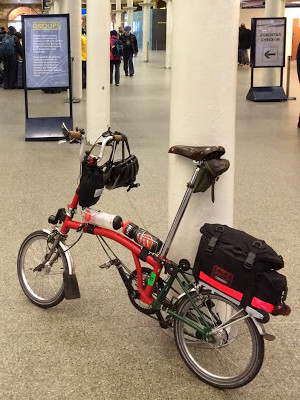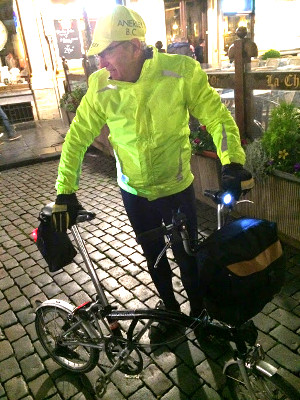 A well equipped Brompton at St Pancras … and a less well equipped Brompton in Brussels
This is going to be the Year of the Brompton for me. Why? Well the pictures above give the game away. You can jump on Eurostar without worrying about a bike reservation and a £20 fee. Or if Eurostar is a bit rich for you – you can follow me on the Megabus (£12 Victoria to Brussels and only £5 back from Gent through the Channel Tunnel). You just fold, bag, and shove it underneath with the other luggage.
I'm hoping to do a French Coast to Coast: Caen to Cap d'Agde by Brompton in June. Hence a couple of weeks ago my training ride was an overnight from Brussels to Oostende. Just 85 miles as the canals flow. There were eight of us including three Bromptons who set out at midnight from the Grand Markt to breakfast on the coast.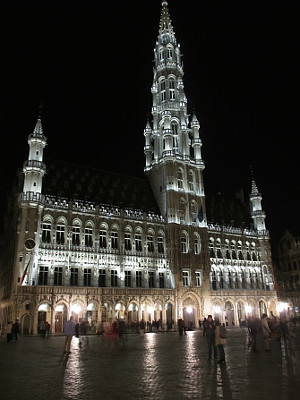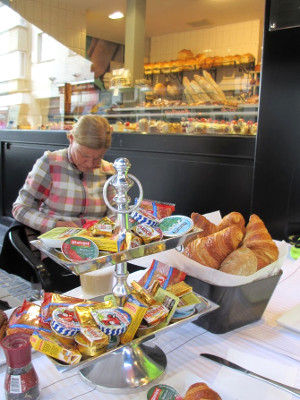 From the splendid Town Hall … to resting in a quiet cafe by the sea
The roads were empty and mostly flat. Through the small hours each town or village we passed had the sound of folks enjoying themeselves in bars but not a single siren or police car was seen. The canals had good tarmacked paths and some noisy ducks and we were able to cruise at 20kmph with a moving average of 15.5kmph for the whole trip.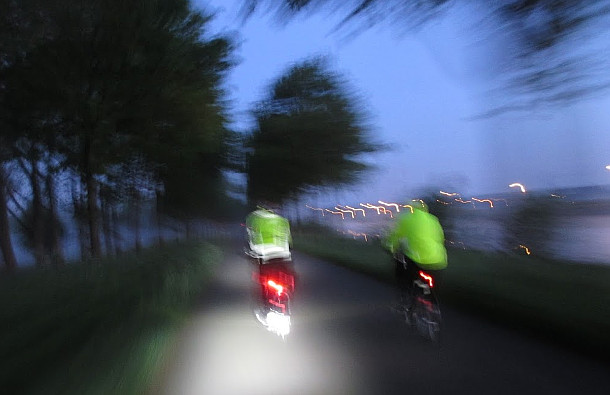 Through the Belgian night …
Our halfway stop near Gent was remarkable. A local family had got up in the night and cooked us lots of nice delicacies.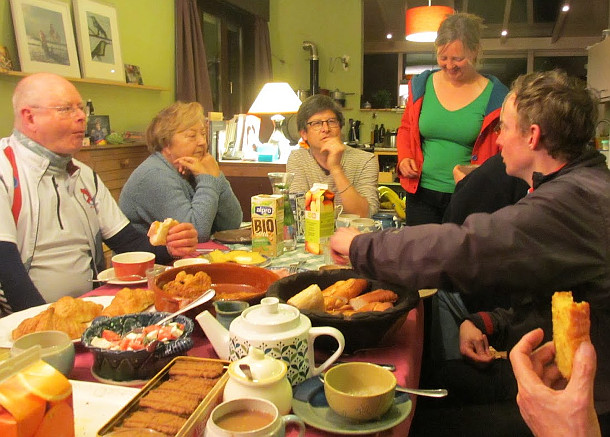 Stopping midway for a Flanderan Feast …
Such incredible courtesy helped fuel us on towards Bruges and a perfect dawn.

Three Bromptons, a Dahon … and something else …
We got into Oostende at 9.30am breakfasted and parted for our various ways home. For me, train back to Gent (OAPs can go anyewhere in Belgium for 6 euro (£5) return!) and coach back to Victoria. Slept all the way.
The moral of the story is Bromptons make it so easy and cheap to include Northern Europe in your weekend itinerary. Commuting they might be good at – but touring is even better. The faster they go the better they feel. No worries about security or hotels. Just fold and keep it with you.
Bromtoneers already know this. But few others realise. Now there is a new opportunity to try out a Brompton as an alternative to a Boris Bike or something more exciting. So here is a blatant plug for Brompton Dock in their own words …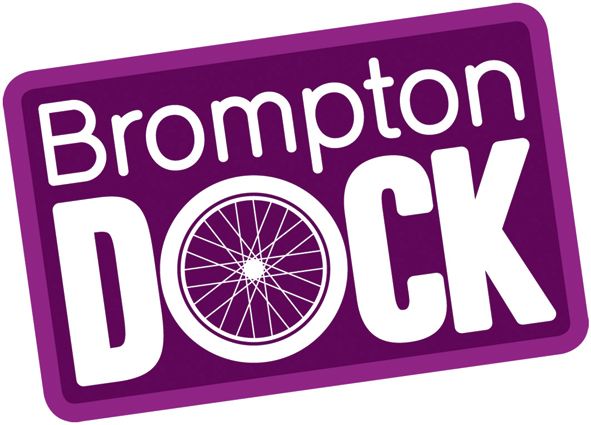 Register with Brompton Dock by the end of June 2014 for just £1 and get two days of free cycle hire.. with this special promotion code Free2Ride – available Monday May 19th until Monday June 30th
Brompton Dock – handily located at Peckham Rye Station – is Peckham Rye's most innovative cycle hire scheme offering residents, commuters and visitors the chance to explore on an iconic Brompton folding bicycle.
It's your chance to cycle in maximum style and with minimum expense – and it's free for two days when you register for just £1!
A British design classic, Brompton folding bikes are the only bikes that can be taken on all public transport, even during peak times, making them ideal for commuter and business trips as well as leisure use.
You'll also swerve parking charges, fuel bills and traffic jams. So, for a convenient, healthy, environmentally-friendly and affordable way to travel around the city, give Brompton Dock a try.
To benefit from this offer, individuals must register online between Monday May 19th until Monday June 30th to become a member before claiming the free, two-day consecutive bike hire offer. Registration costs just £1 with your special promotional code – Free2Ride
Brompton folding bikes are available for both long and short-term hire with a range of tariffs to suit all needs. What's more, Brompton Dock is open 24 hours a day, seven days a week, 365 days a year.
Freedom has two wheels!
Find out more here: http://www.bromptondock.co.uk/
– – – – – – – – – – – – – – – – – – – – – – – – – – – – – – – – – –
About Brompton Dock
The Brompton Dock hire bikes can be taken into the home or office and on public transport, even at peak times. Members can keep the bikes for as long as they like, from hours to weeks at a time. Members of the scheme register online at bromptondock.co.uk and pay an annual membership fee. They can then reserve a bike online or by text message.
A wholly British enterprise, Brompton Dock markets and manages the world's first and only cycle hire scheme that uses a fully-automated docking station especially designed for Brompton folding bikes. It enables the hire of up to forty folded Bromptons, stored in a single car parking space.
Brompton Dock Ltd. was launched in April 2011 and is a sister company of Brompton Bicycle Ltd. The new company was created to address the clear call for a hire scheme that is cheaper to install and run, more economical to use, not dependent on state subsidies, more flexible in configuration and more space saving on site. The folding nature of the bikes allow something previously unseen to be achieved as they can be taken on public transport and kept with the member at all times, reducing the theft risk.
Find out more here: http://www.bromptondock.co.uk/