Sunday Ride: 18th December 2016
After last week's 17 riders I booked a table Pondview, Otford telling the excited lady that I would have 1-15 people with me. Horror of all horrors: only Barry was waiting for me at Shurguard on a misty but mild Sunday. Fortunately, Julia had told me that she was being dragged out by her Professor Tom so I'd arranged to meet them at the bottom of Bughill.
We went the long way through Woldingham up the aptly named Lungurst (Lunghurts) Road before joining the top of Titsey Hill and onto the Pilgrims Way. Instead of the usual route I also went via Chipstead Village, crossing the River Darent before crossing again at Dunton Green.
I have never used Rye Lane before but it is a quiet, pretty road which I had never used before. It follows the R Darent flowing NorthEast until it reaches Otford. The owner of the tea room greeted us warmly despite the sorrow she must have felt at meeting the small group of 4 riders instead of the hordes that were promised.
After tea and a full English breakfast we went to look at Henry VIII's lost palace at Otford. I've been in the village countless times but never knew about it! There is just a tower and the remains of part of the wall with some cottages built into it.
Here's a picture of the impressive, beautiful ruin with some
impressive beautiful ruins standing in front of it.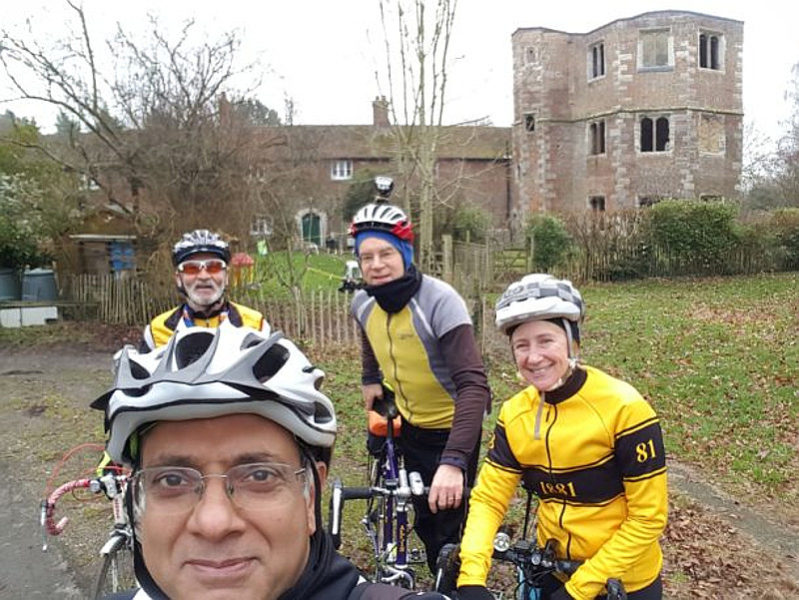 Homewards the short way, straight up Starhill to Knockholt as it stared to get nippy. Another variation of a route to reuse at a later date.