Sunday Ride: 15th May 2016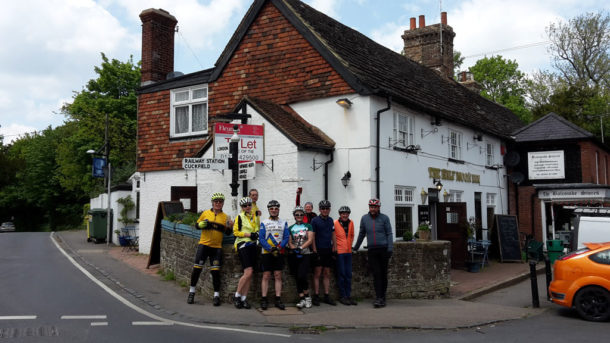 A long day – 54 miles which started with the slow grinding delight of Purley Downs Rd to Sanderstead and Slines Oak Rd up to Woldingham. On arrival at the top of Woldingham, Dave failed to unclip from his pedals and promptly fell over with a yell. I had to admire how swiftly Belinda moved to avoid cushioning his fall! Then came the fast descent of Chalk Pit Lane to Old Oxted before the gentle flat section through Lingfield. Lastly a gentle climb up to the traffic jam entering East Grinstead.
The Bluebells Cafe is a rather nice stop with fast (if inaccurate) service and for people like Stuart, they have generous sections of chocolate cake. After less than 45 minutes we were fed and tanked up for the next section to Ardingly. Along Weirwood Reservoir before ups and downs to Sharpthorne and West Hoathly. No trains in sight but plenty of hills.
The lovely, long descent from West Hoathly lulled us all into a false sense of security because the final ascent, a nasty 20% climb up Cob Lane to Ardingly came as a rather unpleasant shock. I've never seen so many Anerley cyclists walking up a hill with their shiny touring machines! Barrie and Belinda shared some choice thoughts with me about how much they disliked my choice of route but they should have admired the views as I did…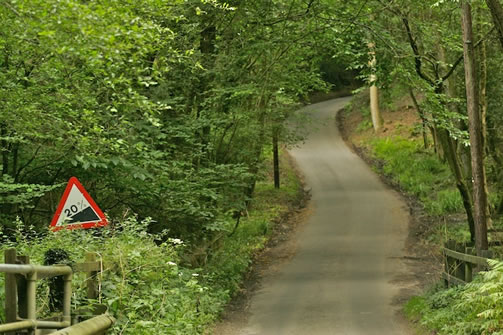 The downs and ups continued to Balcombe where some of the gang stayed on for a much needed pint or two.
The final stage of Balcombe Rd and A23 came as huge relief and Barrie, Belinda & Steve shot off home without us slow coaches.
I spent the rest of the afternoon contemplating and thinking about a route avoiding any hills on next week's ride to Newlands Corner via Ranmore Common…