Sunday Ride: 13th April 2014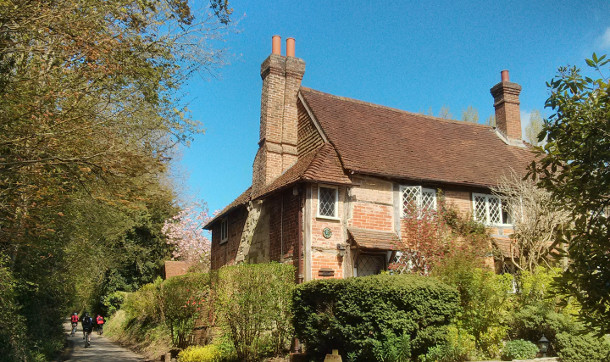 Sunny, warm, the start flood defence free and ten riders. A good start. Two were guesting for the first time – and, we hope, not the last!
Jim was AWOL so at the top of Welcomes Road Jeremy was waiting to take us a new way out via the back streets of Caterham. Then down and out via Bletchingley (picture below) where Frank decided to take an early bath home. The freewheel downhill had to be taken with care – the road surfaces is appalling and taking corners at speed becoming increasingly hazardous. Let's hope Surrey CC fix it before next November!
Outwood Post Mill is also in a sorry state – down to only two sails. Does no one love it? What would Jack have said?
Thence uneventfully onward to Snowhill and the return via Tilburstow Hill and, for some, the excellent Fox & Hounds. Two pints of IPA and crisps for £8.80. Great value, nice garden.
Spring has certainly sprung. The headline photo is, of course, the drunkards returning up Church Lane, Godstone. What could be more beautiful and uplifting?