SCCU Hardriders Don Glover Memorial 21 Mile Time Trial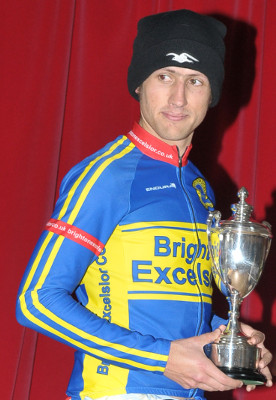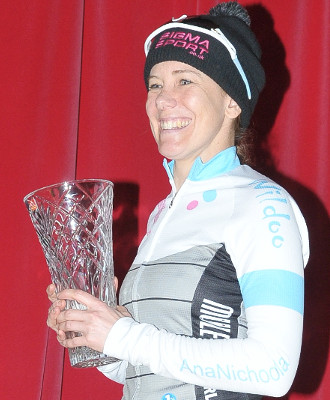 Trophy Winners
Bill Diplo Cup Fastest Rider in a SCCU member club: Steve Kane Brighton Excelsior CC
Don Glover Vase Fastest Woman: Natalie Creswick Team MuleBar Girl
Overview
It was a relief that the conditions on the day were favourable, the weather was fair, the roadworks had been taken down and there were no unforeseen incidents.
Tony Alston, in charge on the day, said that "I don't think I can remember an event I have been involved with that has had a greater feeling of excitement than this years Don Glover Memorial Hardriders. This was caused by the large number of riders, many female, who were competing in there first Time Trial. How Rebecca Slack managed to persuade so many women to ride, it must be said,on a very difficult course, I can't imagine. Rebecca's idea of running the South East Women's Time Trial Series bodes well for the future of Time Trialing and women's Time Trialing in particular."
Congratulations to all the Prize Winners, especially Steve Kane, Brighton Excelsior, with a superb 50:35, a new Event Record and to Natalie Creswick, Team MuleBar Girl, with an amazing 56:40
Attachments
Photos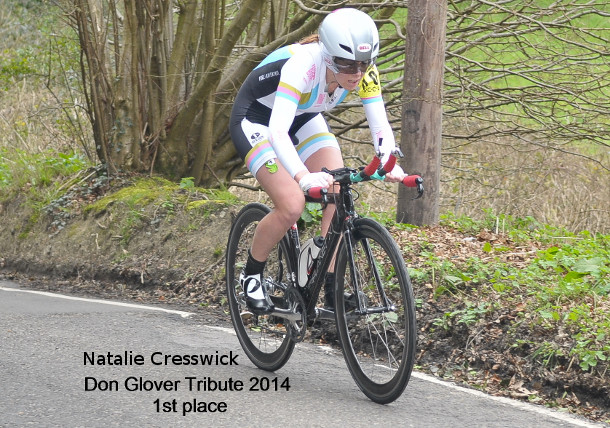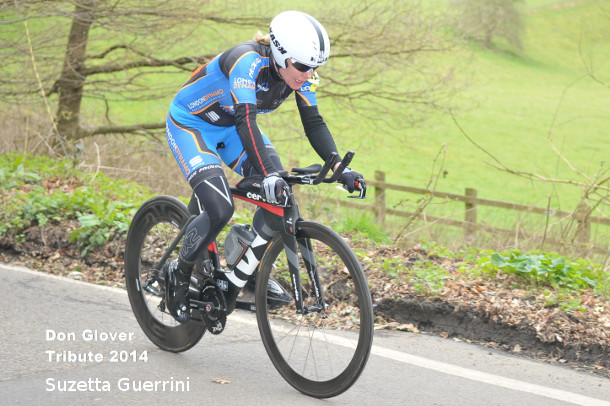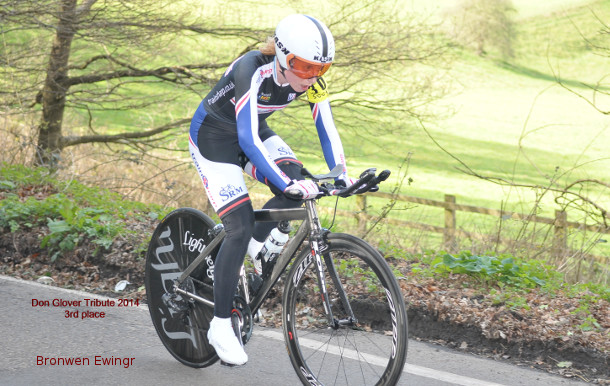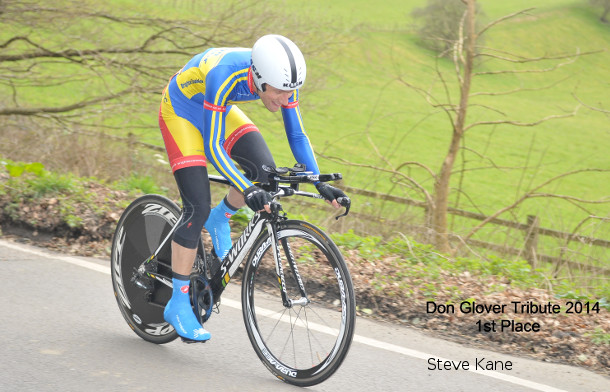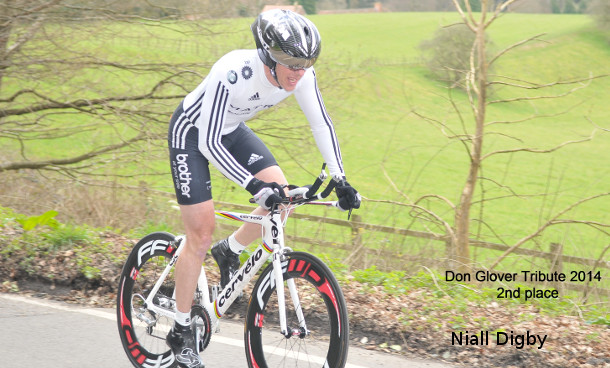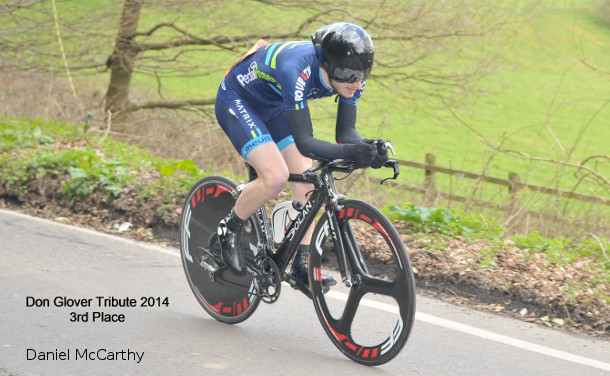 Thanks
Thanks to the generosity of the Prize Fund Donors I was able to extend the awards more than usual.
Thanks to the generous donations for Tea Coffee Cakes etc I am able to send a donation of £135. to
St Christopher's Hospice.
Thanks to the Army of Helpers, without whom the Event would have been a Non Event.
Lesley and Bob Donington, Clarence Wheelers, started you off and timed you back.
Tony Alston, SCCU, man of many parts, took charge on the day, set out the Signs, Controlled the
Signing on, Receiving the Finishing times.
Mike Porter 34 Nomads CC and Stuart Hourigan 34 Nomads CC were the Pushers Off
Pete Hamilton 34 Nomad CC Marshaled the Coopers Hill Road corner
Keith Wilkinson East Surrey Road Club was the Checker at Chapel Road Junction
Richard Payne 34 Nomads CC Marshaled the Chapel Road junction
Suzanne Ahern 34 Nomads CC Marshaled the A25 corner at Bletchingley
Jan Sommerfeld 34 Nomads CC Marshaled the A25 corner at Bletchingley
John Percival 34 Nomads CC was the Recorder at the Finish
Robert Royle Evatt Addiscombe CC was the Spotter at the Finish
Charlie Ayston 34 Nomads CC Phoned the Finishing Times to the HQ
Stan Brown Addiscombe CC Received the Finishing Times at the HQ and assisted with Result Board
Joan Brown Addiscombe CC in charge of the Results Board
Valda and Howard Deller Old Portlians CC ran the Kitchen, whose wonderful Tea and Cakes raised £135
for St Christopher's Hospice.
Colin Derrick, South Eastern Road Club, was the Man with the Camera. I think you should all have received a photograph as a reminder of the Event, which has involved him with a lot more than just pressing the Shutter Button and remember that it is very difficult to hold the Camera still in such chilly conditions.
And Finally I would like to Thank You All for entering this Event, especially those who are New to Time Trialing but also those who should know better at their age and, of course, all those Inbetween.
It has been a new experience for me to promote an Event with a Full Field and the difficult decisions of dealing with those on the Reserve List and those who unfortunately failed to make the 'cut'
And Last but no means Least my Special Thanks to Tony Alston who came to my aid when my consummate organizational skills meant that I would be absent on the day and so, before I send you all to sleep with my ramblings, a grateful thought for Don Glover who introduced me to the 'pleasures' of promoting Time Trials.
Looking forward to seeing you at next year's event and maybe at some of the SCCU events listed below.
Promoter
Bryn Tully 8 Hartscroft Linton Glade Croydon CR0 9LA
'phone 02086511429 email bryntully@hotmail.com
Organiser post 19 March
Tony Alston 88 Banstead Road Carshalton Beeches Surrey SM5 3NH
'phone 02086429983 email tony@alston34.fsnet.co.uk
Southern Counties Cycling Union forthcoming events
Friday 18 April The Good Friday Track Meeting
A full programme of Track Competition at the
Lee Valley Velopark
In the Queen Elizabeth Olympic Park
1.00pm to 5.00pm doors open 12.15pm
Ticket Sales Quay Tickets 08432080500
Standard seats Adult £20 Concessions £15
Premium seats Adult £25 Concessions £20
http://www.bristowevents.co.uk/GoodFriday.html
Saturday 17 May Association 10 mile Time Trial on G10/57 at 6.30am for £8.00
Promoter Jonathan Vickery
83 The Drive Wallington Surrey SM6 9MD
'phone 02082549016
Sunday 29 June Open 50 mile Time Trial on G50/53 at 6.00am for £8.00
Promoter Paul Tunnell 10 Uppark Gardens Horsham West Sussex RH12 5JN
'phone 01737374673
Saturday 5 July Open 10 mile Time Trial on G10/57 at 6.30am for £8.00
Promoted by Colin Derrick for the South Eastern Road Club
43 Aviemore Way Beckenham Kent BR3 3RP
'phone 02086585215
Sunday 27 July Open 100 mile Time Trial on G100/60 at 6.00am for £8.00
Promoter Rod Starmer 23 Tanhouse Road Oxted Surrey RH8 9PE
'phone 01883713043
Sunday 3 August Open 50 mile Time Trial on G50/10 at 6.00am for £8.50
Promoted by Robin Johnson for the Sussex Cycling Association
7 Gorselands Billingshurst West Sussex RH14 9TT
'phone 01403783368
Sunday 7 September Association 25 mile Time Trial on G25/53 at 7.00am for £8.00
Promoter Colin Derrick 43 Aviemore Way Beckenham Kent BR3 3RP
'phone 02086585215