Sunday Ride: 12th August 2018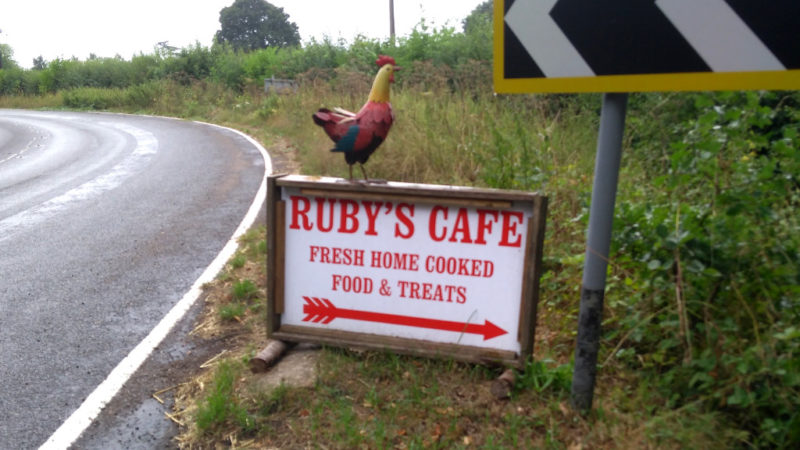 Sunday was supposed to be a long ride to the Conservatory at Horsham but the weather gods decided otherwise. Luckily the lunchtime downpour was accurately forecast so we decided to cut short the first stop and visit a new cafe in Capel. Not an uneventful first leg. A whoosh down Pebblecombe punctuated by badly scheduled Great Western. Out west via Brockham, passing Henfold Lakes and then touching the A24 at the Beare Green roundabout. While we only needed the first (quiet) exit I had it at the top of my risk assessment list.
With good reason. As we approached there was much tooting – with a motocyclist hassling a small red car. He stopped right in front of it. Parked it on its stand in the near side lane on the roundabout and advanced (helmeted) provocatively at the elderly driver who clearly felt under threat. He backed away with the motorcyclist pursuing and screaming the wrong way around a busy roundabout with a closed lane that forced all traffic into his lane. Despite people taking avoiding action the inevitable happened as the reversing red car hit a stationary car that had no escape.
The motorcyclists then ran and rode off still swearing at some perceived preious misjudgement by the red car driver. He wouldn't accept that nothing could have justified his appallingly dangerous behaviour and scarpered.
People got his number but such dangerous acts are hard to prove in court and the red driver will probably have to pay for both their actions.
Ruby's Cafe was just a short distance down the road to Capel and well signposed [above]. The actuality was a bit of a surprise: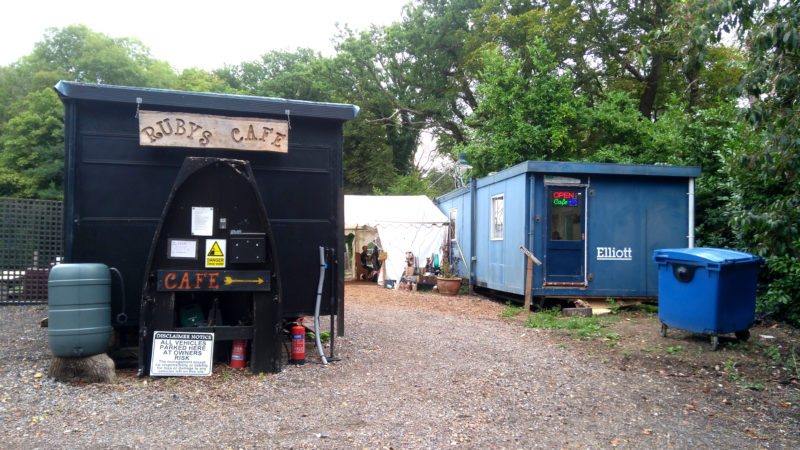 But the view of the fishing lake was rather better: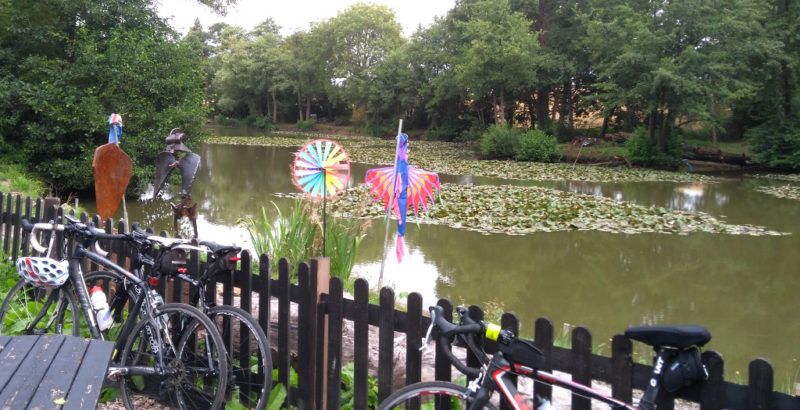 We arived at the same time as te rain so that part worked out well. However, what was supposed to last an hour lasted two. This was partially compensated by the relaxed service timings for the cooked food. Ruby's is grease rather than cake. Still a second round of tea and coffee and Maggie's stories was needed before the rain subsided to a drizzle and we could continue.
Dropping Mark H in Capel we headed east via Rusper (where the drizzle abated) to the planned ale stop at the Half Moon in Charlwood. Good to hear their tape of 60's classics was still looping.
Back via Leigh and Reigate Common. Despite not making Horsham and discovering a cafe we may never visit again we covered 52.61 miles @ 14.48 mph.
Download