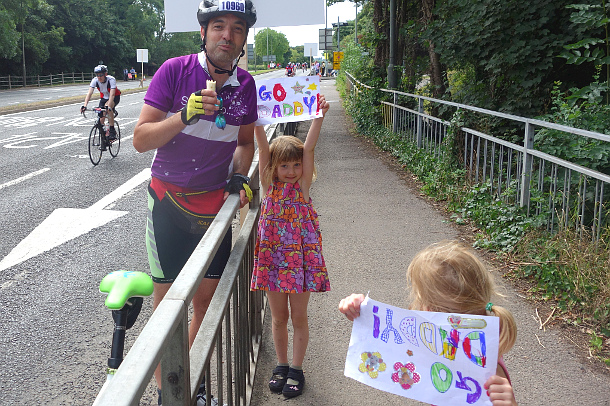 Phil P writes …
I'd been given an 8am start, the very last wave out. At least I got extra time in bed and to carb load. Two bowls of porridge with honey, two bananas and two marmalade sandwiches and I was ready. Using the toilet in the queue in the loading bay, I came out to find everyone had gone and I was at the back of everyone! I caught up with my wave 'V' by the side of iCity, formerly the International Broadcast Centre for the Olympics and Paralympics. The man on the PA system counted us out and we were gone: a few minutes cycling and we crossed the zero mile marker on the A12 near Bow.
The first of the echoey central London tunnels that cyclists aren't normally allowed through – the second was Hyde Park Corner underpass. I'd got so excited at the start I forgot to turn my cycle computer on til after Limehouse.
We went through central London at a fair old pace. At one stage I was wondering why it was so quiet. Then I realised it was only 8:30 on a Sunday morning! Happily cheering marshals through the city gave us extra pedal power though. I was shocked at the speed we got to Hammersmith flyover: we no doubt beat any tube train from east London.
The first water stop was at Hogarth Corner, and already there were massive queues. Not in need of a stop I left them to it. Across Chiswick Bridge and through the streets of Sheen into Richmond Park, I took Sawyer's Hill at a lick and got chatting to a fella from Brixton: we stuck together until Byfleet, keeping the pace up above 30kph all the way.
The wrong way round Kingston's one-way system, and we crossed the Thames for the second time, heading towards Hampton Court Palace and past the first of the three food/drink/mechanical/medical 'Hubs'.
The suburbia of Molesey and the wind-tunnels created by the reservoirs tend to get me down, but reaching Walton town centre, it was great to see the first large crowd of the morning cheering us on, shortly followed by the fun little descent of Monument Hill in Weybridge. Naturally this was followed by the climb up to Weybridge Heath past St George's.
The A245 from southwest London into Woking is usually a miserable drag alongside the busy, and fast, traffic. On Sunday it contained a glorious stream of cyclists as far as West Byfleet, with no worries about the usual rules of the road (how many red lights did we legally jump?!) I left my riding partner there, pulling up and looking for my family, who I'd arranged to meet. Unfortunately (in one sense), I was 30 minutes ahead of the time I thought I'd be, so no family with little snack. There was a garage open though, so I bought and glugged an iced coffee and packed away two extra bananas. Some lovely person had left water out the front too, so I took the opportunity to fill up. That done, I was on my way again.
Turning down the road out of West Byfleet is where suburbia really ends, and the rural fields around Pyrford are pretty idyllic. Pyrford, along with a few other places along the route, was taking the opportunity of the road closures to have its own festival, which looked splendid. This was the furthest west the route went: soon we were in Ripley then across the A3 on the Rose Lane bridge.
The vast majority of cyclists were on road bikes, but there were a few on hybrids and I came across one man doing it on a Brompton. He may have been regretting it: I hope he managed! There was also a man dressed as a fox I spoke to. It wasn't a particularly aerodynamic costume, and made him very hot.
The residents of West Horsley were particularly welcoming: there was a lady sitting at the front of her drive with large bottles of water for any thirsty cyclists, and at the A246 roundabout they'd arranged their own refreshment hub.
The first hill, Newlands Corner, had been in everybody's mind for the preceding few miles and it didn't disappoint. We turned the corner to be faced with the wall of a hill and a line of cyclists travelling at about a fifth of the speed they had been doing; an unlucky handful had had to get up and walk. I shoved the gears into bottom and found myself a riding partner – wearing a team Scope jersey – to chat to on the way up. It kept our minds off the difficulty of the hill. She stopped at the top to regroup with friends, and I moved my chain to the other end of the gear range and heaved the bike down the other side. The A25 off Newlands Corner is a pretty fun descent even with cars – it's plenty straight and wide, with no side turnings – but it was still great to be able to hammer the bike down the hill on the right hand side of the road.
Through Gomshall and past assorted small groups of riders' friends and family holding up homemade signs ('Go Glenn') I reached Abinger Hammer, where I pulled in to eat one of my two garage-bought bananas. As serendipity would have it, there was a St John Ambulance stand nearby, kindly handing out free water too. Refreshed, I headed up the incline towards Holmbury St Mary. It felt good to pass the 50 mile marker just before I got there. Chatting to a few more cyclists about the upcoming Leith Hill was followed by the exhilarating – but deceptive – descent towards Forest Green.
Ockley Road and Leith Hill itself were lined with people shouting encouragement. Again, I found a riding partner to chat to to take my mind off it. This chap was wearing Cannondale team kit – no, Peter Sagan hadn't caught me up. It was a relief for all of us – well me, certainly – to reach the top at Straveall Corner.
The descent off Leith Hill was every bit as nerve-wracking as I'd feared: crowds of cyclists going quickly down the narrow lanes. I stood up on my pedals to stretch my muscles, to create aerodynamic resistance and to resist the shocks from the rough road surface. The worst crash I saw all day was on this stretch – a man on the floor had been put in a neck brace by the paramedics. I hope it was just a precaution and he recovers soon.
At the bottom of the descent there's a short sharp climb back up to the A25 at Wotton. Another official drinks station meant crowds on that corner; I passed it and followed the undulating, but gratifyingly mostly descending, route into Dorking.
Of all the places we passed, the streets of Dorking were probably the most packed with crowds. It was a great feeling cycling through in front of so many encouraging people. Turning left at the cockerel roundabout onto the wonderfully traffic free A22, everybody's speed picked up again. Suddenly, on the approach to Burford Bridge, I spotted my family. They had only arrived three minutes earlier on the train to Westhumble, and had brought lunch, consisting of pasta salad and a replacement water bottle. We took a couple of photos and I left for Box Hill.
On the way up the Zig Zag, fewer racers than usual passed me at high speed. I guess those people were well ahead already! Busy as would be expected at the top, I continued for a little way, then stopped at a tree stump slightly past the viewpoint to eat my pasta salad. A few fellow cyclists made envious comments as they passed.
Through Boxhill Village I had a chat with a rider who was very into Orbea: the bike, all the kit. We passed and repassed each other a few times until Esher. I had been worried about the fresh surface dressing that Surrey County Council had installed at the sharp corner of Boxhill Road and Headley Common Road a couple of weeks previously, but they had cleared up the dangerous chippings in time. On Headley Common Road I passed a man who was cycling along awkwardly – of all parts to break, he'd lost a pedal so was cycling one-footed.
I entered Leatherhead alongside a pair of fellow team Scope jersey wearers. One was vociferously complaining about cramp in his foot. I wondered internally – and presciently I'm afraid – what that felt like.
Once we arrived in Cobham, we were greeted by another packed High Street shouting encouragement. At this stage I'd run out of water, and was starting to feel dry. I knew there was a water stop coming up at Sandown Park, so pushed on with that knowledge up the incline to Esher.
I was relieved to get to the water stop and find it wasn't too busy. A drink and a refill and I was ready to head 'home'.
As everywhere, the crowds in Kingston were fantastic as the line of cyclists headed up the High Street and out towards the hospital. After 80 miles, Coombe Hill could not be described as easy, and riders had stopped chatting at this point – it was head down, spin as hard as you can. A point reinforced by a spectator shouting "Boris passed here two minutes ago – you can't let him beat you". I suspect he was exaggerating and it was more like 20 minutes!
After another wonderful crowd at Raynes Park, we hit Wimbledon town centre and the last climb at the 90 mile mark. Wimbledon Hill is never easy, but after 90 miles it was pretty gruelling, visible in the faces of all the riders. But the top, and the knowledge there were no more hills, was fantastic. Head down across Wimbledon Common, descending down Putney Hill, we passed the crowds on Putney High Street and crossed the Thames for the last time.
Along the New Kings Road and up to Cheyne Walk and the Embankment, I reached Chelsea Bridge. And this is where my left foot decided to cramp up. It was agony. I was tempted to stop and try and shake it out, but I remembered what the man in Leatherhead had said about trying to spin it out: it was relieved by Lambeth Bridge.
There were crowds in Parliament Square, but then there always were, and I suspect most were tourists, bemused about the line of cyclists. When reaching Whitehall, the cheers began again, from my perspective particularly as I passed the day's HQ for team Scope!
The left turn from Whitehall through Trafalgar Square was sharper than I expected – well, it's not every day you get to practice it at that speed. But after the turn I looked down the Mall, and could hear the PA and finish music. I didn't see any buildings at the end of the Mall and I'm sure there were crowds there: all I could see was the big red finish gantry. Head down again and I got a final turn of speed out of my legs and it was all over.
The time was bang on 2:30pm. Including my three stops, I'd completed in 6hrs 30. According to my cycle computer, I'd stopped for 30mins so had an average moving speed of 16.7mph. Substantially faster than I'm used to! It was a fantastic day, and I was carried around on a wave of camaraderie and adrenaline. Thanks to all the other riders I spoke to (and didn't get the chance to), thanks to the wonderful, enthusiastic crowds. Thanks to the organisers, and to my family. And not least, thanks to all from the Anerley, who I trained with and gave me confidence!