Sunday Ride: 10th November 2013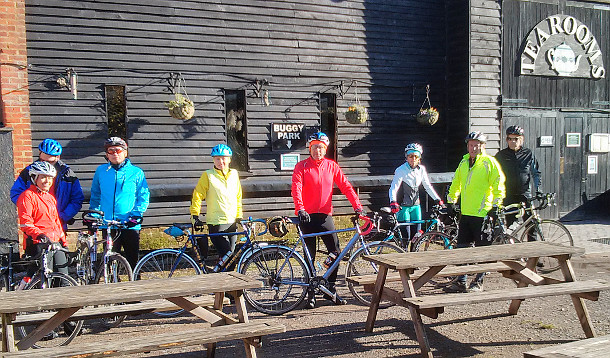 We were Medway's 8½. That is eight of us started from Shurguard looking out for Jeremy. He wasn't waiting for us in Purley, he didn't catch us up on the way and he wasn't at Bockett's Farm to greet us.
Which was a pity as it was a gorgeous ride looping up to near Ashtead before coming down past Headley Court onto Leatherhead scooting along the cyclepath to the by-pass and on up to the Farm. Half an hour later Jeremy finally appeared having powered at high speed taking out several motorists on the way (or possibly the other way round if you can believe him.
Refreshed we made our way to the A25 with a small diversion to relieve the monotony before four of us took beer with the Prince of Wales at Wescott. Free cheese and nibbles was a bonus as was the entertainment by visiting Romanys in intense discussion with our landlady. Beer and crisps: £4.45.
Home along the A25 to Reigate and then up through the Merstham Gap back to Purley. A good sunny ride.