Stormy Stroud – Climbing the Dursley Ladder
The next part of the day's ride was to Tetbury for our lunch stop, following another very scenic route.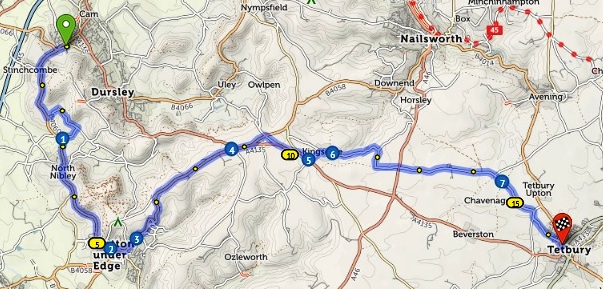 During our morning tea stop a long forgotten memory came back to me. Some 15 years ago, meeting up at Shurgard for our Sunday bike ride, a fellow cyclist stopped by for a chat. His very unusual bicycle got a lot of attention and comment from the Anerley crowd. Of course! – that strange bicycle was a Dursley Pedersen.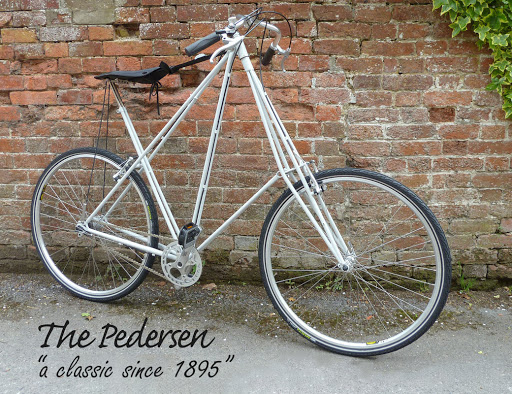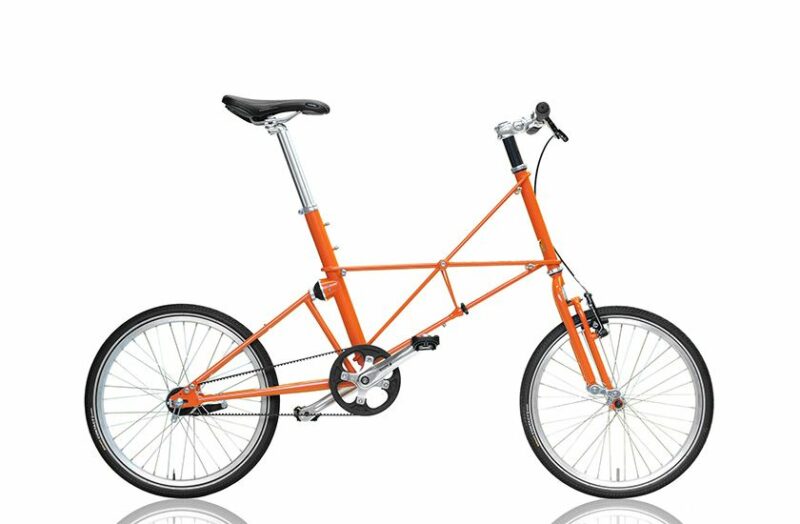 So what is the connection with Dursley?
The Dursley Pedersen bicycle was the invention of a Danish draughtsman who worked at an engineering business which is still in Dursley.
Pedersen's invention, rightly attracted much attention and support from discerning cyclists of the day. Especially as its new style hammock seat provided extra comfort on the cart tracks used as roads in those early days of cycling. Additionally, the hammock only weighed 4 ozs compared to the 3lbs of the then, conventional saddle!
This notice appeared in the Dursley Gazette October 21 1893:
"A new bicycle – Mr. M. Pedersen of Dursley, with that ingenuity for which he has become known, has recently constructed a safety bicycle of remarkable character. Its weight is only nineteen pounds and the maker has tested the strength in an extraordinary way, he having ridden it up Whiteway. The latter is the long snaking 1 in 7 hill from Dursley to Tetbury, and is part of what is known by Gloucestershire racing cyclists as the 'Dursley Ladder"
And now it was our turn to climb the Ladder!

After a few hundred yards we joined the B4066 and a few easy undulations. After less than a mile we hit the first noticeable step of the ladder – Stinchcombe Hill. Then a nice downhill followed by the next big step (starting at blue No. 1 on the map) – a short very steep bit right at the start, but the hill continues going up until we arrived at the little village of North Nibley.
I remember that as we climbed this hill, on our right was a spectacular view over the Severn Vale, and on the ridge top, above us on our left, a tall tower. I mentioned, probably to Susan who seemed to always be on my back wheel, that I must find out what this tower was. And I did!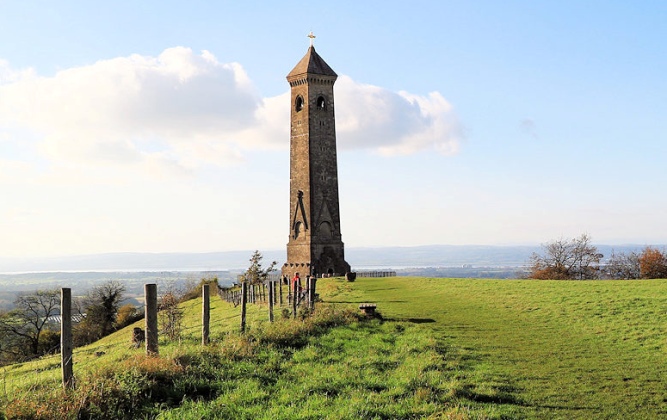 So who was William Tyndale and what was his crime that made him infamous?
William Tyndale of Nibley, was a brilliant scholar whose only crime was to translate the bible, from Hebrew and Greek texts into English, so that this important religious book was comprehensible to the common man. However, this "corruption " of the holy scriptures so incensed King Henry VIII, Cardinal Wolsey and other churchmen, that Tyndale was burnt at the stake in 1535 as a heretic. Gone but not forgotten, a man greater than the times in which he lived.
Cycling on to the top if this hill hill at Nibley, we followed the ridgeway for a couple of miles. Then came a speedy descent into a river valley in which nestled the little market town of Wotton Under Edge (No, 2 on the map). The "Under Edge" bit meant exactly that. As soon as we exited the little town we were faced with the big climb from being at the bottom of the Cotswold Escarpment to it's very top – including a 20% section of the Dursley Ladder!
Soon we met the main A road (No 4), so I took the first opportunity to get back into the quieter little country lanes, turning off to Kingscote at No 5. And what a little gem this turned out to be!
Olde world cottages and a beautiful little church built in traditional Cotswold stone, neat and colourful gardens, all surrounded by a variety of mature trees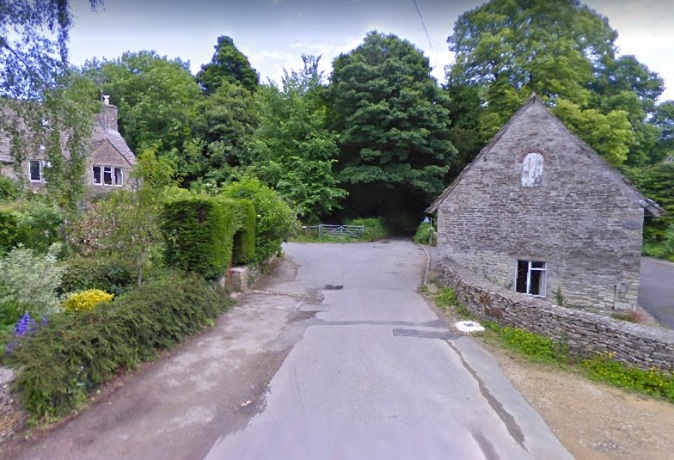 It took only a few minutes to cycle through this small hamlet, at the end of which the road went off to the left, with a no through road sign. But we did not need the sign because we could see that the road did indeed end there! So our only alternatives were to return whence we came, or to boldly go on, into the black hole ahead of us at No6.
The dark and narrow tunnel of trees went on and on. I am sure that my 3 companions were beginning to wonder if I really did know where I was. Well of course I didn't. I only thought I knew where I was!
Then a glimmer of light appeared and we burst out into sun lit fields with contented animals grazing.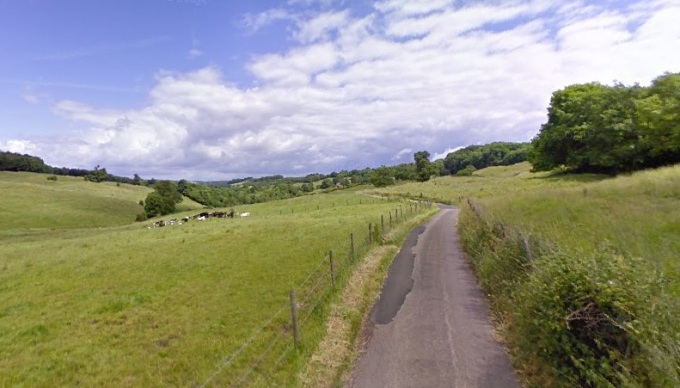 This back lane detour via Kingscote continued for about 5 miles until we came to an avenue of mature trees which led us past Chavenage Manor House (at No,7). Unfortunately, all we saw were the iron gates, baring entry to the private drive.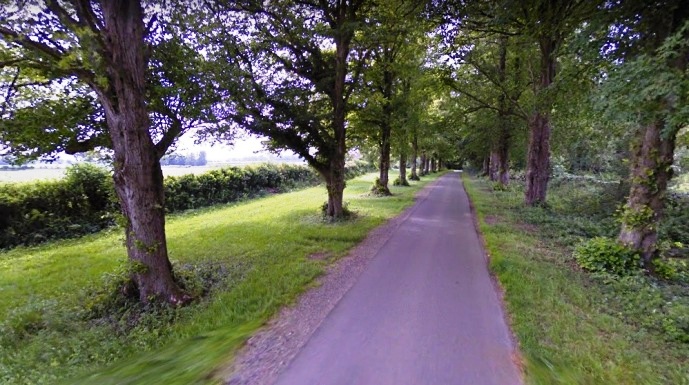 Chavenage Manor has a long and interesting history. The earliest recorded owner was Princess Coda, the sister of King Edward The Confessor, in the 9th Century. But fast forward to circa 1576 when a new owner built a Tudor country house, which over many years has been extended and modified to what there is today. Being of genuine Tudor heritage it has often been used in modern times, in films and TV programmes. One of which I am sure our ladies had watched. The popular BBC TV series – Poldark, starring Aidan Turner!
Below not Cornwall but Chevenage House in the Cotswolds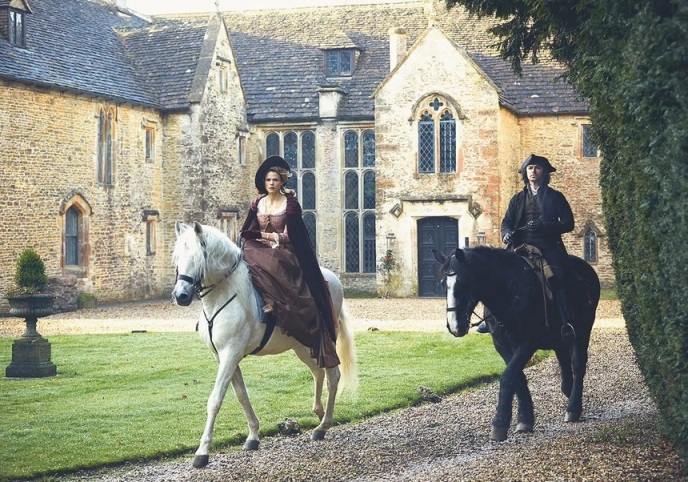 It was only a further mile from here that we arrived on the main road and our late lunch stop in Tetbury. Cafe 53 describes itself as a hidden gem behind a subtle doorway at 53 Long Street – and it was!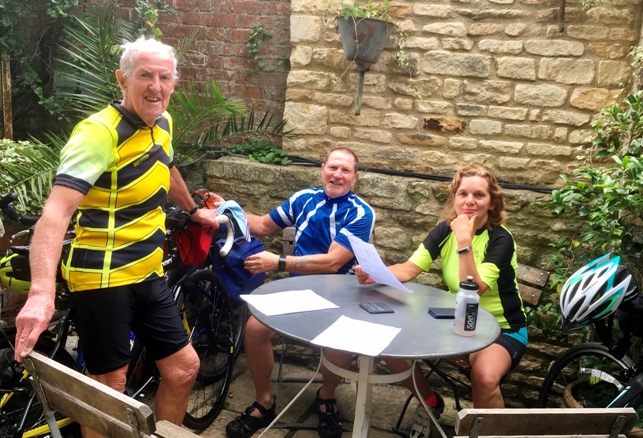 We were very lucky to get a just vacated table on the lower terrace, and with more miles and more hills yet to go, we just had a light lunch of fresh bread and delicious home made soup. Then it was time to relax and enjoy the tinkle of water from the sculptured fountain of several entwined dolphins.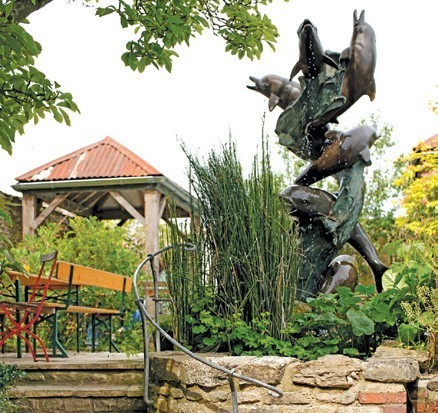 So refreshed, we set off again, heading north west for the last part of the day's ride, returning to Stroud.
Des