Saturday Ride: 5th October 2019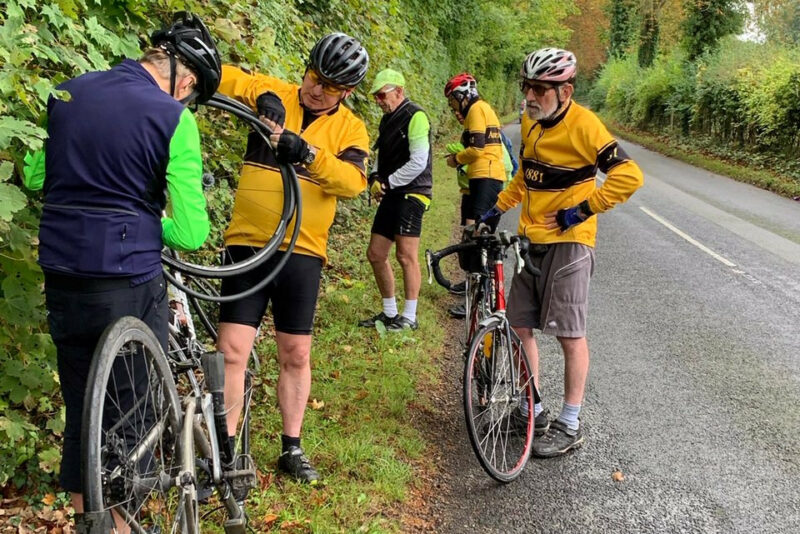 8 (plus 1) Ride to Horne Golf Club and Stuart does a ton.
Seven of us met at Shurguard ( Asif, Bob, Jason, Frank, Stuart, Jim and Pete) for an easy ride out to Horne Golf Club for tea. Stuart was touting for others to join him on a ton to Shoreham but regrettably no takers.
Whilst waiting for Pete to arrive, Frank spotted our club paramedic Tina in her kit and driving an emergency ambulance smiling at us from the other side of the road heading towards Croydon. Suddenly a parked SUV driven by a lady pulled out in front of her and did a u turn! Only Tina knows how close she was to an incident.
Graham joined us at Chaldon and we'd not gone far along Springbottom Lane when Bob had a visit from the puncture fairy which turned out to be a very small but sharp piece of flint. It was quickly fixed and we set off once again via Bletchingly, towards the windmill at Outwood. We passed a sign saying Police Slow and it was there for good reason – very slippery mud spread across the road for at least half a mile. Fortunately the warning help us avoid some nasty spills but bikes, shoes and kit were splattered.
There's a nice decent just after the Windmill and at this point Sandra, who had missed the Coulsdon PO rendezvous, caught up with us just in time for tea, where the poached eggs were a popular choice.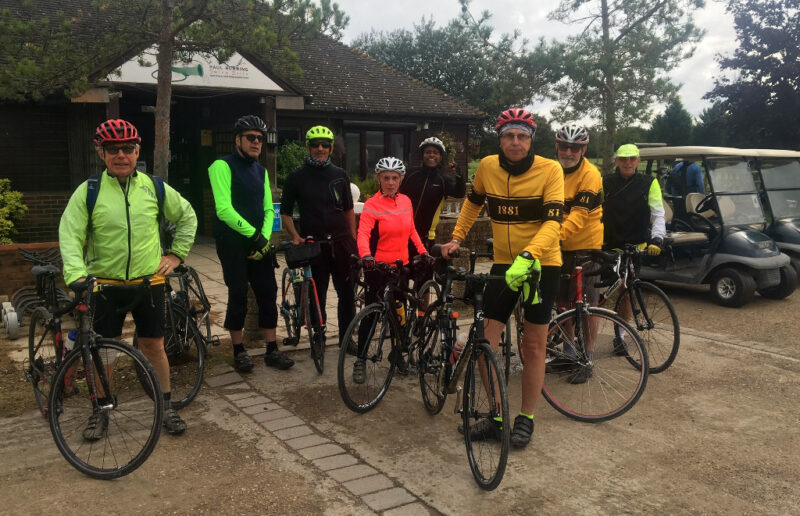 After tea we watched Stuart turn left heading out on his trip to Shoreham as we turned right for an uneventful return via Newchapel, Lingfield, Crowhurst and Marden Park.
38 miles at 11.5 mph

Stuart adds:
Not quite the art deco decadence of Shoreham Airport as it was beginning to spit as I got to Steyning – about 5 miles short. A quick calculation said that if I put an extra loop in around Beckenham I would make the ton. So it proved. A nice solid 101 miles including a sausage roll at Tanhouse to sustain the final assault.
My next ton will be my half ton of tons – if you can work that out!