Saturday Ride: 2nd March 2019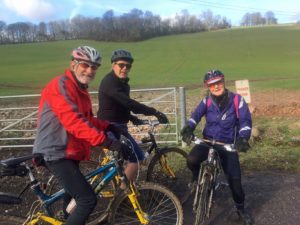 Four of us, Karen, Bob, Graham and Pete headed for the mud and off road to Flower Farm for tea.
Overnight rain made the going very muddy and it's surprising how heavy a bike can get when it's tyres are caked in mud. Our route took us up Old Lodge Lane and then through woods to Caterham Drive and more bridlepaths to Old Coulsdon. Then we had a fast downhill to the bottom of Happy Valley where instead of taking the Ditches road up Farthing Down we took a fabulous off road path through the valley and up again through woods to the ca rpark on Farthing Down.
Then it was across fields from Chaldon Church, down Shepherd's hill and on back roads through Bletchingly to Godstone.
Flower farm was very quiet and the Eggs Florentine (poached egg, spinach and Hollandaise sauce) looked enticing. Service however was incredibly slow. Bob had to chase his coffee order several times and it finally arrived as everyone else was ready to leave. We'll hope it was just a bad day but if it happens again this previously popular tea stop will be reluctantly removed from our list.
Our return was via Flower Lane and Marden park
28 Miles at a boggy 10 mph.