Saturday Ride: 23rd November 2019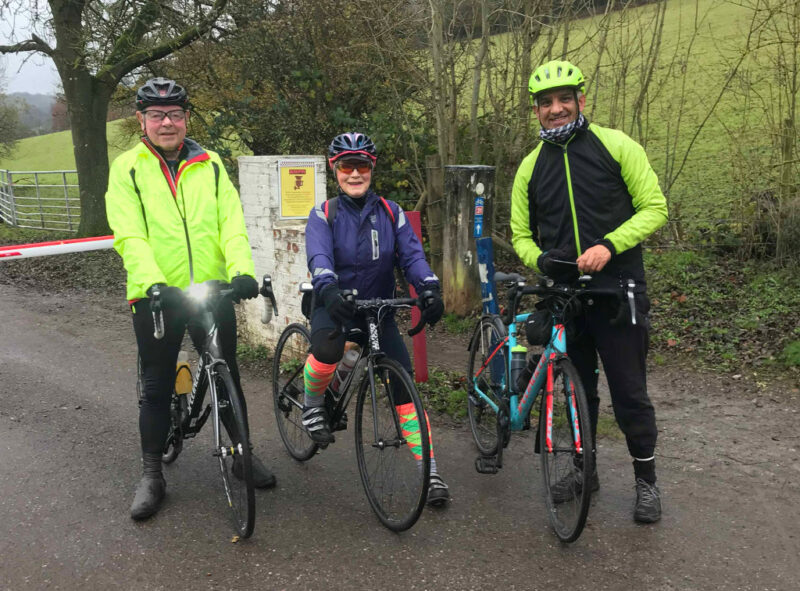 So the weather forecast was miserable again and Pete didn't fancy venturing out so it was left to Roger to lead a small but intrepid group to Horne Park Golf Club.  
Karen and Asif were waiting at Shurgard, both suitably attired for the wet weather and Karen sporting a rather striking pair of socks which were not only super highly visible on the road but also just the ticket for the golf club destination.  Mick was running a bit late due to some wardrobe issues but joined us at the bottom of Old Lodge Lane wearing about 6 layers.  This did lead to some overheating later and maybe the lesson is that if you can't decide what to wear then wearing everything is not the answer.  
The route to Horne took us out through Bletchingley and Outwood and we arrived damp but undaunted for a welcome hot drink.  With no sign of the drizzle letting up we opted for a shorter than normal route home up Tilburstow Hill and Marden Park where Mick triumphed in our downhill warm-up. Three of us made it to the Wattendon where we were joined by Pete for a well earned pint.  
New Garmin failed to make it so I don't have the stats but it wasn't very far and it wasn't very fast.