Sunday the 1st December was the first day of winter, and it felt like it! The forecast for 10 o'clock was 5c. But with wind chill, would feel like only 2c due to a 10 mph north easterly. Even so there was a good turn out at Shurgard for the Sunday Ride to Bocketts Farm.
Mark Hancock set off first with the "Speedies," leaving me plus seven to continue our weekly training rides for our ladies trip next Spring, to the mountains of Mallorca. The Brighton Rd was quite busy so we split our group in two. The Indomitable Denise drawing the short straw to be the sub group leader.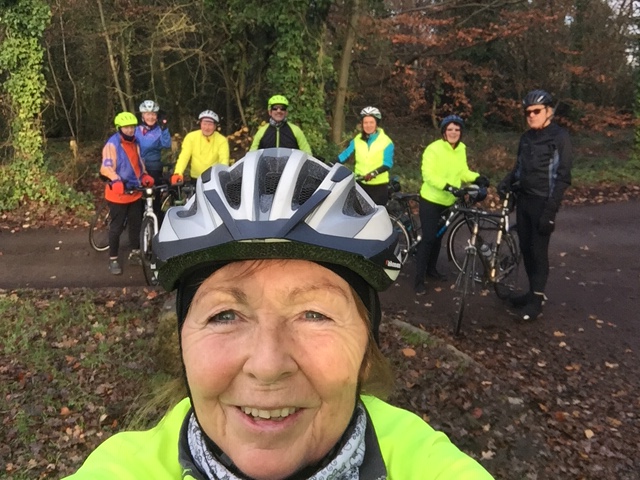 We kept up a good pace, which helped to keep us warm and then it was the fast descent of Box Hill into the River Mole valley. Instead of the direct route to Bocketts Farm, I did a detour here, taking the back lanes leading up past Polesden Lacey. There was special purpose for this. Mallorca's infamous serpentine climb, Sa Colabra! This 10k climb has a section which rises up at 20%. To prepare them for this, I took them for a climb of our local Mole hill!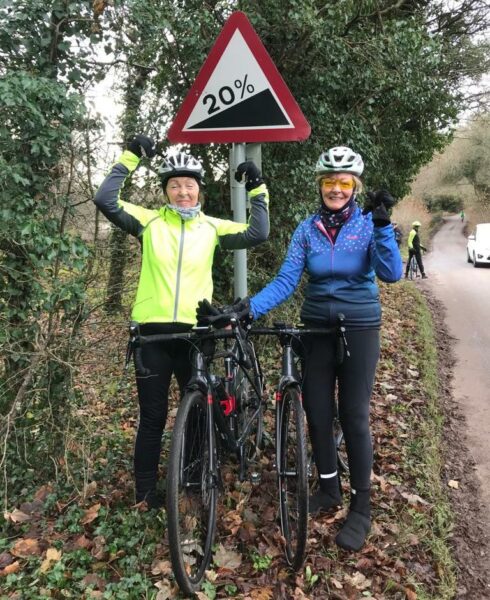 That certainly warmed us all up, regardless of what the thermometer might have shown! Then it was a nice long down hill into Bookham, and from there, only a mile or so to Bocketts Farm.
As we arrived Mark H and the Speedies were just leaving. However I think they took a shorter route, and without the 20% Mole hill.
Bocketts Farm was packed out. Lots of mums and dads with young children, visiting the Christmas Market, Santa's Grotto and other early seasonal festivities. We just wanted a hot cuppa to warm chilled bones. We managed to purloin a couple of tables inside for a bit of warmth, before more Mole hills on our way home.
Back on the road the temperature had definitely dropped, or was it just the wind chill factor?
Heading down the steep descent to join the A24, our road speed of some 15 mph, added to the north easterlies 10 mph, produced an effective air speed of 25 mph. That results in a temperature drop to some minus 1c, So we were glad of the climb out of the Mole valley up to the crest of the North Downs. That put a glow in the ladies cheeks and a bit of warmth in our chilled bones!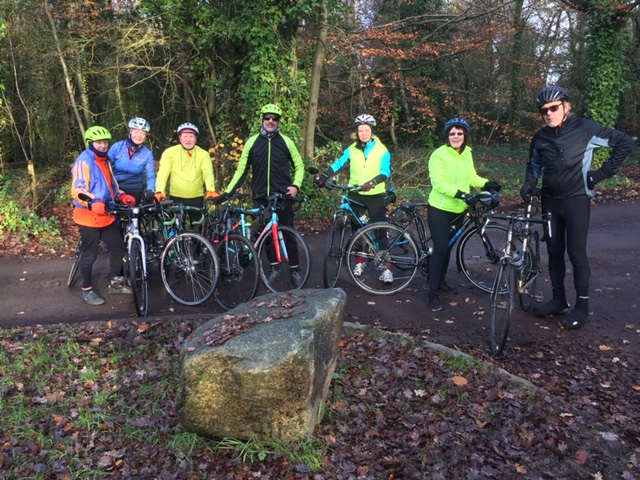 After the last climb of the day, at the top of Tot Hill at Headley. look at the relief in their faces!
The Magnificent Seven, plus Denise who took this photo, makes eight.
Total mileage for the day, 37. Altitude, sky high.
Des.