Saturday Ride: 14th December 2019
A good turnout of a dozen riders set out to Bocketts Farm in Bookham. Ten of us started from Shurguard with Tim and Sandra joining at Coulsdon.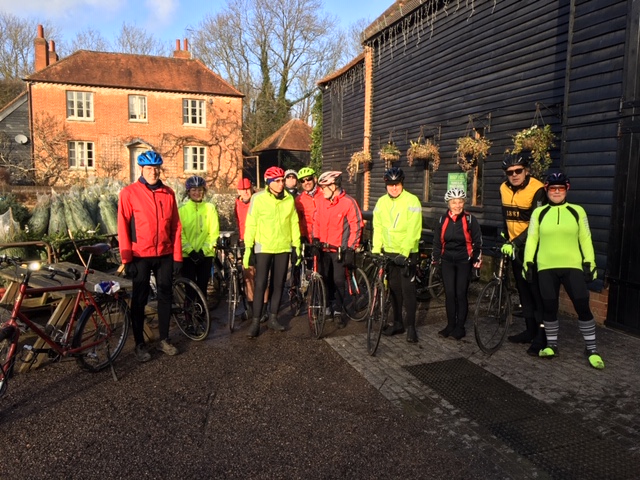 There was plenty of Christmas shopping traffic about so we decided to split into two groups, Roger leading the first and Pete the second.
Out via Chipstead Valley, Kingswood and Walton Heath where the rain turned heavy and very windy. Fortunately the squall only lasted five minutes or so and then the sky brightened and remained reasonable for the rest of the ride.
A note for the future: Bocketts Farm gets very busy at this time of year with childrens' visits to Santa. There wasn't sufficient space for us all to sit together so our second group of riders had to have their tea in an unheated marque outside – not very comfortable and cold.
After tea we headed back down towards Leatherhead and picked up the cycle path along the side of the river Mole. This led to Mickleham and the bottom of Box Hill where most of us headed up the hill and returned with a strong tail wind to Coulsdon via Chipstead Valley.
Stuart and Karen fancied a few more miles and headed on towards Newdigate and then on to Charlwood. We assume they got back safely before dark.