A Fran-tastic Sunday Ride
Before the weekend came I had an e-mail about the upcoming Sunday Ride:
"Hi Des, are you going hilly? If so I'd like to try to make it.
Fran"
So how could I refuse?
Fortunately after a week of rain, at last the sun came out. A cold wind was more than compensated for, by a brilliant blue sky with a bit of white fluffy cloud to emphasise the blue. And it was not just Fran who turned up, but quite a crowd. I even noticed that we had a Florin, but I will have to explain that later.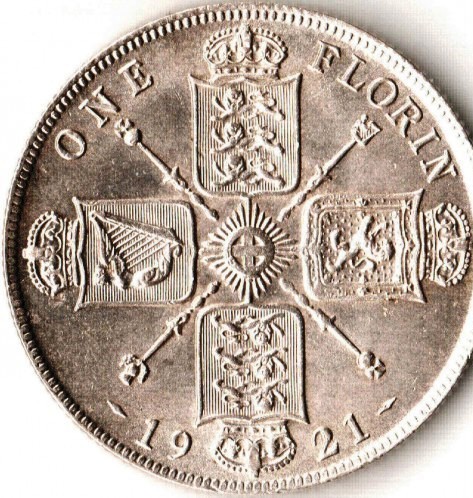 Following Fran's request, the first climb was up to Sanderstead, then at Warlingham Green we diverted for the steep descent of Bug Hill. I stopped here for a short history lesson.
Whilst you might not have climbed UP Bug Hill many times, you will certainly have been down it many times, but have you ever noticed this? And if so, wondered what it is – the white thing on the left when you start the descent, but on the right in the photo.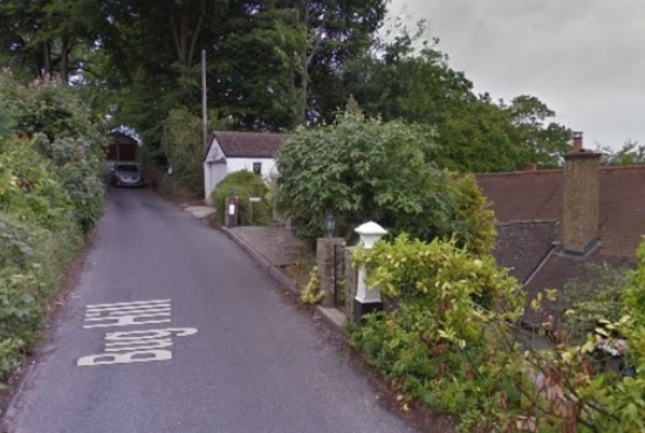 Well if you don't know, it's a Coal Post. After the Great Fire of London a tax was charged on coal/charcoal going into London. This was to help in paying the huge cost of rebuilding the city. In those days, bulk goods were transported by ship, so the tax was collected in the Port of London. In later years canals, railways and a developing road network meant that the tax collection points had to be expanded. Circa 1850 some 280 Coal Tax Posts were set up covering all roads entering London's (then) Metropolitan Police District. Bug Hill was one such road. However I doubt that many horse drawn carts loaded with coal made it up Bug Hill!
Next we started our major climb, up to the top of the ridge at Woldingham. Continuing we joined Limpsfield Rd by Botley Hill Farm. Here we stopped to catch our breath and have a photo shoot.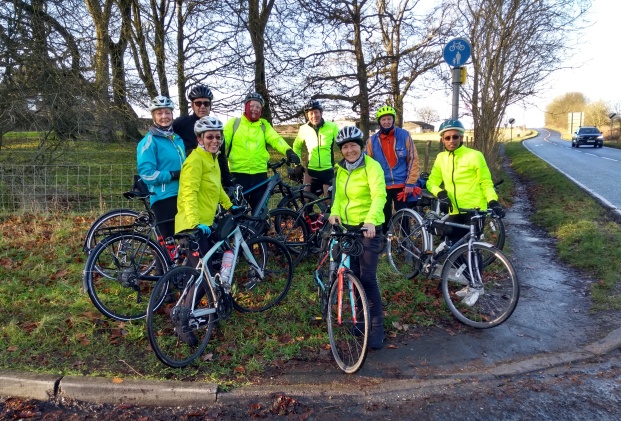 Now an easy bit, the long downhill into Westerham. Well not quite, we took a turn off, up the short but steep climb of Farley Lane which took us over a hump and down onto the A25, opposite Squerryes Court. Then another long climb, up Goodley Stock Rd and a circular detour via Limpsfield Chart to take us back down to the A25. Well worth it, just for the scenery on this beautiful sunny morning.
After passing thru Westerham and it's historic village green, it was a right turn and the climb up Hosey Common Rd. At least it should been, but the call of "Puncture!" brought us to halt.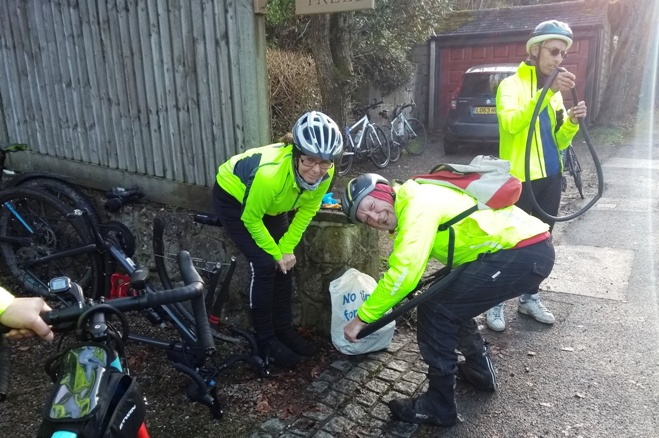 Ten Minutes and we were off again to continue the climb past Hosey Common and then the left turn to our tea stop at Churchill's old stately home at Chartwell.
Our detour made it 20 miles for me but a more direct 15 miles back to Purley.
So thanks to Fran for the inspiration to provide us with a Fran-tastic bike ride along some of Surrey's finest country lanes, on such a sunny winter's day!
Oh! And I nearly forgot. My reference to the Florin.
Now that Boris has resolved the thorny issue of Brexit, we will have our blue passports back, And Boris has suggested that Imperial measures will no longer be illegal. Can we expect that our old currency will be brought back? Instead of 5p, can we have the shilling back? And instead of 50p, can we call it ten bob?
I have already made mention of Bob the Fireman being with us on this ride. Also with us was Bob the Builder. Pre-decimal currency, a Bob was a Shilling, and two Bob was a Florin. So post 31st Jan 2020 we might have to consider a new collective name for our two Bobs!
Des.